This post may contains affiliate links for your convenience. If you make a purchase after clicking a link we may earn a small commission but it won't cost you a penny more! Read our full disclosure policy here.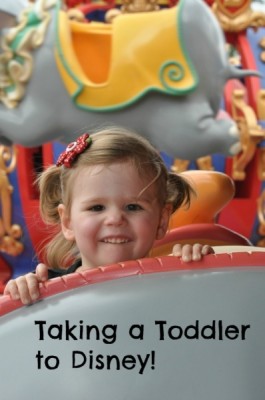 Your friends and family say you're crazy and are desperately trying to explain that "they won't remember any of it" but you've decided to take the plunge…and take your toddler to Disney World!
Taking a toddler to Disney World is much like taking them anywhere else – the only predictable thing about their behavior is its unpredictability!  That being said, it can be a truly magical experience to enjoy the Parks through the eyes of your toddler.  And so, here are my top 5 tips for traveling to Disney World with a toddler (and enjoying yourself!)
 Schedule your trip for the off season.

There are many benefits of going off season and your little one isn't in school yet so it's the perfect time to see Walt Disney World the way it's supposed to be seen.  The fall is especially great as the parks close a little earlier in the evening but that won't bother you because you and your toddler will already be fast asleep long before that happens (see tip #3)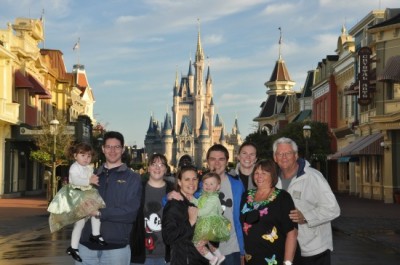 Only in the off season do you get crowds like this!  Ok…it was a pre-rope-drop dining reservation, but you get my point!
Make a plan but be prepared to improvise.

 I'll never forget our first trip to Disney's Hollywood Studios with our two year old daughter.  It was planned perfectly; we were there before rope drop with the ideal route mapped out between the front gate and Toy Story Midway Mania – we were all but guaranteed to beat the rush.  Only our daughter decided that this was an ideal time to throw a tantrum.  It's impossible to know what the tantrum was about, nevertheless there it was, in all its glory!  I quickly saw all our day's plans going down the tubes.  Without too much hesitation, we decided to turn around, head away from the crowds and just take a walk to calm ourselves down.  We ended up walking the path to the Boardwalk (a first for us) and 15 minutes later our daughter was asleep in the stroller and we were enjoying a nice pastry and coffee from that wonderful little bakery.  We may have missed Toy Story Mania that morning but we still talk about what a wonderful side-adventure we had on the boardwalk that day.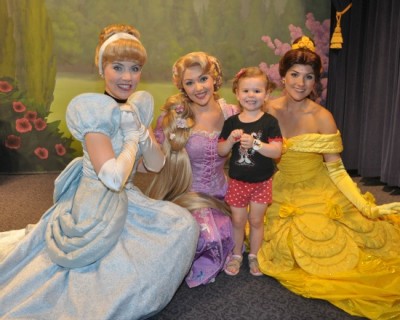 We were supposed to be using our FastPass at the Haunted Mansion but instead lucked into a photo-op with all three Princesses together!
Make sleep your friend.

 Some toddlers love to sleep in their strollers while others refuse.  If you are fortunate enough to have a little one that does take advantage of stroller-napping, simply find a quieter area of the park to walk them around a bit, once you see "that look" in their eye.  The aforementioned boardwalk path is great.  The path between Tomorrowland and Fantasy Land is another good one. And, the Tree of Life paths all make great go-to choices for lulling your little one to sleep.  Days can be long so getting a good night sleep is also important and you'll want to do your best to stick to your toddler's regular schedule.  If they are typically an early riser then look at planning your day around rope drops.  If they are better at staying out late, then perhaps you will want to stay out later and enjoy some of the evening entertainment.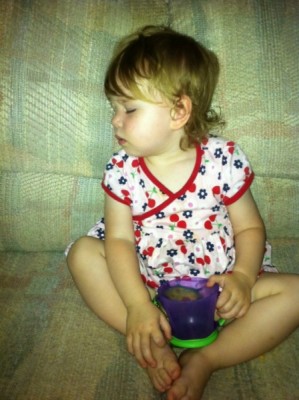 After a long day at the park you can expect your toddler to fall asleep pretty much anywhere!
Invest in Disney's "Memory Maker"

 (if you can).  Especially if your toddler enjoys interacting with the characters.  We're a frugal family so this is always a tough one for us. But all I have to do to justify the cost is look at some of the memories that these photographers captured for us on previous trips.  It's also a wonderful way to ensure that

all

the family members get included … at least in more photos than the few taken by random strangers using your smartphone!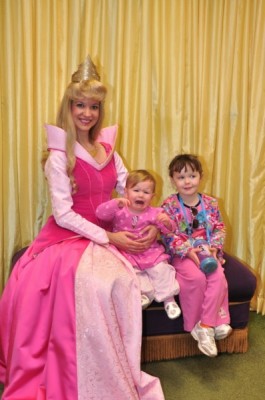 Thank goodness this Memory Maker photographer was there to grab this moment – look at Aurora's perfect smile!
Promise yourself that you'll go back at least once.

 Unless you're planning on taking a 4-week trip, there is a very small chance you'll be able to see and do

everything

that the parks have to offer.  Telling yourself that you will come back (however long that may be) will help relieve some of the stress or fear of missing out, and instead, allow you and your family to enjoy the moments that are being made right in front of you.
Which brings me to the bonus tip for those who are still reading – Relax, and try to enjoy every moment.  Toddlers are unpredictable and it's impossible to know what attractions they will or won't like.  At Epcot our daughter decided that the fountains outside of the Magic Eye Theater at the Imagination Pavilion were the greatest thing she'd ever seen.  So we sat and enjoyed watching her play for the better part of an hour, which gave the rest of us the freedom to sit back, put our feet up, and chill out. And isn't that what vacationing is about?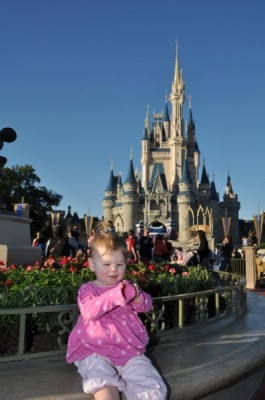 This day she decided her sleeves were the most fascinating thing around!
Taking a toddler to Disney World is both exhausting and exhilarating.  Experiencing the magic of Disney through their eyes is something you will never forget and will cherish forever.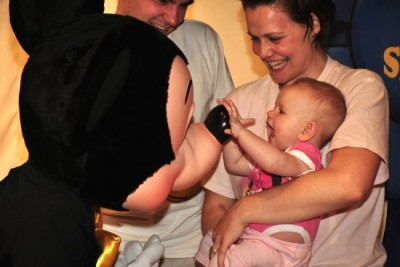 Only a toddler can get away with trying to eat Mickey's nose!
Have you traveled with a toddler to Disney World?  Let me here some of your tips so I can use them on our next trip down!