This post may contains affiliate links for your convenience. If you make a purchase after clicking a link we may earn a small commission but it won't cost you a penny more! Read our full disclosure policy here.
From Our Magically Speaking Newsletter Archive – subscribe today!
Ann Dunnington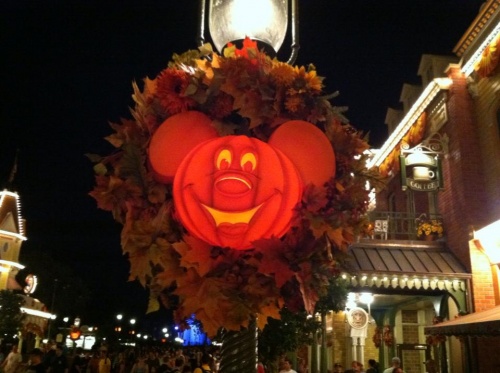 Fall is in the air.  Can you feel it?  Ok, maybe it's still technically summer, but school is back in session and pretty soon, pumpkin-spiced EVERYTHING will be everywhere you turn.   If you're planning on visiting the Walt Disney World resort in September or October, you will undoubtedly be there during a special ticketed event at the Magic Kingdom known as "Mickey's Not So Scary Halloween Party", or MNSSHP for short.  This event is full of special parades, shows, fireworks, trick-or-treating, character meet and greets, party-specific merchandise and treats, and little to no wait time for select attractions. This event is always a hit, and is a fabulous way to get into the Halloween spirit!  We are attending one of the parties this year, so here are my top 5 tips for getting the most out of your MNSSHP experience!
Save time, money, and potential sell-outs by purchasing your ticket in advance
Depending on the date you choose, adult ticket prices can range from $72 to $105 if purchased in advance ($67 to $100 for children), or $79 to $105 if purchased on the event day ($74 to $100 for children).  So save yourself a few dollars and purchase your tickets in advance on the Walt Disney World website.  This will also save you time by being able to skip the ticket counter at the Magic Kingdom, and prevent the potential disappointment of the party being sold out when you arrive.  There are only a select number of tickets available for each party, which helps keep the crowd levels low.  BONUS TIP:  Even though the party begins at 7:00 p.m., Cast Members have historically allowed entrance to the party as early as 4:00 p.m.!   If you purchase your ticket in advance, add it to your My Disney Experience account, and you can add up to three FastPass+ selections to use before the party starts!  Your FastPass+ selections can be between 3:30 p.m. – 4:30 p.m., 4:45 p.m. – 5:45 p.m., and 6:00 p.m. – 7:00 p.m., with no additional admission ticket required!  Of course, this is historical information, so it's all subject to change at any time.  But, this allows you to have a nice restful day swimming and relaxing at the hotel, and then a full 7 hours at the Magic Kingdom starting at 4:00 p.m.!
Children are allowed to wear full costumes of their choice, as long as the costume isn't long enough for them to trip on, doesn't have a mask that they can't see through, and doesn't have any weapons.  Adults have a few more restrictions now due to safety concerns.  The new adult policy states: "Guests ages 14 and older are strongly discouraged from wearing layered costumes or costume props that surround the entire body as they may be subject to additional security screening. Additionally, costumes may not contain any weapons that resemble or could easily be mistaken for an actual weapon."
Because of how hot and humid Florida can be in the fall, and of course there's always the potential for rain, choose a costume that is comfortable and can be covered with a poncho if necessary.  Disney bounding, aka dressing in normal clothes that are inspired by a Disney character, is a popular choice, as are family-themed costumes (like the whole cast of Finding Dory).  But don't feel like you HAVE to dress in costume- you don't!  My husband and I will be Disney bounding this year, dressing up as the Walt Disney World Swan and Dolphin Hotels… because we're completely normal…  Ha.
Trick-or-Treating with a special diet? No problem!
Disney is known as being the ultimate destination for guests with special needs of all kinds.  If you're attending MNSSHP and have food allergies, but still want to participate in the Trick-or-Treating fun, bring the bag of candy back up to City Hall and exchange it for some special diets treats!  Or if you don't want to Trick-or-Treat at all, head straight to City Hall upon arrival and pick up your goodies!  These treats are generally "Big 8 Allergen" friendly, and sometimes aren't even edible at all (think pencils, stickers, small toys, etc.).  To make sure that special diet treats are available during the party you will be attending, you can email Special.Diets@DisneyWorld.com.  They always have these available at every party, but they can sometimes run out if there's a lot of demand.  Stop by early in the party, just in case!
Catch the 2nd shows/parades of the night for smaller crowds
The most popular parades and shows are the first ones of the night.  If you want to meet characters that are only out during the party, like Jack and Sally or all Seven of the Dwarves, get in line for THEM early (I suggest 6:00 p.m.), rather than getting a spot for the first parade or castle show.  You'll be able to meet the character you want to meet, and have fewer crowds around you when the later show or parade rolls around.
In regards to the best places to stand for the parade, I prefer Frontierland or Liberty Square over Main Street.  These areas seem to be less crowded.
Not all attractions are open during the party, so plan accordingly
Of course, riding rides at MNSSHP is not high on everyone's to-do list, but for those that prefer taking advantage of the more popular attractions with little to no wait time (like us), this is something to keep in mind.  A few of the popular attractions, like the Jungle Cruise are not open during the party, so these would be great attractions to use those FastPass+ selections on before the party starts.
So there we have it!  What are your tips for making the most out of Mickey's Not So Scary Halloween Party?  Are you planning on attending this year?  Let us know!
Magically Speaking Featured Article
Library of Congress ISSN:1556-3863