This post may contains affiliate links for your convenience. If you make a purchase after clicking a link we may earn a small commission but it won't cost you a penny more! Read our full disclosure policy here.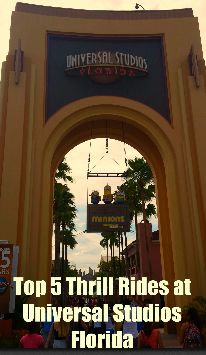 Looking for the fastest, scariest, and all around jaw dropping thrill rides of Universal Studios Florida? These are the top 5 thrilling attractions that are sure to excite even the most experienced of adrenaline junkies!
Harry Potter and the Escape from Gringotts
Inside the newly built Diagon Alley at Universal Studios Florida stands a grand, eye catching building with a majestic dragon standing guard of the gold below. This of course, is the wizard bank, Gringotts and what lies inside is even more impressive. The queue of this ride transports guest right into the magical world of Harry Potter. The attraction is truly like nothing I've ever experienced. As far as the attraction itself goes, the multi-dimensional 3-D technology combined with the fast movements and drops of the cart will awe and delight beyond your expectations. Even if you've never watched a Harry Potter movie or read a Harry Potter book you still need to experience this adventure.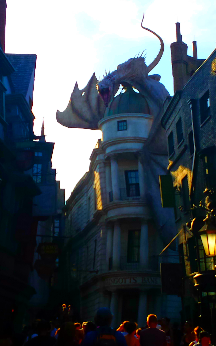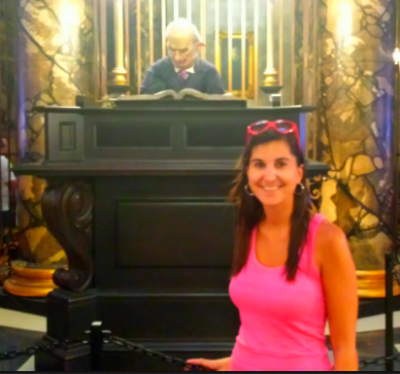 Revenge of the Mummy
This dark ride attraction combines both screen visual effects and real animatronics to immerse guests into the world of "The Mummy". Based on the original motion picture, this high adrenaline adventure includes frights such as bugs, fireballs, and of course an army of mummies, all while topping out at a speed of 45 mph. The surprise twist near the end of the ride will terrify even the bravest of riders.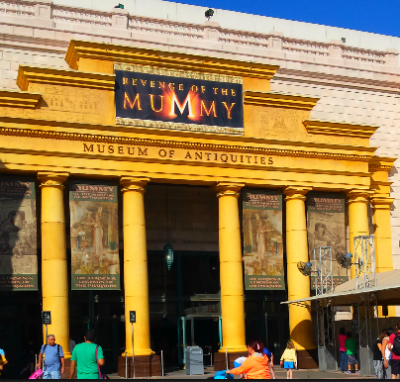 Hollywood Rip Ride Rocket
This roller coaster experience at Universal Studios Florida is truly is both interactive and customizable to each rider. As soon as you are seated in this fast moving, high flying ride, you are instructed to choose a song from the vast music selection, which will be playing in the speakers that rest near your head throughout your ride. This coaster boasts a 90 foot drop and speeds up to 65 mph, along with the world's first non-inverting loop. As challenging as it will be, try to keep your cool because you are being recorded. A full video of your thrilling experience will be available for purchase at the end of the ride.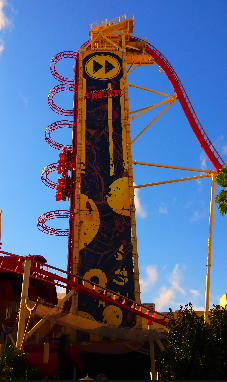 The Simpsons Ride
Join the characters of the long-running animated television program "The Simpsons" on this simulated motion ride. At first glance, this attraction seems tame; however once in motion, it will give you the feeling of being on a real roller coaster (and more). The ride bobs, weaves, and drops in unison to the action on the screen.
*This ride has been known to cause motion sickness. (I never get motion sick, and this ride left me feeling very woozy.)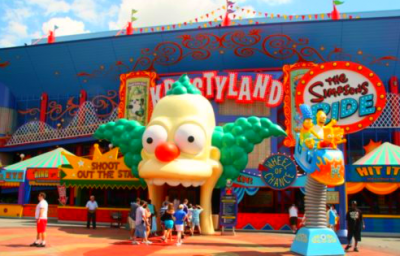 Transformers: The Ride 3-D
Based on the Transformers movie franchise, this dark ride utilizes large movie screens to engage guests in a high definition 3-D experience. The jolts and dips of the ride move in sync with what you will be seeing on the screens. As a battle unfolds before your eyes, guests will have a hard time not ducking and moving to avoid being hit by realistic looking debris.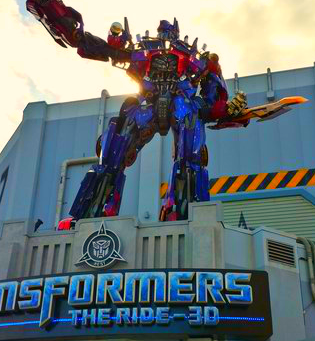 What do you think of our selections? Tell us your favorite thrill rides at Universal Studios Florida in the comments below!