This post may contains affiliate links for your convenience. If you make a purchase after clicking a link we may earn a small commission but it won't cost you a penny more! Read our full disclosure policy here.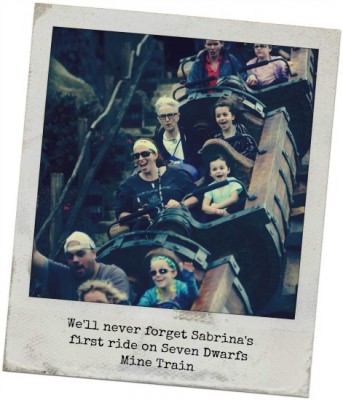 You've probably heard about Memory Maker, but may be wondering if it's worth it.  A quick background, Memory Maker is a Disney PhotoPass product that allows you to pay for the entire "bundle" of photos taken by Disney PhotoPass photographers while at Walt Disney World.  Memory Maker includes all of your Disney PhotoPass photos including character experiences, magic shots, and photos from select attraction and dining locations.  You can find additional information about the nuts & bolts of what Memory Maker is, how much it costs, and how to use it in the Mouse for Less Guide to Disney's Memory Maker.
As most decisions about what you purchase or add-on during your Disney vacation are personal, I'd like to share the top 5 reasons I think Memory Maker is worth it.
5.  You can lose your camera.  Do you know that cameras are among the top lost/found items at Walt Disney World?  You've painstakingly documented every one of your family's magical memories on your digital camera, but now you can't find it!  Disney does have a solid system in place for recovering lost items and returning them to guests at Lost & Found, but some won't get their camera back.  I know that I treasure the visual mementos that photos serve as and would be devastated if I lost all of the pictures I took on my vacation.  I also fall prey to Murphy's Law – I truly believe that if I don't purchase Memory Maker, I will lose my camera.  If I do purchase it, I won't lose it.  Yes, that crazy theory is worth the money to me!
4.  The quality & ease of PhotoPass photos.  Most of us whether we admit it or not, are amateur photographers at best.  I know I've taken a class, read plenty, and still shoot in auto-mode with my expensive camera.  And truthfully, when I take the same shot as the Disney PhotoPass photographer, theirs comes out better; it just does.  They can even use my camera and the same picture taken with their camera will come out better.  Is it because they will take the time to adjust settings on their own and not mine?  I don't know, but I love that in just one or two shots, theirs are professional and high quality.  The ease of being able to walk up to the numerous PhotoPass photographers is so nice!  They are stationed throughout the parks, dining locations, and character meets. These are unlimited- you can spend as much time as you want, having as many pictures as you want taken, on your Disney vacation. I just logged in and because I do have several friends & family linked on my My Disney Experience account, I can see over 900 PhotoPass pictures between us! That's an incredible value for what is essentially a professional photo shoot don't you think?  I also truth be told, am guilty of leaving my nice camera in the bag and using my iPhone to take all of my photos. (gasp!)
3.  The attraction shots.  Have you ever tried taking a selfie, or a family selfie while whipping around on Test Track?  All the while worrying your camera or phone will go flying as you do?  I wasn't one to purchase the individual pictures from attractions previously, but I now love that they're included on Memory Maker!  I now have the photo to document when each daughter was old enough to ride a new attraction for the first time when they meet the height requirement, or an action shot of my family on Seven Dwarfs Mine Train.  Those are invaluable photos to have.  Then of course there are the videos now included from select attractions!  I think these are a wonderful addition and I look forward to looking back at them years from now.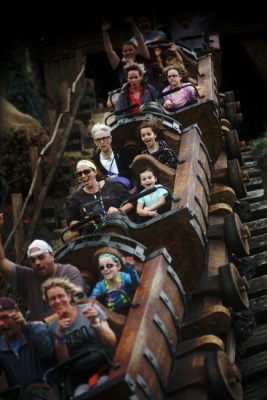 We'll always be able to remember the first time Sabrina was tall enough to ride the Seven Dwarfs Mine Train
2.  You'll be more likely to print them.  Do you find that now that we've moved to a digital era from film, you have 500 times more photos, but don't have any "prints?" I have fallen into this conundrum, and end up with hardly any hard copies, prints, of the pictures I take.  But I do try to print a photo book, or print the pictures to fill an album, so that we can remember each Disney vacation.  I like to make one for each of my daughters.  If no other picture is printed in our house, we like to get our vacation photos as those are some of our favorite memories.  With the online options to edit and/or print your Memory Maker photos, you'll find they're too cute not to print!  You can add text, borders, effects that will have you losing hours editing your photos!  As I mentioned before, these are professional quality photos and you'll find they're highly frame-able!  I also wonder what the statistic is for the number of people who use a PhotoPass shot for their Christmas cards?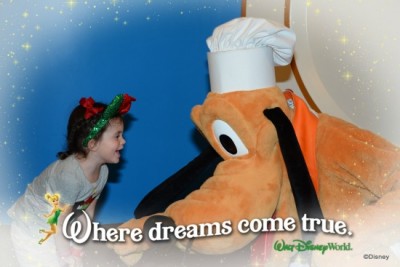 1.  Capturing those special moments.  Yes, as parents we tend to have that camera or phone ready at all times, but the PhotoPass photographers are trained to know when a special moment is about to be made-  they often take that picture of your child seeing a character for the first time, or the character doing something special for your child – not just the facing front, everyone smile pose. They capture the magic that happens!  They are so intuitive that they know when a special character hug is coming or a proposal may occur.  They are also strategically located throughout the parks so that the backgrounds of your pictures are some of the most breathtaking you can find.   Disney PhotoPass photographers also take what are called Magic Shots.  They'll have you or members of your family pose so that you may or may not have any idea why you're doing what you're doing, but they magically include some pixie dust and when you later view your photos, you'll see that they have added a special touch. Of course, it doesn't hurt to mention you have Memory Maker so that they will be inclined to take these shots. They just know when to "capture" the moment!  I also find that as the one in our family who takes most of the pictures, I'm often not in any.  Knowing we have Memory Maker, makes me stop whenever I see a PhotoPass photographer so that I am in our family photos too!
Florence getting swept away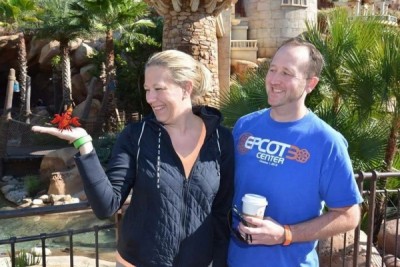 Sebastian joins Bernadette & Matt for some fun under the sea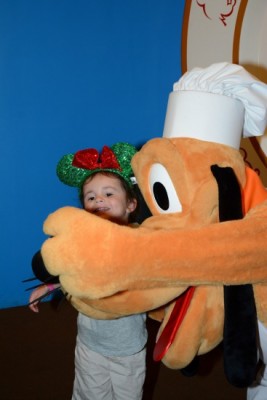 Pluto pretending to take a selfie with the restaurant pager at Chef Mickey's!
While I speak a lot about Disney's PhotoPass photographers, you may wonder why I'm talking about PhotoPass so much in a post about Memory Maker.  To summarize, Memory Maker is the "product" you purchase to include everything I mentioned above – a Disney PhotoPass product.  So use those photographers!  They are more than happy to spend time taking pictures of your family in any and every possible combination you can think up! In order to get the best value for Memory Maker, have as many pictures taken as your schedule will allow!