This post may contains affiliate links for your convenience. If you make a purchase after clicking a link we may earn a small commission but it won't cost you a penny more! Read our full disclosure policy here.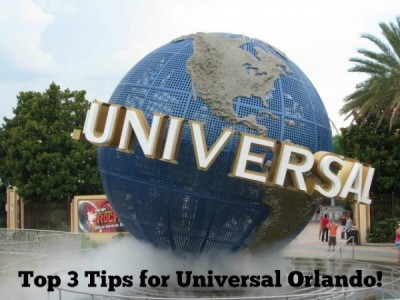 The Mouse For Less Blog would like to welcome Kimberly, who brings her top tips for visiting Universal Orlando Resort!
My family and I love Universal Studios!  Whether you opt to add it to a portion of your Walt Disney World vacation, combine it with other Orlando attractions, or decide to do an exclusive Universal vacation, you just can't go wrong.  With just a few strategies, your time spent at Universal Studios can be just as magical as a Disney vacation.
Tip #1:  Express Pass
As of right now, there are four Universal onsite resorts:  Cabana Bay, Loews Royal Pacific Resort, Hard Rock Hotel, and Loews Portofino Bay.  The newest resort, Cabana Bay, has some exciting activities (including an onsite bowling alley), but it doesn't offer the Express Pass for the parks. However, the other three resorts do offer this special perk!
Having the Express Pass for the Universal Parks makes a world of difference.  You and your family will be able to just breeze right on by the lines for a vast majority of the park attractions.  Since staying at the three deluxe hotels provides you with unlimited Express passes, if your family wants to ride again, you can do it right away, or maybe come back later for a few more rides.
There are currently a very small handful of attractions that don't accept the Express Pass:  Harry Potter and the Escape from Gringotts, Hogwarts Express, Harry Potter and the Forbidden Journey, and Pteranodon Flyers.  Thankfully, though, many of these can be visited first thing in the morning, since the onsite Universal resorts offer early entry every morning to the Wizarding World of Harry Potter for their guests.
Additionally, if you can only manage to stay at one of the onsite resorts for one night, it still gives you two days' worth of Express Pass options—for both the check-in and check-out days.  While I think it is definitely worth it for two guests, it's especially valuable for 4 or 5 guests, since everyone in the room will get the Express Passes.  What a deal!
Tip #2:  Wait until your child is tall enough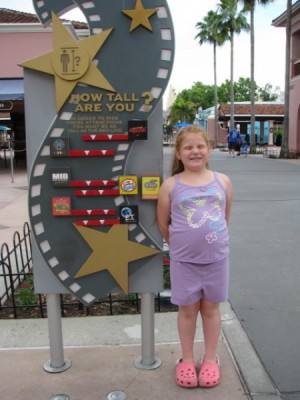 In order for your child to be able to enjoy more attractions, it might be wise to wait until he/she is tall enough, especially if he/she is a thrill junky.  It can be so disappointing to a thrill rider if they can't ride something that they see, only to find out that they are too short.  Universal Studios has a few thrill rides with higher height restrictions than Walt Disney World.  Little Johnny might've ridden on Rock 'n' Roller Coaster multiple times and loved every single ride, but he's 49 inches tall–tall enough for all of the Disney rides, but too short for Rip Ride Rockit, Doctor Doom's Fearfall, and The Incredible Hulk Coaster.
Knowing that I had a little thrill rider, I purposely waited until my daughter was tall enough to at least be able to ride Rip Ride Rockit before we included Universal in our vacation plans.  It was her most favorite ride there, so I made a wise choice.  I would've hated to have to deal with a very upset child had I taken her before she could ride that very visible attraction.  In hindsight, this was one of the best vacation decisions I've made, and well worth the wait.
Tip #3:  Take time to enjoy the extra things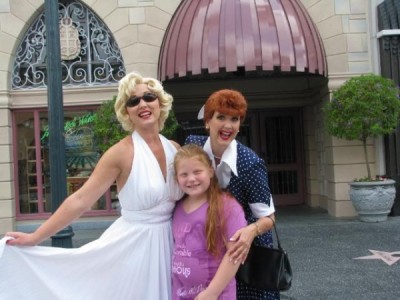 There are so many other fun things that you can just pass by, but they're so worth the time to stop.  In the above photo, my daughter was doing a meet & greet with Marilyn, when Lucy suddenly ran over to join in the fun.  Why?  Because I had a little redhead, and she just had to get in the photo.  She made such a fuss over my daughter's hair, and it made my little girl feel so special.  As a result, my daughter has become a huge Lucille Ball fan and now loves watching all of the I Love Lucy shows.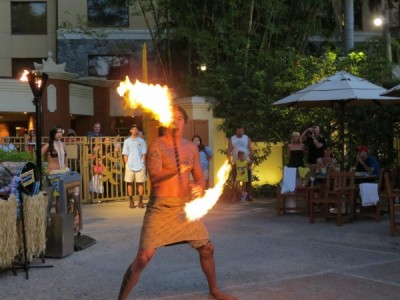 Even the hotels have fun entertainment.  This guy was poolside at the Royal Pacific Resort where we were staying.  My daughter wouldn't get out of the pool to watch, but I thoroughly enjoyed it.  He was really great, but just one part of the show, which was so much fun to watch.
The Universal Parks are different from the Disney Parks, but a Disney lover can have an amazing time there.  It's so easy to go between the two parks, and there's much fun to be had at City Walk, too.  It's definitely a great addition to a Disney vacation, but it's also a wonderful and even relaxing destination all on its own.  Give Universal a try!
What is your best tip for visiting Universal Orlando?

Incoming search terms:
universal orlando official site