This post may contains affiliate links for your convenience. If you make a purchase after clicking a link we may earn a small commission but it won't cost you a penny more! Read our full disclosure policy here.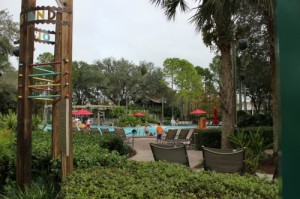 Summer… Thoughts of fun vacations, Walt Disney World, Mickey Mouse, and heat. Heat may not be something that all people think about when planning that Walt Disney World vacation because there are so many fun things to focus on. In the past, I might not be so concerned about the heat, either, but my son isn't able to tolerate the heat. When we consider vacations, we need a plan to find ways to beat the heat when my son shows signs that the heat is too much for him.
There are so many great ways to survive the heat while still having a great time at Walt Disney World, so I would like to share the top ten ways that my family deals with or avoids the heat while enjoying our Walt Disney World vacation!
Spend most of your time in the park during the cooler hours of the day: early morning and evening. The parks are open later during the summer, so it might be wise to take advantage of late hours.
If you are only eating one table service meal per day, make your ADR for the hottest part of the day. That way, you will have a cool place to sit and enjoy yourself.
Another great thing to do during the hottest part of the day is to go back to your resort room and take a nap. That mid-day nap during the heat will allow you to continue on into the night when it is cooler. You could spend some time in your resort pool if you don't feel that a nap is in your future.
Shopping. Don't confuse this with "buying". Our kids don't buy souvenirs during the first few days of our vacation. This allows for a few shopping trips without the need to buy everything in sight.
We've all heard the term "Animal Kingdom hot", but there are a few places to cool off at the Animal Kingdom, too. Festival of the Lion King and Finding Nemo – The Musical are both indoor shows that are entertaining while providing a cool environment. Also, the Conservation Station at Rafiki's Planet Watch is an indoor area with plenty to see. The Veterinary Treatment Room is probably our favorite place to watch.
There are a few other shows that my kids enjoy, and these allow us a brief reprieve from the heat: Mickey's Philharmagic (Magic Kingdom), Muppet*Vision 3D (Disney's Hollywood Studios), Captain EO (EPCOT), The American Adventure (EPCOT), and The Hall of Presidents (Magic Kingdom). Ok… My daughter doesn't enjoy Captain EO so much.
Resort-Hop. We love to see resorts that we either haven't stayed in or haven't stayed in for a while. Plan what resort you want to visit and plan to eat lunch there. While not quite as relaxing as the nap option, it does give some down time without the press of the crowds in the parks.
Look for attractions that are either longer indoor rides or have queues that are indoors. Some of our favorites are Spaceship Earth (EPCOT), The Great Movie Ride (Disney's Hollywood Studios), The Seas with Nemo & Friends along with Seabase (EPCOT), Soarin' (EPCOT), Living with the Land (EPCOT), and Gran Fiesta Tour Starring the Three Caballeros (EPCOT). There are others, but these are some of my kids' favorites.  Make great use of the Fastpass system to shorten the time you wait in outdoor queues.
Take it at a slower pace. This is a rule that we have lived by over the last few years. We don't feel the need to see and do everything during each trip, so we slow down. If it is too hot to continue, we find something else to do. We are not above going to see a movie if it is too hot at the parks. Don't forget that there are Splitsville and DisneyQuest, too. Those would be great activities on a hot day.
Water, water everywhere. Water is a huge part of touring Walt Disney World, even in the coolest of temperatures. Face it, most of us are much more active at Walt Disney World than we are at home, so we need to drink more water. We keep a close eye on the amount of water we drink and stop for extra drink breaks throughout the day.
These are my family's top ten ways to beat the heat, but you can find more tips on our Beat the Heat page.
Do you travel to Walt Disney World during the summer? What are your best tips for touring in the heat?