This post may contains affiliate links for your convenience. If you make a purchase after clicking a link we may earn a small commission but it won't cost you a penny more! Read our full disclosure policy here.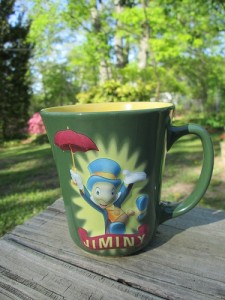 We returned from a wonderful trip to Walt Disney World last month, and I have to admit that the trip was so wonderful that we have been doing everything we can to make that Disney magic last a bit longer at home!   Rather than giving into the post-trip blues, we are celebrating the fact that we had a marvelous time by weaving a bit of Disney into our daily lives.
Here is our Top Ten List for Keeping the Magic Alive After a WDW Trip!
 Listen to Disney Music!  This could be music from Disney movies or music from the parks.  WDW sells a CD of park music you can bring home with you.  Listening to the soundtrack of Soarin while folding laundry at home brings a smile to my face during a usually boring chore.
 Tune into a WDW related Podcast.  We like the Be Our Guest WDW Podcast  for the fun people who run it and information they share.
Stop by and visit the MFL Boards.  It's a great way to share memories from your trip, rejoice in the fun others are having with their Disney vacations, and keep up to date with the latest developments in the Disney Parks and with the Disney Cruise Line.
Make a scrapbook, whether it's on actual paper or photos you can share online with family and friends.  Going through your photos is a fun way to relive the magic you had on vacation!
Display photos!  Buy a couple of cute photo frames, and display a few of your favorite Disney photos in your home or office.
Do you remember smelling the pie in Philharmagic or the pine forest in Soarin?  We associate many smells with Disney—the Main Street Bakery Smell, the 'swampy' smell of the water in Splash Mountain, the burning of Rome in Spaceship Earth, and many more fragrances that take us back to a location or attraction in Walt Disney World.  One day we were smelling candles in a store, and as soon as we smelled a pine candle it instantly reminded us of Soarin!  If there is a special WDW fragrance you enjoy, try to find a candle of that fragrance to use at home.
Have a movie night!  Pick a Disney movie, pop some popcorn, and enjoy!
Replicate a recipe or a meal that you have enjoyed at a Disney restaurant.  Recipes can be found at the MFL Board in the Disney Recipes forum.  We have made Le Cellier's Cheddar Cheese soup, pasta salads from Boma and Crystal Palace, the peanut butter and jelly milkshakes from 50's Prime Time, and a few other recipes.
Use an item from Disney, such as a favorite Disney mug or kitchen towel, every day.  We keep our refillable mugs for drinks on the go and for iced teas at home.  I have a special Jiminy Cricket mug I use for coffee or tea.  We also have other small Disney items such as office supplies, kitchen items, etc. that we use almost every day.
Plan another trip!  Even if that trip is not for a long time, planning another trip is one of the best ways to keep memories alive and to dream of how to make new memories!
Don't let the post-trip blues get the best of you after returning home from a Disney vacation.  Keep the magic alive at home, and enjoy that bit of pixie dust every day!
Incoming search terms:
https://www themouseforless com/blog_world/top-10-tips-keeping-magic-alive-wdw-trip/