This post may contains affiliate links for your convenience. If you make a purchase after clicking a link we may earn a small commission but it won't cost you a penny more! Read our full disclosure policy here.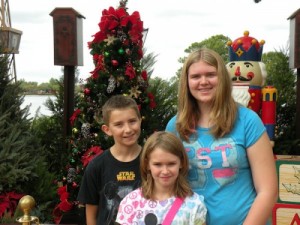 On this Thanksgiving Day, we all reflect on the many things we are thankful for in our lives. Before the title of this blog give anyone the wrong idea, please let me clarify a few things. I have many things to be thankful for every day of the year that aren't a vacation destination: health, a nice home, great family, and the ability to travel. We have many blessings in our lives that trump a Walt Disney World trip. I am not taking any of these things for granted. They all enable me to have Disney World be a part of my life.
And I'm also not trying to slight any other aspect of Disney that others may find important. Disneyland is amazing. I'm sure the other parks around the world are as well and hopefully someday I'll be able to find that out for myself. Disney Cruise Line has provided us with some amazing voyages. There are many other aspects of the vast Walt Disney Company that touch my life each day. But the one that has touched us most in this household is Walt Disney World.
So without further ado, here is my Top 10 list.
10.  Food. Yes, my family eats when we are not at Disney World. But the vast array of choices available is unique to our experience there. Where else can we have Mickey waffles for breakfast, Norwegian koldtbord (cold buffet) with lunch, and dinner cooked on a Japanese hibachi? Oh, and let's not forget French pastries for dessert. My family's palates have definitely expanded with our Disney World Trips.
9.  A Common Bond with other Guests. I'm not great at small talk. But I've come to realize that a great deal of my wardrobe has some Disney element to it. This is a great conversation starter. So many people have either been to the parks or want to ask about the parks. This is a great way to talk to people. My apologies to anyone who has asked a simple Disney question and had me talk their ear off.
8. Music. Music is important in our household. All three of my children are musicians. My girls love to dance. The music at Walt Disney World is memorable. In a bad mood? We throw in a Disney Parks CD and suddenly our cares are somewhere else. Listening to the soundtrack of our happy place can instantly remind us that we will get through whatever troubles have cropped up.
7. Finance. To anyone who has ever planned a Disney vacation, you know that it can involve an outlay of cash. Sometimes a significant outlay, too. As a family, we discuss these types of things. How much is airfare? If you only have a $25 souvenir budget, is that t-shirt really what you want? Can a family of five eat for a week on our budget? As the kids get older, we have learned to incorporate these types of lessons into our trip planning. And they learn to see how saving for something we want to do sometimes means sacrificing other less important wants in our lives. A trip to Walt Disney World provides us with a means to discuss these financial lessons in a way we can all relate to.
6.  Magic. Sadly, as an adult, the amount of magic in my day can be somewhat limited. At Walt Disney World, that changes. All of us become kids at heart. We can just enjoy ourselves and know that there are Cast Members working tirelessly to give us a magical vacation.
5. Education. Walt Disney World doesn't just have theme parks. There are many educational aspects of being there. I will never forget one of the kids as a preschooler reading a map. When I asked how she could do it, she said she practiced with park maps. The kids learn about other countries. They see how movies are made. They understand how to interact with people. They meet Cast Members from all over the world. They learn about animals and why conservation is important. And they think we are just on vacation. The educational aspects of being at Walt Disney World are everywhere if you take the time to look for them.
4. Travel. We tend to go to the same place every year. Yes, I mean Walt Disney World. But we are able to sometimes go other places, too. Or we find something new to explore while in central Florida. My suburban kids learn how to travel by bus. Perhaps it's not the same as a city experience, but there aren't many public transportation options in our suburban town. No matter what the circumstance, our journeys to Walt Disney World have made our kids experienced travelers. They know how to behave in a hotel. They can get through a security line at the airport with ease. We have learned that traveling doesn't always go right, but the journey can be part of the adventure.
3. Cast Members. While I know a few Cast Members personally, there are thousands working at Walt Disney World each day to make my stay magical. To those people, who many never even know that they touched our lives, I thank you. Those extra magical touches that make our vacations that much more enjoyable are what brings us back to Walt Disney World.
2. Friends. There are friends I've met through the Disney community and at Walt Disney World who I probably would not have otherwise met in my life. I have friends literally throughout not only the United States, but the world. Some I've only met virtually, but some I see on occasion. Whenever we meet, it's a wonderful experience. In fact, I'm going to one such meet next week. Even if we can't have the meet at a Disney park, we can all enjoy each other's company and our common bond.
1.  Family Memories. Those Disney Parks commercials are right. We only have so many years before our kids are grown up. As my kids become teenagers, that truth becomes all the more real. But we will always have our Disney memories. This is something we shared with our family. Going to Walt Disney World was (and thankfully still is) our time to spend together. We put many of our other cares away, and focus on each other for a few days. The ability to do that is probably the gift I am most thankful for receiving. Our time together is this magical place has provided us memories that will stay with our family forever.