This post may contains affiliate links for your convenience. If you make a purchase after clicking a link we may earn a small commission but it won't cost you a penny more! Read our full disclosure policy here.
From Our Magically Speaking Newsletter Archive – subscribe today!
By Rikki Niblett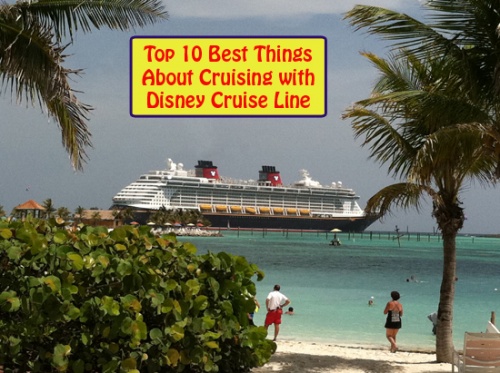 I've been in your shoes before. I know what you're thinking. You're thinking about potentially taking a Disney Cruise Line vacation, but you just don't know. You've mastered a Walt Disney World or Disneyland vacation, but would you really enjoy a Disney Cruise Line one?
I can answer this question with a resounding YES! Without a doubt, a Disney Cruise Line vacation is one of the best vacations around. But why? What makes cruising a great option? Well for that answer, I have 10 reasons…my top 10 Best Things About Cruising with Disney Cruise Line!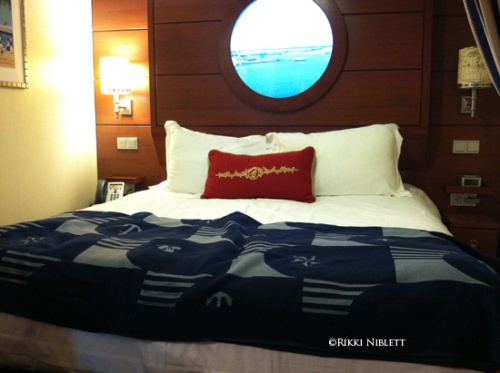 Staterooms: Not only are the staterooms larger than most other cruise lines, but they come with some unique features too. For many rooms, the bathroom is a split bath; a shower and sink in one part and a sink and toilet in another. Another neat perk is lots of storage space to hide luggage (like under the bed) and for those who don't have a view of the ocean, on the Disney Dream and Disney Fantasy they offer the virtual portholes, where you can see exactly what is going on outside, but courtesy of video screens! (Be on the lookout for Disney characters which may pop up!)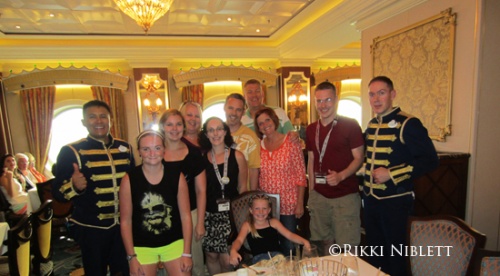 Rotational Dining: One of the things that is unique to Disney Cruise Line is rotational dining. Here guests rotate to the three different restaurants each night, but their dining staff rotates with you! This comes in handy because your staff knows what drinks you like, what items to recommend, and more. Honestly, the dining staff become like family to you too. You bond with them, chat with them, and yes, even take photos with them at the end of your cruise…like we always do.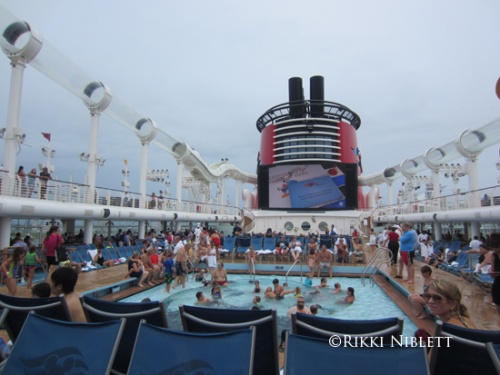 The AquaDuck/AquaDunk: These two water slides are one of a kind options only available on Disney Cruise Line ships! (The AquaDuck is on the Disney Dream and Disney Fantasy and the AquaDunk is on the Disney Magic.) If you are a water slide fan at all, you'll want to experience these for yourself. If you're not a water slide fan, there's lots of areas to swim and play. There's the Aqualab, the Nemo Reef section, and of course the Mickey Pool! Swimming in some form is a guaranteed must while cruising and what better way to do it than on these fantastic ships?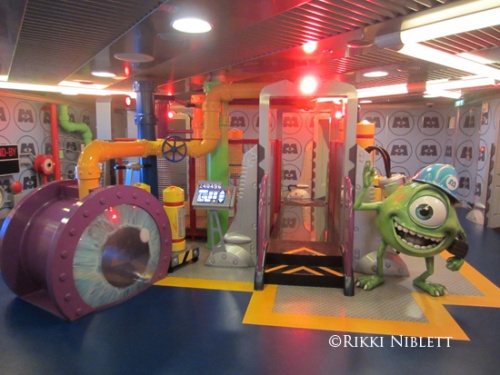 Oceaneer's Club, Oceaneer's Lab, Vibe, Edge, and every other kid's section: Holy cow! What can I say? These kids sections are fantastic! There is just so much to do that oftentimes kids don't want to leave. (Heck, let's be honest, I wouldn't want to leave…too bad I'm a grown up.) It's playtime, all the time and it's oh so fun! (And during the open house portion of these areas on the first day on the ship, I may have had some fun playing too!)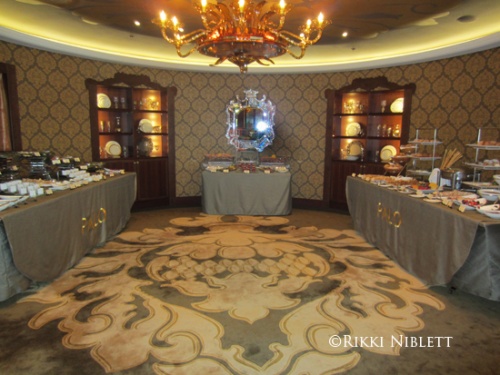 Palo Brunch: Want to know the ultimate in meals (at least according to me.) It's Palo's Brunch. Only offered on at sea days and for an extra cost, the brunch is a must do, can't miss, if you can. There are so many different options to choose from. You have great breakfast options like fruit, yogurt, salmon, danishes, and more. Then for lunch choices you have different salads, shrimp, ahi tuna, etc. Then on top of that you can choose to order flatbreads. Oh then you can choose to order an actual brunch meal, such as pancakes, omelets, or even chicken parmesan. Finally it's the dessert course. If you don't roll out of here stuffed to the gills, you did something wrong.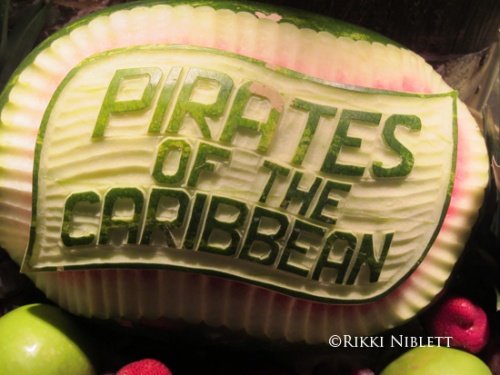 Pirates in the Caribbean Night: Did you know that special to Disney Cruise Line is the Pirates in the Caribbean party? It starts with the guests who are encouraged to dress the part. Then guests get to partake in a special dinner menu. Guests are to head out to the deck where the Pirates in the Caribbean party is taking place. There's a special version of the show for kids and then a version that's a little scarier (I mean…as scary as you can get for Disney) later in the evening. Of course you will not want to miss out on the fantastic fireworks extravaganza. (Did you know that DCL is the only cruise line that offers fireworks.) Oh and then to top it all off, most of the time there is a wonderful midnight buffet, which features delicious dishes, along with turkey legs! It's a arrgh-tastic!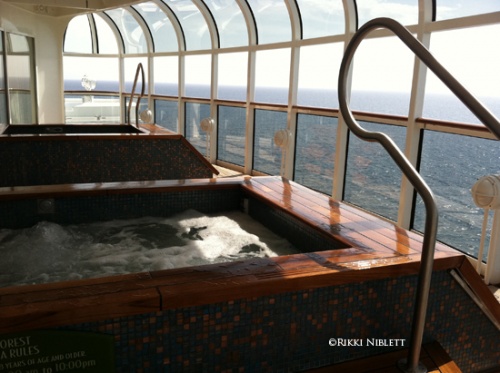 Senses Spa: Are you looking for a little luxury during your vacation? Look no further than Senses. Here you can have all the pampering you want done (of course for a price.) You can get manicures, facials, and even massages. Of course, my favorite section is the Rainforest Room, where guests can sit on heated loungers, enjoy "private" hot tubs, take a steam, or rinse off with the famous rainforest shower heads. (Do keep in mind that you can purchase a Rainforest Room pass, but they are only available on a first come, first served bases starting as soon as you board the ship.)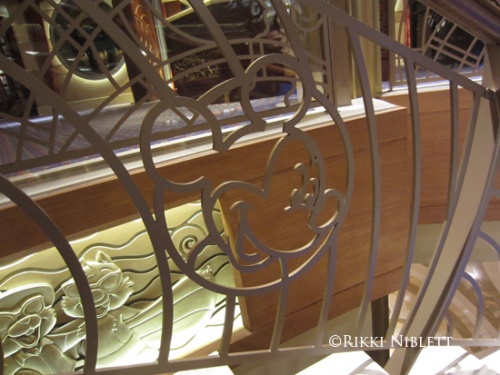 Disney touches everywhere: While Disney Cruise Line is of course a Disney ship, the Disney touches aren't so in your face. There are little things everywhere…some more open than others. You can see the touches in the stairwells, you can seem them in the artwork, heck, you can even see them in the elevator (look at the arm telling you what floor you are on.) Though there are times when you forget you are on a Disney ship, the details are so wonderfully hidden; like a giant Disney Easter egg hunt! It's so elegant and regal. The whole ship! Of course, there are more overt touches too…like the Mickey Pool or Mike Wazowski's Eye Scream Ice Cream. But you want to know one of the coolest Disney touches? You can be walking down the stairs and literally run into a Disney Princess. Yep…it's happened.
Broadway Caliber Shows/Other Entertainment: Can I just say that the entertainment and the staff here on DCL is redonkulous! Oh my gosh! They are just so, so great. (Actually all the Cast Members are top notch. Really, you won't find one who doesn't work super hard to make your vacation fantastic.) But as far as entertainment Cast Members, they get the party pumping from the moment you step on the ship until you dock back home. The Broadway caliber shows are just incredible too. They are so special and most tug at the heart strings. Do not miss these! You also have the option of playing game shows, they keep the clubs thumping, and they have lots of activities going on the pool deck. There's really just a ton to do. Don't worry about being bored on a Disney Cruise Line vacation…it's really the opposite…you'll have too much that you want to do and not enough time to do it in!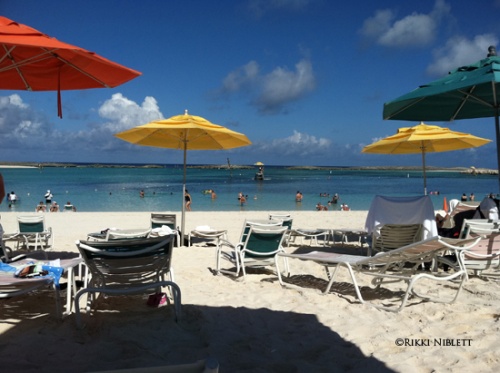 Castaway Cay: How can you not talk about Disney Cruise Line and not mention Castaway Cay. For many, many sailings, stopping here is a requirement. It's like an extension of the ship. It is the epitome of a tropical island. There's so much to do too! If you want to go parasailing, you can. Want to feed a sting ray, you can. Want to go on a bike ride, yep. Want to run a 5k, that's a yes. Want to play in the ocean…yes sir! Or if you just want to rest on a lounge chair and read a good book, you can do that too. Castaway Cay is the ultimate paradise and a major reason why many choose to cruise with Disney Cruise Line.  (And the ultimate is the Castaway Cay double dip, which I get to participate in next time. It's where you visit Castaway Cay twice during your cruise!)
As you can see, a Disney Cruise Line vacation is a ton of fun! Honestly, this vacation is one of the best ones we've taken. I'm more of a go-go-go Walt Disney World vacation taker…my hubby prefers to relax…but on a Disney Cruise Line trip, we are always able to meet right in the middle. Preferably on Deck 4…but that's another great hidden gem that I want to keep to myself. (Oops…I think I gave it away.  Darn!  Well, it's between me and you, right?)
Magically Speaking Featured Article
Library of Congress ISSN:1556-3863