This post may contains affiliate links for your convenience. If you make a purchase after clicking a link we may earn a small commission but it won't cost you a penny more! Read our full disclosure policy here.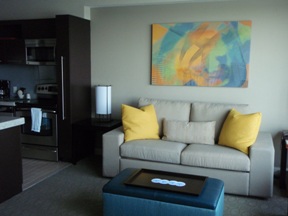 By:  Rhonna Costabile
Did you ever find yourself wondering whether or not you should join the Disney Vacation Club? You see the kiosks all over the place or you see the billboards – taunting you with "the best kept secret". As a member myself, I will gladly point out some of the more significant advantages and disadvantages to help you make a decision one way or the other.
The Disney Vacation Club program is point based, and you have the freedom and flexibility to use your points however and whenever you want. Each year, you will receive a new allotment of points and you also have the option to bank (putting the points aside for the following year) or borrow points (taking points from the next year's coffers) if you are wanting to do a Disney vacation but don't have enough points for the room type you are looking at or you want to vacation longer than your year's points will allow. I will spare you the grueling details of all of that.
Your points allow you to stay at any of the nine resorts that have special DVC villas. You can also use your points to stay at the Disneyland Resort, the brand new (upcoming) resort Aulani, in Hawaii, on a Disney cruise or any other Disney resort in the USA or abroad. There is a litany of ways you can vacation with your points. There is even an exchange program included, allowing you have even more flexibility and options.
One of the biggest draws about the villas is that they are more like apartments with their very own kitchenette, washer and dryer, and separate bedrooms. The whole idea is to make you feel like you're not in a hotel room, but at home. To many families, just the idea of being able to do laundry for free and in the comfort of your own villa is enough to make them decide to buy in.
Another bonus is that your membership is good for roughly 50 years! In addition, there are other perks for DVC members such as discounts for merchandise and services.
So, how could there be any disadvantages? Well, the points are only good for one year. If you cannot do a Disney vacation in one year, you would have to bank your points. After that you have one more year to use them, or you lose them. It is constant monitoring of your points, which could be a huge hassle for some.
Another negative is that the villas do not receive housekeeping every day. You will only get new towels and have the trash removed from the room once or twice during your stay. The rooms are equipped with vacuum cleaners in case you make a mess on the floor and if you need clean towels or bed sheets, you can always wash them yourself. Don't forget to pack those Purex 3 in 1 sheets!
Another thing to consider is that it can also be quite expensive. Each property sells for a different cost per point. In order to have enough points to stay for a full week at any time of the year at any of the resorts, you will need a large amount of points. They do offer payment plans, but there are interest fees, closing costs and annual dues.
In the long run, having a DVC membership does pay for itself and it is a significant cost savings where accommodations are concerned. As rack rates rise, the cost of your points stays the same for the duration of your contract. Even if the number of points you need to stay for a week increases, you are still paying less than you would with cash to stay in a villa, if you wanted that sort of accommodation.
It's all a matter of what your family wants, needs and can afford. There are point packages for almost every budget. My family of five needs quite a bit of space, and everyone needs their own bed. So, either we book two rooms or one 2 bedroom villa. The cash cost would be the roughly same and we are all comfortable. After all, everyone knows that you need a good night's sleep to navigate through a whole day in any WDW park!
For more information about the DVC program visit https://www.themouseforless.com/tripplanning/DVC/DVC.shtml and maybe one of these days, I'll meet you at an exclusive members only party!