This post may contains affiliate links for your convenience. If you make a purchase after clicking a link we may earn a small commission but it won't cost you a penny more! Read our full disclosure policy here.
We have a trip planned for later in the year to Disney World, and in the back of my mind, we are considering whether to once again purchase tickets to Mickey's Not-So-Scary Halloween Party.  I have no doubt that our family would have a blast, but with so much do to on the basic
Magic Your Way tickets, should we add that expense?
As with any add-ons at Disney World, many factors must be considered.  Our family did choose to purchase tickets to the Halloween party several years ago when our children were ages three, five, and eight.  We had a fantastic time, but there are both pros and cons to attending the party with young children.
The Halloween party has several unique and alluring features.  Perhaps the biggest draw for young and old alike is the enormous amount of candy given away.  Approximately twelve to fifteen trick-or-treat stations are placed around Magic Kingdom, where every person is given a generous handful of candy.  Treats are also passed out by cast members at many of the rides, as well as at the end of the parade.  Upon exiting the park, another huge barrel of sweets is waiting for guests to grab from.
The candy is not cheap, tasteless chocolate.  Many of the treats are made by Mars or by Disney's own candy shops.  No complaints should be uttered about the quality of the candy, nor the amount.  Even though we missed many of the candy stations within the attractions, we still carried home a large duffle bag stuffed with treats.
Some of Disney's most beloved characters, dressed in their Halloween finest, give autographs at Mickey's party.  A specially designed fireworks show and parade add to the festive mood.  The fireworks show, which centered on the villains, failed to leave an impression on our family.  We prefer the Wishes fireworks show, which continues to awe us visit after visit.
The parade, however, was quite memorable.  Beloved Disney characters dressed in seasonal costumes processed down Main Street as performers danced around them.  Delightful Halloween music composed solely for the event filled the air.  Favorite "scary" rides, such as Pirates of the Caribbean and the Haunted Mansion, came to life, entertaining everyone.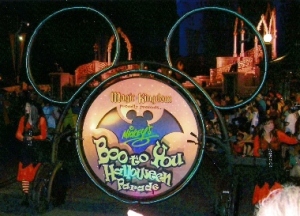 Everyone, that is, except our three year-old son.  Long before the parade began, he had fallen asleep.  In fact, he slept through the fireworks show prior to the parade, as well as the opportunity to ride on Space Mountain, which his brothers and dad did while we held our spot on Main Street.  In reality, our youngest son missed almost everything about the party except the candy, simply because it was way past his bedtime, and he was exhausted.
While the parade is amazing and the candy is not only plentiful, but also delicious, consider the age of your companions when debating the purchase of tickets.  The primary drawback for young children is the late hour that one should plan to be out until.  To compensate, perhaps plan a quiet, restful morning at the resort before heading over to the Magic Kingdom.
Another potential drawback for young children may be the costumes worn by guests.  While we did not see anything scarier than a very realistic looking Anakin Skywalker (the older version – the one who reveals himself as Darth Vader in Return of the Jedi), which our boys considered very cool, there may be a scary costume or two in the eyes of more sensitive children.
The weather may be another factor, as is the case anytime at Disney World.  When paying extra for tickets to a party, however, rain can quickly dampen spirits.  About an hour into the party, with about three of four trick-or-treating stations under our belt, it began to rain.  We had to take cover and pull out the ponchos.  Although disappointed that we had to take time away from partying to rain-proof our stroller and ourselves, we ultimately pressed on and continued trick-or-treating.  The rain eventually stopped, causing no more delays or distractions.
We have wonderful memories of our special night at Mickey's Not-So-Scary Halloween Party and no regrets about purchasing the tickets that year, even though our youngest son slept through some of the events.  In deciding whether or not to attend again when we return to Disney World later this year, we have opted to postpone the Halloween party and instead splurge on Typhoon Lagoon. For anyone who has never experienced the party, however, and especially for those with children older than five who are not easily tired, I recommend buying tickets to this special festivity!