This post may contains affiliate links for your convenience. If you make a purchase after clicking a link we may earn a small commission but it won't cost you a penny more! Read our full disclosure policy here.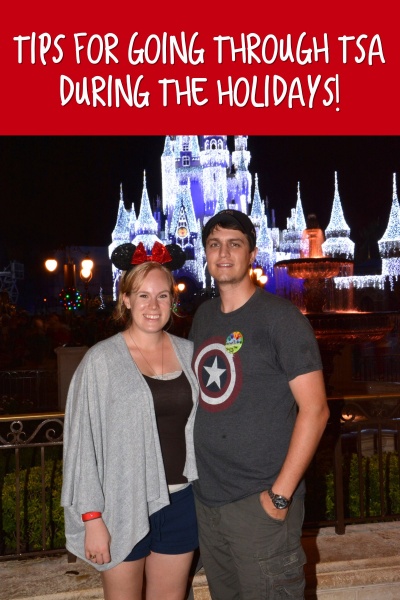 The holidays are here! Which means many folks out there are planning end of year travel whether it be to grandma's house or our mutual "home away from home" Walt Disney World!
If you are traveling by air, one thing is certain…you are going to have to pass through TSA. Those lines can be super long and sometimes what needs to be done to help make the screening process smooth is a mystery in itself. So this pilot's wife hopes to be able to give you some general tips to make your experience as great as possible as well as some Disney specific things you might run into along the way.
So let's go through some general tips for traveling through TSA:
As a general rule, TSA frequently changes their procedures so that want-to-be bad guys don't get comfortable. Example A of this: you used to be able to keep any electronics in your bag except for a laptop. Now, anything bigger than a cell phone needs to be placed in a bin by itself for screening. To keep up with the newest procedures, make sure you visit https://www.tsa.gov/travel/security-screening before your trip to see if there are any new screening procedures that you need to be familiar with.
Make sure your liquids follow the 3-1-1 rule: if the container is bigger than 3.4 oz and it doesn't fit in a quart size Ziplock, it needs to go in your checked bag. Only exemptions are medications and infant/child nourishments. Go to https://www.tsa.gov/travel/security-screening/liquids-rule for all the information on this.
Make sure you know your specific airline's rules on how late you can check a bag and plan on average 45 minutes for you to get through security so that you don't miss your flight! Larger airports like Chicago and Los Angeles can sometimes have lines many hours long so plan accordingly!
TSA has random screenings where you have to receive a "pat down." I was the lovely recipient of this recently even as a TSA Pre-Check customer. I was one of the only people in the security line at a small regional airport. But, when that random generator light goes off, the TSA officer has to do the screening. She was very nice about it and explained what she had to do before she conducted the screening. Just know it's a part of their job and they don't like it either.
On that note, TSA Pre-Check is worth it's weight in gold. My husband, being a pilot, has his own line he can go through that expedites the screening process. However, I cannot go in that line. I cannot tell you how much time we have saved because I got the Pre-Check clearance. MCO seems to have especially long lines these days that I do not have to wait in because of Pre-Check and it also adds a ton of peace of mind for me. Additionally, know that sometimes airports are too small to offer Pre-Check or the airport doesn't have the Pre-Check line open because of odd hours (think early mornings or late nights). You can go to https://www.tsa.gov/precheck/schedule to find out if your airport has Pre-Check and what times those lanes are open.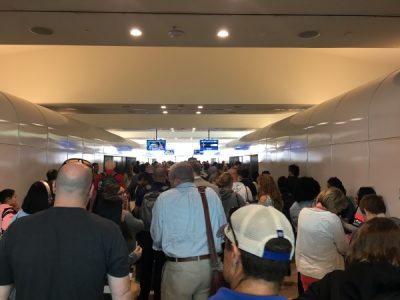 So what are some Disney specific tips for traveling through TSA that could help you:
I would not hesitate to bring food with you, but keep it in a place in your baggage that is easily removable. Supposedly, the story is that some foods (especially candy from Mickey's Not So Scary Halloween Party) are dense enough to make it hard to see what's underneath the treats in your bag. Also make sure your food does not have any liquids in it (leave the soup at home!). The TSA website recommends taking food out even though it is not a necessity to help expedite the process.
If you are traveling to Disney, you might be bringing your mini-me along with you! Traveling with infants or children can be daunting at first. But know that you can bring breast milk, formula, juice and medications for your child through the TSA check point. Be prepared for additional screening of those liquids and add time for that to your travel plans. Strollers and car seats also need to be screened by TSA agents, so be prepared to carry your little one through the metal detectors. My best advice is if you have questions, do not hesitate to ask a TSA agent. More times than not, they are happy you ask. It shows you are being proactive and cooperative, which makes their job that much easier. There's a great TSA video on this information at https://www.tsa.gov/travel/travel-tips/strollers-car-seats-breastmilk-oh-my.
Is your kid older than an infant? Check their suitcase to make sure that they do not bring any toys that resemble a prohibited weapon. I remember that one time my brother thought it was ok to pack the kitchen scissors with him to cut his coloring book with…more info can be found at https://www.tsa.gov/travel/travel-tips/kids-rule-airport.
Are you going down to Disney with some special plans in mind? Maybe you have a round of golf planned or you are camping at Fort Wilderness! Maybe you have a sports competition that requires some special equipment! Some of these items can be brought in your carry on…others MUST be packed in your checked luggage. A few items are prohibited all together. To get a really comprehensive look at what you can and cannot bring, go to https://www.tsa.gov/travel/security-screening/whatcanibring. If your item is not listed, you can send them a picture of the item via Facebook or Twitter and they will give you advice on how to get it to your destination safely!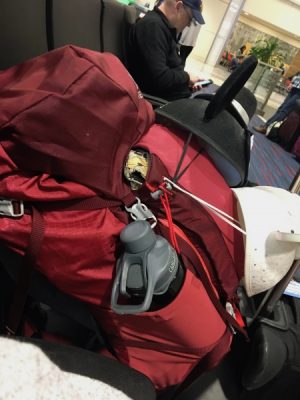 I hope these tips for traveling through TSA allow you to have some peace of mind about traveling to the happiest place on Earth over the holidays! If you have additional tips, we would love to hear them in the comments below!
Did you like this article? Make sure to share it with your friends! Check below for easy ways to share!