This post may contains affiliate links for your convenience. If you make a purchase after clicking a link we may earn a small commission but it won't cost you a penny more! Read our full disclosure policy here.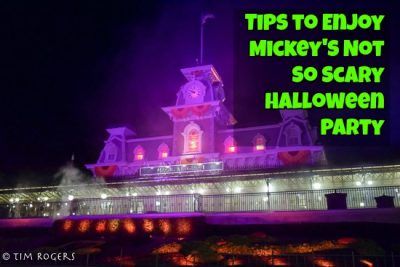 Boo…to….you…a…boo…to…you…a… boo boo boo boo boo boo boo boo boo to you and you.
Every fall, the Magic Kingdom at Walt Disney World transforms into a spooky (but not so scary) party destination. I was able to go to Mickey's Not So Scary Halloween Party last year, and since tickets are already available for the 2018 party, I wanted to share some of of my experiences to show you why it is one of the best events in all of Walt Disney World.
Tip 1: Arrive Early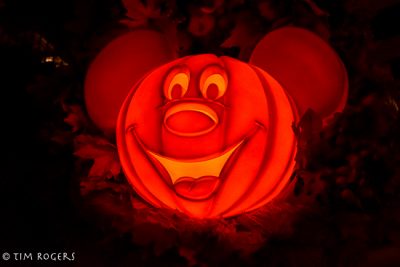 When you go to the party (offered select nights from August through Halloween) your party ticket gets you access to the Magic Kingdom starting at around 4:00 .pm. The night we went, we got there a little after 3:00 p.m. to get in line – the entrances to the party are specially marked. Getting there that early got us two main advantages. First, since we were some of the first people there, we were able to wait directly next to the scanners, and thus be under shade. Second, we were first in a long line of people when they started letting us in around 3:45.
Tip 2: Prioritize Special Characters First
We had set up a few FastpPass+ reservations for the window between entry and the party actually starting, but only ended up using the first one. Even with that, for what we were trying to do, I might not recommend actually even using that one.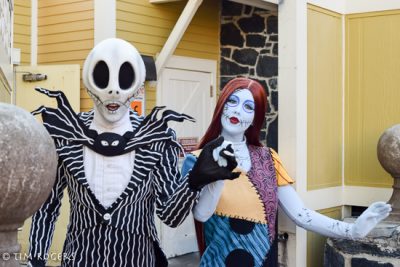 The reason for that is that over the past few years, Disney has started offering some of the in high demand character meets well before the 7:00 p.m. party time. We got in line for Jack and Sally around 4:30 p.m., and they came out around 5:00 p.m. However, because we didn't get in line as early as we could have, we had to wait about an hour to meet them. If we would have gotten in line when we first could have, our wait to meet them would have been 10 minutes at most.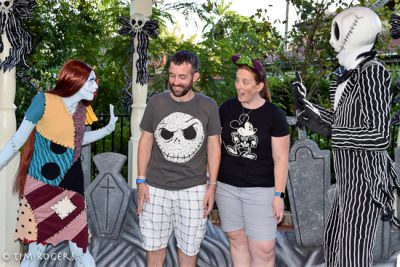 For the meet itself, Jack is incredibly emotive and animated in both movement and speech, and Sally is a great companion. If you are a fan of Nightmare Before Christmas, this meet is definitely worth the effort. And if you are a super, super fan of the film, you can be like the people in front of us in line and take the meet and greet as an opportunity to propose – you already have a photographer!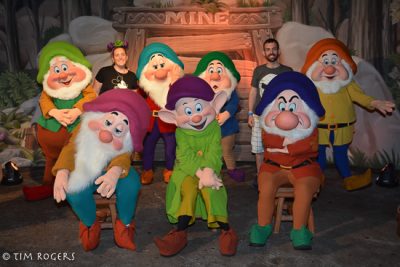 Even though we then went straight to the Seven Dwarfs, the wait time at that point ended up being closer to 90 minutes. While we were able to see both of the two hardest to get character meets, and a few other things, by 8:00 p.m., we could have saved a lot of that time by heading straight to the first line instead of riding something beforehand.
Tip 3: Get At Least One Special Treat
One thing I wanted to do different this time at the party was try at least some of the special treats. The special treats are spread at multiple locations for the party, so we ended up heading over to Sleepy Hollow. There we were able to get two of the special treats exclusive to the party.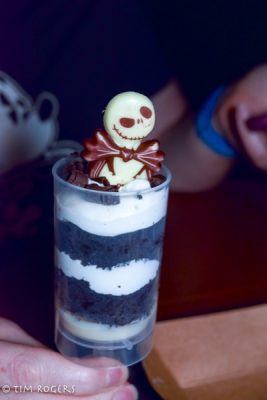 The first was a sort of cake pop made of vanilla panna cotta, chocolate cake, vanilla buttercream, white chocolate and dark chocolate crisp pearls, dark chocolate curls and a white chocolate Jack Skellington. This was not only a fun tribute to our favorite scaring specialist, but it was also tasty.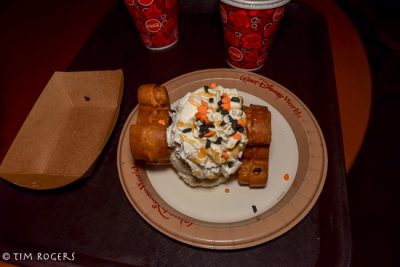 We also tried a Pumpkin Mickey Waffle with vanilla ice cream, whipped cream, sprinkles and caramel sauce. There isn't a single part of that description that I don't like, especially the sprinkles, so it was definitely a good decision.
Tip 4: Set Aside Time for Trick or Treating – And Bring Your Own Bag
One of the other things we wanted to really spend time on this time around was Trick or Treating. There are multiple locations to get candy around the park, some with specific themes or sponsors. Spending even just a little bit of time going through these candy trails get get you a ton of candy, so even though they give you a bag, we brought our own to hold more.
One note, while you shouldn't save all of the trick or treating until the end, be mindful of how hot it is and how much weight in candy you want to carry around before you load up first thing.
 Tip 5: Get Memory Maker, and Take Advantage of the Magic Shots
One other thing we tried to take better advantage of this time was the special Magic Shot opportunities available during the party. These were advertised and notated for the party, and we knew we wanted to catch a few of them.
The first, and one of the most popular, was at the entrance to the Magic Kingdom. It features the Headless Horseman, and the lighting plus the magic makes for a great picture. Special tip-  we went during the first parade and it was probably the only time of the night when there was no line for this shot.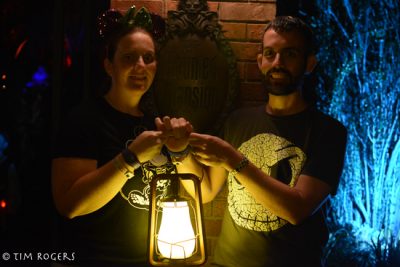 We also made sure to head over to the Haunted Mansion. First was this fun lantern shot just outside of the grounds. You could theoretically get this taken without having Memory Maker, but it would probably not turn out quite as well.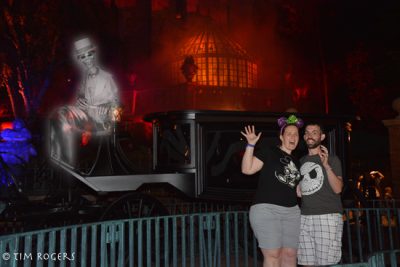 The other Haunted Mansion site was actually a bit hidden from normal view, so while the lantern picture had a bit of a line, the actual magic shot did not. If you want to do the magic shots, just make sure you know where they are – or ask!
 Tip 6: Watch the Boo to You Parade – From Frontierland
If you have heard anything at all about Mickey's Not So Scary Halloween Party, you probably heard something about the Boo to You parade. For fans of villains, Halloween, fall, or the spookier side of things, this parade is great. My personal favorite part is the whole Haunted Mansion sequence, from the ghostly ballroom dancers to the gravediggers. Also, you will never get the song out of your head.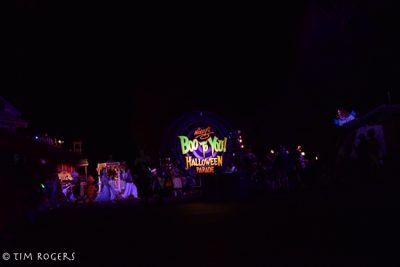 But more than just seeing the parade, I would specifically recommend heading to Frontierland for the second time through. The first parade is usually a little busier, and Main Street U.S.A. almost always fills up first. For the spooky nature of this parade, Frontierland at night is the perfect atmosphere.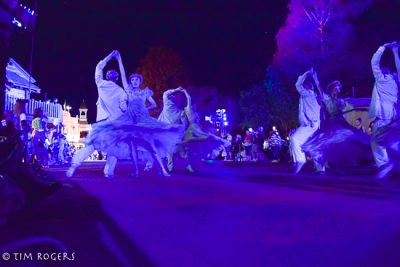 Even more specifically, if you can get a spot along the storefronts close to the break between Frontierland and Liberty Square, you will have a nice straight on view of the parade as it comes down, before making a slight turn before you. And while you don't have to get there as early as some of the spots on Main Street U.S.A., you should still definitely get there early.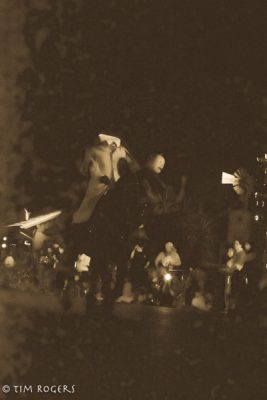 Besides claiming your perfect spot, there are two great reasons. The first for anyone watching the parade anywhere, is that a few minutes before the official start the Headless Horseman will come through. Definitely a cool moment.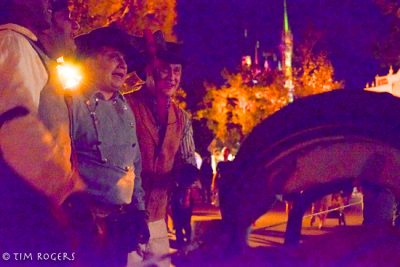 The other, which is specific to this part of Frontierland, is that you get some pre-parade entertainment, specifically the Cadaver Dans! You may have seen the Dapper Dans throughout the day on Main Street (and if you haven't, you should), but during the Halloween party they take on their zombie alter-egos and sing some creepy favorites, including of course "Grim Grinning Ghosts."
Tip 7:  Experience Hallowishes in All Its Glory
When people ask whether to go to the Halloween or Christmas party, the two most obvious comparisons are the parade and the fireworks. One of the reasons I think so many people will tip their vote more on the Halloween side is because of Hallowishes.
From when it came out, Hallowishes was pretty much a perfect fireworks show – it paces well, the music is fun and catchy, and you have several "wow" moments. While Happily Ever After has taken the idea of a fireworks extravaganza to a whole different place, the sheer fun and sensory experience of this show really fits the party perfectly.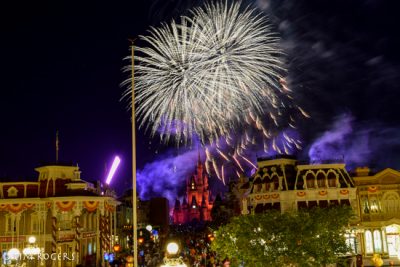 I've seen Hallowishes from a few different places, and I think they all have their value, but here are some recommendations. First, don't get too close to the castle, once the perimeter fireworks start going off you won't even really be able to seem them in your peripheral vision. For being kind of close, I like to get near the middle of the street sort of even with the Plaza and Casey's.
However, last time I went we caught a spot on the train station. This vantage point really gives you a way to absorb everything that is going on at the end, and is a really cool experience.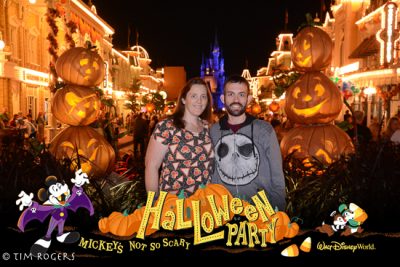 This year's Mickey's Not So Scary Halloween Party has more dates than every before, so you have plenty of opportunities to get our there and socialize.
Are you going to be attending this year's Mickey's Not-So-Scary Halloween Party? What are you looking forward to? Share in the comments, or on Facebook or Twitter.
Did you like this article? Make sure to share it with your friends! Check below for easy ways to share!