This post may contains affiliate links for your convenience. If you make a purchase after clicking a link we may earn a small commission but it won't cost you a penny more! Read our full disclosure policy here.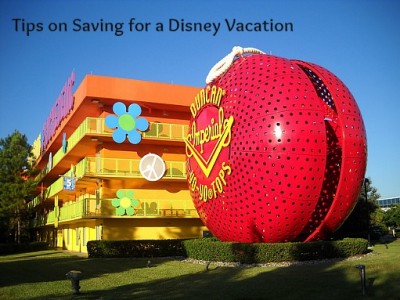 When planning a Disney trip, I am often giddy with excitement and dreaming of Mickey Ice Cream Bars and Dole Whips in my sleep. Of course, my coworkers and friends are fully aware of my crazy commitment to planning a trip, but there are the few who ask "How do you afford to go each year?" "Disney is so expensive. I could never take my family on that kind of trip." Well, to those folks I say "It can be done." It doesn't mean feeding your family peanut butter sandwiches or Ramen Noodle for months. With a little planning and organization anyone can go to "The Happiest Place on Earth".
Clip It– I like to coupon and I do it very well. About four years ago, I wanted to take my children to Disney, but was concerned with costs. I was surfing the internet and found an awesome website called Couponing to Disney. I scoffed thinking it would take forever to save a trip by couponing, but as I perused the site I took the ideas on how to coupon as a challenge and started my challenge. I couponed everything I could. Grocery, retail stores and rebates. I never bought anything I did not need just because it was a good deal. I was even enlightening friends about great deals at our local grocery and drug stores. My kids would tease me that if we didn't have a coupon we couldn't buy it (I wasn't that stringent). I was a couponing demon, I was on fire and I saved $3500.00 in one year. Every time I saved on my receipt I would bank that money for the trip. That was enough for three of us to stay on Disney property during a Free Dining offer and it included our airfare. It wasn't hard work, but it required organization and planning.
In addition, here at The Mouse For Less, we provide lots of options for saving money on various parts of a vacation. Whether it be rental car discounts, vacation planning discounts, or more.
Sell It– Host a yard sale by yourself or with some friends. Everyone has "stuff" that they no longer need. Also sites such as EBay, Craigslist and the many on line auction sites can assist in clearing away your clutter and putting some cash in your pocket.
Money for Nothin'– Some of my favorite sites to "earn" money on are Receipt Hog, Swagbucks and Bing. Receipt Hog is a site that asks you to take pictures of your receipts and in return you earn coins. When you reach 4000 coins you can redeem them for $30.00 real cash. Swagbucks is another site that allows you to earn points for watching videos, answering questions and taking surveys. The points you earn can range from 1-100 or even more on surveys, (if you qualify). These points can be turned into cash or gift cards. BING is a search engine that also awards you points for searching websites and answering trivia. What I like about all these sites, is that you can send the dollars you earn to a PayPal account or turn them into gift cards.
Some of the couponing sites I use are SavingStar, Ibotta, Checkout 51 and Snap. These are e-coupon sites that give you back dollars and cents by either snapping pictures of receipts or connecting them to store discount cards. Ebates is one more site that gives you a percentage of cash back on all purchases. Some of the e-couponing sites send you checks others allow for PayPal transfers. Keep in mind you will not be earning hundreds of dollars a week on these sites, but as my grandmother said "Pennies make dollars" and dollars buy Dole Whips.
I was very wary of these sites in the beginning and concerned about SPAM and viruses. I can say that I have not been SPAMed as of this writing and I use my best judgement so as not to get viruses. I also must tell you I am in no way endorsing these sites.
Change it Up I have not spent change in four years. I save my change year round and then right before the trip "home" I cash out at the CoinStar machine. Nothing makes me smile wider than the clanging and changing of all my dimes, nickels, pennies and quarters churning through the machine and at the end spitting out a healthy receipt for my vacation. In the past few years, change alone has netted me $100.00-$150.00. It's not a king's ransom, but it sure is enough to buy a few funnel cakes in America or Grey Goose Slushies in France.
Save It for a Rainy Day (or a Disney vacation)-Invest in a Disney Vacation Account. The Disney Vacation Account is a relatively new product that is run by Disney. It works like a savings account, but can only be used for a Disney vacation. You can deposit cash into the account and withdraw it to pay for your Disney vacation. This is savings strictly for Disney vacation. For more information on the Disney Vacation Account, check out the recent article written by my fellow bloggers Elizabeth and Scott G. There's some great information in that article.
If the Disney Vacation Account is not quite to your style, open your own "Disney" account through the local credit union or bank. Ask your employer to deduct a specific dollar figure from your check each week and direct deposit the funds into the vacation fund. I know it is much easier for me to save money if I don't see it first. If knowing that the money is in your regular bank in town is too tempting, open an account in a different bank that you don't frequent. Before you know it you will be chomping on churros at the 3:00 parade.
Give yourself a Gift (Card) – Gift cards are also another great way to save. If your plans are set in stone, buy Disney gift cards for your trip. Not only can you use them to pay off your trip, but you can use them to buy meals, special event tickets and souvenirs in the parks. If you are not so sure or you feel there might be a chance of cancellation, buy Visa, MasterCard or Amex gift cards. They are great ways to smuggle away a few extra dollars before the trip.
Gift cards can be purchased at Target with the Red Card at a 5% discount. Costco and Sam's also sell 3 packs of Disney gift cards at a discounted price. On a $3000.00 trip that you pay for with Red Card purchased gift cards you can save an additional $150.00. That can pay for a meal at Cinderella's Royal Table for two adults or perhaps a trip to Bibbiti Bobbiti Boutique for your Princess.
These are just a few ways I have saved for a Disney trip over the past few years. Organizing, planning and saving are key to a successful Disney vacation whether you go yearly or bi-yearly. Give it a try and you will be amazed at the results.
What do you do to save for a Disney vacation?