This post may contains affiliate links for your convenience. If you make a purchase after clicking a link we may earn a small commission but it won't cost you a penny more! Read our full disclosure policy here.
The Disney Dream docked at Castaway Cay
Castaway Cay is Disney's own island private island in the Caribbean. If you're sailing on the Disney Cruise Line on a Caribbean itinerary, your ship will stop at least once at this beautiful, fun filled island.
There is so much to do on Castaway Cay that it would be foolhardy to try to jam everything in one visit. Here are a few tips to ensure that your stop at Castaway Cay is as magical as it can be!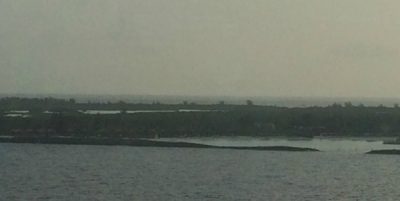 Watching Castaway Cay as the Disney Dream begins to dock
GET ASHORE EARLY!
I know, I know. You're the family that does rope drop at Walt Disney World and Disneyland. You know very well that the early bird gets the worm (or a ride on Space Mountain without a horrendous wait). So this may be a no brainer, but just in case, let me say it again: get ashore early!
The family beach at Castaway Cay is lined with comfortable beach chairs. If you get to the island early, you'll have no problem getting chairs for your family. Wait until afternoon, however, and you might spend a lot of your precious beach time trying to find a spot.
CONSIDER THE CASTAWAY CAY 5K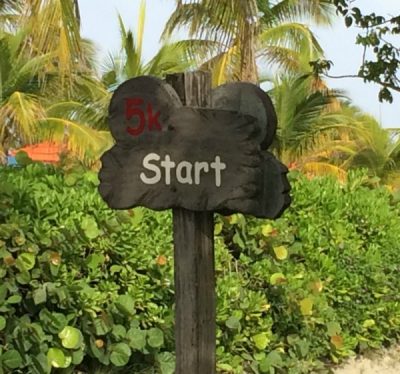 The starting point for the Castaway Cay 5K
Are you a runner? How about a walker? Try the Castaway Cay 5K, an informal race on the island that is included in the cost of your cruise. You can register for the race at Guest Services once your onboard the ship. You're going to have to get up early, but this can be a plus – once you've crossed the finish line and received your medal, you're already right on the island when many families are still yawning and finishing their breakfast.
BOOK SHORE EXCURSIONS BEFORE YOU LEAVE
Many activities on Castaway Cay are included in the price of your cruise. This includes beach access (there is an adults only beach as well as a family-friendly one), crab races (ours lost), character greetings, water splash areas, walking trails, tram transportation around the island, game pavilions, and Scuttle's Cove, an extension of the Oceaneers Club and Lab, the supervised children's club onboard the ship.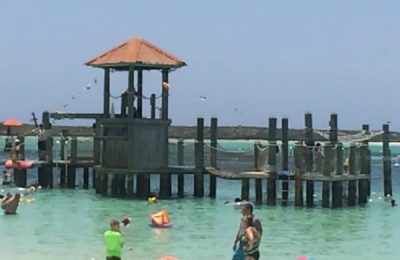 The water play structure at the family beach
However, there are some activities that will cost extra. And some of these, like guided fishing excursions and snorkeling, should be booked in advance. There may be some shore excursions with spaces left by the time you arrive at the island, but if there's something you're sure you'd like to experience, don't hesitate – book it as far in advance as possible. Usually your booking window with open 120 days prior to your cruise's departure.
ENJOY COOKIE'S AND COOKIE'S TOO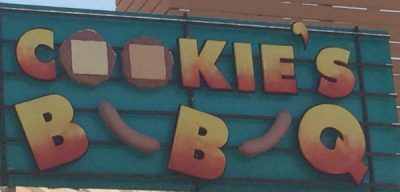 Enjoy lunch at Cookie's
Included in the price of your cruise is lunch at two buffet style locations: Cookie's and Cookie's Too. Both buffets serve the same fare. Here you can load your tray high with barbecue, burgers, salads, soft drinks, and, of course, cookies! There is also a self-serve ice cream station nearby, and you are encouraged to make your soft serve cones as high as you can!
Alcoholic beverages are not included in the price of your cruise but can be purchased on the island. You can charge drinks and any purchases from the island's shops to your stateroom.
MAIL YOUR POSTCARD!
There is a small post office on the island that accepts U.S. currency, Here you can mail postcards purchased on the island or on the ship to friends back home, letting them know what a fabulous time you're having on Castaway Cay! Just make sure you have the cash, as the post office does not allow you to charge the fee to mail your letters to your stateroom.
What are your favorite things to do at Castaway Cay to make for your perfect day? Share them in the comments!
Did you like this article? Make sure to share it with your friends! Check below for easy ways to share!