This post may contains affiliate links for your convenience. If you make a purchase after clicking a link we may earn a small commission but it won't cost you a penny more! Read our full disclosure policy here.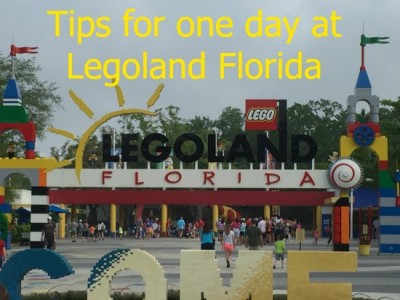 Legoland is designed for kids ages 2-12. Having two kids in this age range who also are big Lego fans, we wanted to take them there before they "aged out" of the target demographic.  We have been to Walt Disney World's theme parks on three previous Orlando trips, so we know the value of pre-planning your trip, especially prioritizing attractions for minimal waits in line.  While there are dozens of guidebooks and websites available for WDW touring, very few exist for Legoland.  What follows is a synopsis of our day along with tips for planning your visit to Legoland Florida.
Tickets
Buying your tickets in advance has a significant price advantage over buying them on site.  Tickets at the gate cost $89+tax for adults (13+)/$82+tax for kids (3-12).  Buying them in advance directly from Legoland gets you discounts depending on how far out you buy (2-6 days versus 7 days) and whether or not you buy for a specific date or a flexible date.  There are also a number of ways to get them at a discounted price.  If you sign your kids up for the free Lego magazine, it often comes with a BOGO offer (typically buy one adult, get a kid ticket free).  You can also search the 3rd party seller sites.  The point of all this is that you shouldn't pay the gate price; discounts are widely available for Legoland.
Parking
Parking is very easy.  It costs $17 at the gate, but you can save two bucks buy buying your parking voucher online from Legoland in advance.  Preferred parking is available for an extra five dollars, but considering the size of the park and the parking lot, preferred parking really doesn't get you much except a slightly shorter walk (especially if you arrive early, which I recommend).
Advantages of early arrival
I highly recommend arriving early for a few reasons.  First, many of the attractions are low capacity and slow to load.  Getting to some of those attractions early in the day gives you some assurance of a lower wait.  Second, there is not a zero-cost line bypass system like Walt Disney World's FastPass+ to get you to the front of the line.  (There is a Premium Play Wristband you can purchase from Legoland for an additional $85 that gets you unlimited front-of-the-line access. We went during a peak season and didn't find the lines to be long enough to require purchase of this.)  Finally, the intense heat of midday in longer lines can be avoided by going to a majority of the outdoor attractions early and saving shows and other indoor attractions for after lunch.  Note: Legoland Hotel guests get 30 minutes of "extra brick time" and are allowed on major attractions prior to park opening.  On our visit, we were let into the park 10 minutes prior to rope drop after a brief introduction by one of the park employees.
The attractions
Our kids are at the higher end of the age range (ages 11 and 8), so we prioritized getting to the roller coasters above the dark rides, spinner rides, and shows.
Thrill rides
The thrill rides at Legoland are a quite tame compared to those at WDW; in addition, all of them have comparatively short ride durations. My ranking of those we rode and notes about them:
Coastersaurus – One of the attractions that was saved from the former Cypress Gardens theme park and rethemed, this is a great old-time wooden coaster.
The Dragon – Part dark-ride, part coaster. Not nearly as great as the theming of Seven Dwarfs Mine Train at Magic Kingdom, but delivers similar thrills.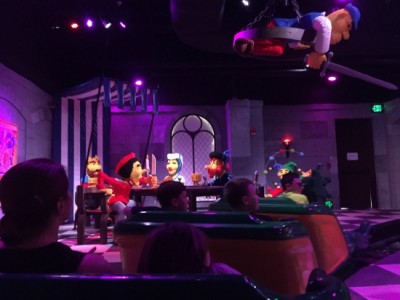 The Dragon (Dark Ride Portion)
Flying School – Your legs dangle on this one as you careen around the track. It sounds more thrilling than it really is.
Project X – Single ride vehicles (max of 4 riders per car) climb the lift hill for one steep drop, followed by a few small drops and several jerky moves around the track.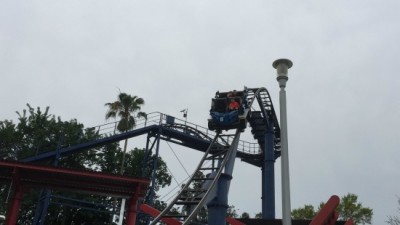 Project X's big drop
We didn't get on Quest for CHI, which we planned for last because of the fact that you get a soaking.
Shows
We were able to go to two of the three available shows at Legoland on our visit.  Friends to the Rescue Live Show features characters from the Lego Friends in a show that my 8-year-old girl really liked.  We also took in the newer Lego movie in the Wells Fargo Fun Town 4D Theatre; it is a new short story with The Lego Movie characters and is moderately amusing (but pretty forgettable).  We had hoped to get to the water ski show at Pirates Cove but were rained out with a torrential storm.
Other attractions
As mentioned, we had a huge storm that chased everyone out of the park in early afternoon, so we were not able to experience all attractions.  (I was miffed about missing Island in the Sky, a rotating carousel of sorts that brings you up on an arm over the entire park.)  Those we did get to do before the deluge:
Ford Driving School – The buildup to this is better than the actual attraction. Kids get their photos taken in the indoor queue (which is used to create a driver license which must be purchased if desired), then a group is taken to a room where everyone watches a movie on driving safety.  When they release the kids outside (and the parents go to a viewing area), there is a mad scramble to get to the vehicles, which are parked wherever the last group left them on the track.  Vehicles are like the Fischer Price Power Vehicles you buy for your kids, meaning they are slow moving.  Kids are expected to follow strict rules, which has the effect of large buildups of vehicles at stop lights and turns.  Overall, this attraction is mildly amusing for ages 6-8, but a disappointment to those 9-13.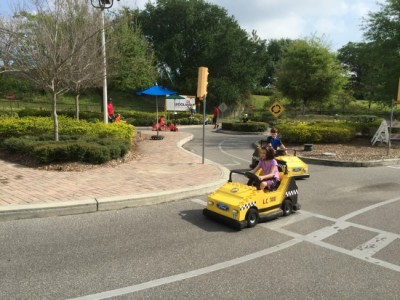 Ford Driving School
NFPA Rescue Academy – Groups of kids/adults get on motorless vehicles where you have to use human power to move them with a pumping mechanism. After you reach the end of the short track, you hop out and spray water into a window, trying to put out the "fire."  You then hop back in and pump the vehicle back to the start.  I was not prepared for the muscle that it takes to move these vehicles!  I recommend at least two people 11 and older to move the vehicles while the younger ones come along for the ride.
AQUAZONE Wave Racers – A spinner ride over a pool of water. Not worth a long wait.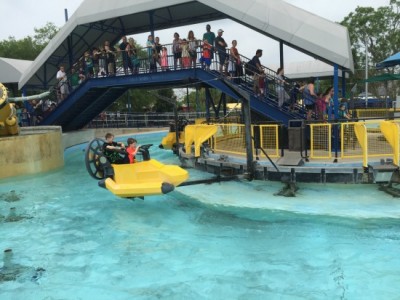 AQUAZONE Wave Racers
Miniland – Very impressive replicas of iconic buildings and attractions in places like New York, the Daytona International Speedway, Washington D.C., and many areas of Star Wars. This area is worth at least 30 minutes of your time.  The kids will especially enjoy the Star Wars lands if they are fans.
Dining
We opted to eat lunch at the Market Restaurant at the front of the park, which had minimal lines despite it being a busy day.  Lines at restaurants deeper into the park had substantial lines.  We were relatively pleased with the healthier choices available, and the prices were significantly lower than comparable fare at Disney.
Overall Impressions
Legoland Florida advertises this as designed for ages 2-12, and I couldn't agree more with that recommendation.  Our kids (11 and 8) thoroughly enjoyed themselves, even if the parents were not as impressed.  The thrill rides were tame but fun; the shows were mildly entertaining; and the food was respectable for the price.  Getting there for park open is important for experiencing low wait times.  And as long as you are not paying full fare at the gate, your money is worth the experience with your kids.
Have you been to Legoland Florida? What were your thoughts or suggestions? Share in the comments.
Incoming search terms:
https://www themouseforless com/blog_world/tips-one-day-legoland-florida/
can you ride all the rides in lego land in 1 day
https://www themouseforless com/blog_world/tips-one-day-legoland-florida/#:~:text=Preferred parking is available for early, which I recommend) &text=I highly recommend arriving early for a few reasons
legoland in one day
legoland parking