This post may contains affiliate links for your convenience. If you make a purchase after clicking a link we may earn a small commission but it won't cost you a penny more! Read our full disclosure policy here.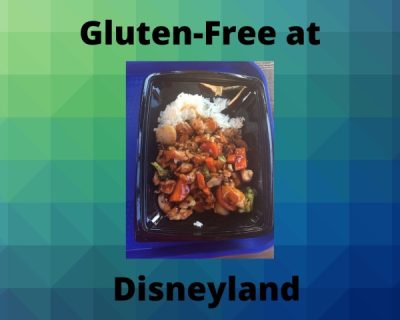 Gluten-Free Teriyaki Chicken meal at Lucky Fortune Cookery
All my friends know how much I love Disneyland. So much so that when one of them is planning on a day there, they reach out to me to ask for advice. I am usually very happy to share my expertise with them.

But recently a request from a friend stumped me. It seems her daughter would be going to Disneyland. Her daughter has to follow a strict gluten-free diet. So my friend asked me what I knew about gluten-free dining at Disneyland.

I was stumped.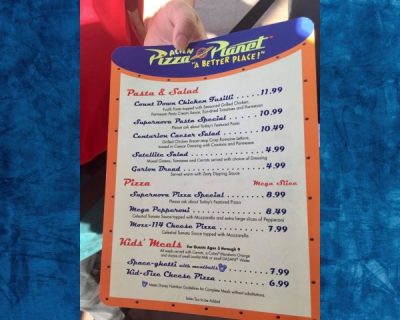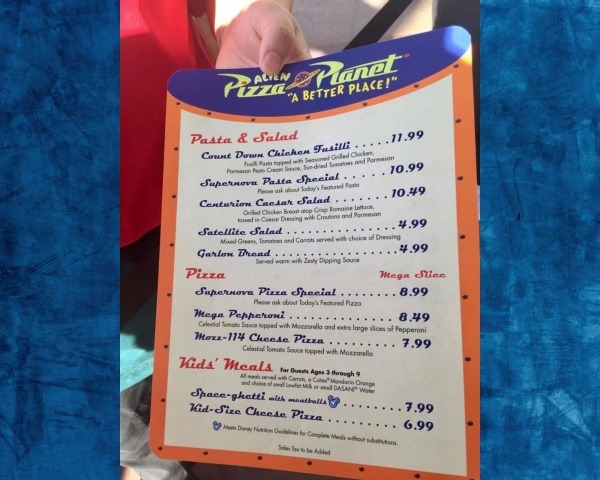 Alien Pizza Planet offers two gluten-free pizzas and a salad
I am not one to simply give up, so I did a deep-dive into Disneyland's website for answers about gluten-free dining. I also asked my friend to report back on how her daughter did at the park. This is what I found out.

The first thing to remember is that whenever you feel hungry at the park, if you're outside a restaurant, definitely ask a Cast Member about what gluten-free options they have. Sometimes they will be able to list them for you. Other times they may hand you a menu that has allergen-friendly items on it. But they will never shrug their shoulders. They will find the information that you need, and they will do it with a smile.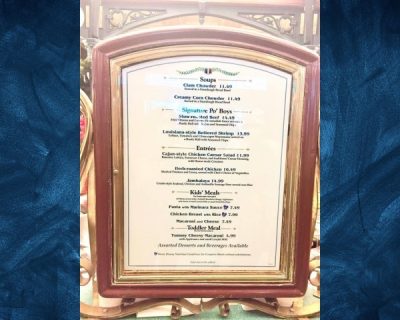 The French Market Restaurant offers four gluten-free entrees!
My friend wanted to know a little bit about the options in advance, so I looked at the menus that are available on Disneyland's website. What I discovered is that nearly every restaurant, be it quick service or full service, had a few gluten-free items on their menu. Usually, these were listed on the very bottom of the menu.

Just to see what was available, I chose to look at a menu from a restaurant that I had eaten dinner recently: Alien Pizza Planet. When I scrolled to the bottom of the menu, I saw three gluten-free options listed: a green salad and two different kinds of pizza made with a gluten-free crust.

Some of the other restaurants, like the full service Blue Bayou that overlooks the Pirates of the Caribbean, did not list gluten-free options on their online menu. Instead, it simply said "Allergy-friendly menus available on request." My advice if you want to eat at a table service restaurant and have any food allergies in the party is to call ahead to make a reservation, and at that time, speak to the Cast Member about the food allergy.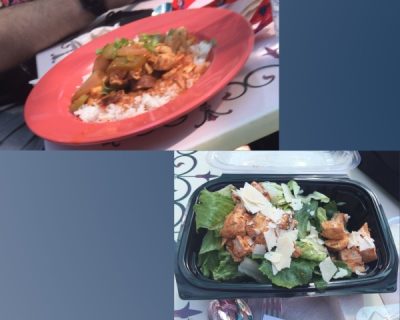 Gluten-Free Jabalaya and Cajun-Style Chicken Caesar salad at the French Market
I was pleased to see that one of my favorite Disneyland restaurants, the French Market, offers four great entrees!  You can choose from the Herb-Roasted Chicken, Cajun-Style Chicken Caesar salad, Jambalaya, or a child's meal of Chicken Breast with Rice.
Armed with this information, my friend's daughter had a wonderful day at Disneyland. She wound up having lunch at the classic Golden Horseshoe, where the gluten-free option was a Chicken Mixed Green Salad.
What experiences do you have dining gluten-free at a Disney park? Share your thoughts in the comments or on Facebook or Twitter!
Did you like this article? Make sure to share it with your friends! Check below for easy ways to share!  
Want to visit a Disney Destination? Contact The Magic for Less Travel for more information and a free, no-obligation quote.

Incoming search terms:
https://www themouseforless com/blog_world/tips-gluten-free-disneyland/