This post may contains affiliate links for your convenience. If you make a purchase after clicking a link we may earn a small commission but it won't cost you a penny more! Read our full disclosure policy here.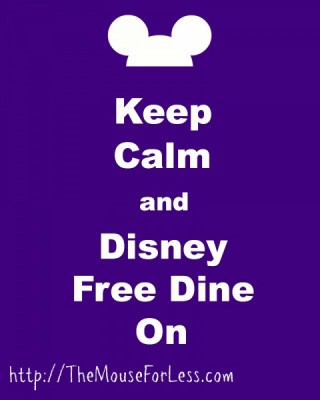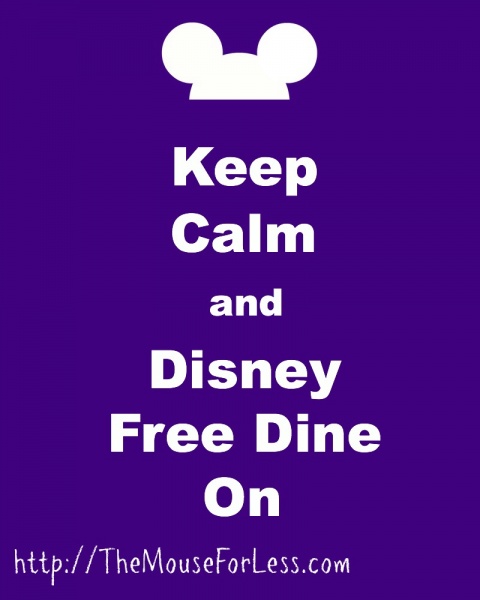 The Disney Free Dining discount is probably the most popular promotion that Walt Disney World has!  For months before Disney announces a Free Dining, the internet is abuzz with people trying to guess when it will be announced and what dates Free Dining will be offered.  Do you stalk the internet waiting for that information, too?
I want to share my favorite tips for maximizing Free Dining.  Actually, most of these tips will help maximize a paid dining plan, too.  Are you ready?  Let's get started, then!  To start with, if you want to book a trip during Free Dining, make sure your dates match the dates that Free Dining is available.  Now, I know this tip may seem to be a basic understanding, but even though the dates are listed as select dates August 31- December 23, 2014, there are a few dates that are blacked out.  A quick call to Walt Disney World or your friendly agent with The Magic For Less Travel will let you know if your travel dates are a part of the Free Dining promotion.
Next, before you make your dining reservations (and don't forget to make them at 180 days or as soon as you are booked if it is less than 180 days until your trip), you'll need to decide what dining plan you will get.  If you are booking a Free Dining trip, you will get a Quick Service Dining Plan when booking a Value Resort.  You will get the Standard Dining Plan if you book a Moderate or Deluxe Resort.  You can see the different dining plans here.  Keep in mind that you can pay the difference between the Free Dining plan you will get and a more expensive plan if you would like.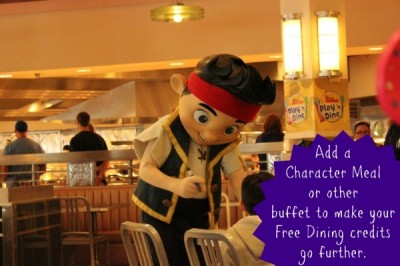 My tips are aimed toward the Standard Dining Plan because that is the one we usually get when we get a dining plan.  We have picky eaters who have big appetites, so we normally reserve a lot of buffet meals.  Buffets offer a lot of bang for the "buck" by including a lot of food that includes a lot of variety.  My kids are usually very happy after eating at a Disney buffet.  Of course, most of the buffets we reserve are character meals.  Why?  Well, besides the fact that many of the buffets at Disney are character meals, character meals offer a lot of entertainment value.  If you are taking your kids to Walt Disney World during a hot time of the year (In Florida, that's about 11 months of the year, right?), you can sit and eat while the characters come to your table.  If you have waited with your child out in the heat to see a character, you will realize how HUGE this perk is!
Another thing we try to do is to reserve our meals for an overlap time, like a brunch or lupper (Is that a word?).  You know what I mean…  The straddle times of 10:00 am to 11:00 am and 2:00 pm to 4:00 pm.  We find that we can stretch our dining plan credits a little further this way.  We usually order some snacks and breakfast-type items from Garden Grocer, so we can feed the kids a cereal bar to tide them over to a brunch reservation.  If we choose a 2:00 pm to 4:00 pm slot, we usually feed the kids a full breakfast in the room that will keep them going until early afternoon.
Yes, if you are on the Standard Dining Plan, you will get a snack credit, a quick service credit, and a table service credit per night of stay in the onsite resort.  We use our quick service credit in a few different ways.  Sometimes, we use it for lunch, and other times, we use it for a late supper.  One of the nice things about the quick service credit is that it can be used in each of the Disney Resorts and Downtown Disney in addition to the parks.  This makes the quick service dining credit very versatile.  Want to see the Cars characters at Disney's Art of Animation?  What a perfect opportunity to eat at the Landscape of Flavors Food Court!  If you would like to see what is on the menus at the different restaurants and food courts, we have the menus on The Mouse For Less.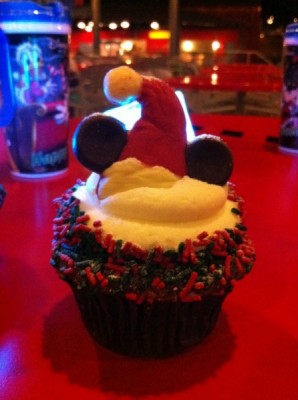 What about those snack credits?  The snack credits can be used on a lot more than popcorn and churros!  What's great is that there are several items eligible to be purchased with a snack credit, and quite often, the snacks are big enough to share.  Besides stretching our credits further, it allows us to try more items.  But just watch out!  I'm not sharing my carrot cake cookie with anyone!
What are your biggest tips for Free Dining?