This post may contains affiliate links for your convenience. If you make a purchase after clicking a link we may earn a small commission but it won't cost you a penny more! Read our full disclosure policy here.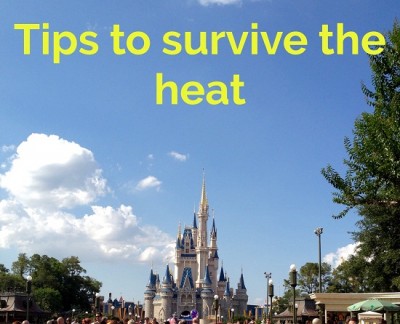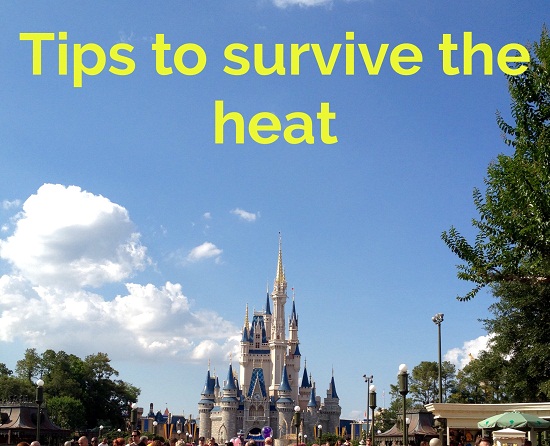 While winter may be here, and spring is on the horizon, weather-wise, it's the perfect time to visit Disney World. Festivities abound and the weather is beautiful and the air crisp. But what if you can't make it during this magical time of year and your only option is to come during summer? There's still plenty of fun to be had, but you're going to have to deal the heat and lots of it.
One of my biggest concerns when taking a trip to Disney World is the heat. Nothing can damper a trip like an oppressively hot day, so for the week leading up to a trip I'm constantly checking the weather. This got me thinking of ways to stay as cool and comfortable as possible when visiting the parks.
Everyone has their own system to deal with the heat and if you've got a hotel where you can go and recharge the batteries during the hottest part of that day that's great, but what about those folks going up for a day trip or maybe staying far off property? Well after countless hours of meticulous trial and error research, i.e. eating Mickey Mouse ice cream bars, three rounds at Gaston's Tavern, and riding Space Mountain, I've come up with a few tips to help you battle the sometimes unbearable heat that you might not think about. Hopefully these will help you make the most of your magical trip.
Before you arrive at the parks your battle with the elements has begun. But luck for you, you've got a sidekick, Dry fit. Because your choice of clothing has the potential to make or break the day you'll want to wear something moisture wicking like dry fit and you'll want as much of it as possible: shirts, shorts, shocks, even underwear and you'll notice a substantial difference in your comfort level if your outfit can breathe. Add some antiperspirant and talcum powder and you've got yourself a one two punch of body cooling bliss that will change your go-to park attire forever.
Don't forget the sunscreen.
A little sunscreen today can prevent a world of hurt tomorrow. If given the choice of either enjoying the parks or sitting in an aloe bath at your hotel, I'm guessing you'd pick the parks. Sure there's ample shade at some parks, but sometimes that's not enough to prevent a sunburn so play it safe and lather up.
And don't forget the water!
Stay hydrated, really hydrated. This might seem like a no-brainer, but if you keep the H2O flowing you'll feel better as the day progresses, have more energy, be able to stay out longer, and – this might be wishful thinking on my part – help stave off a nasty sunburn. On top of that the mid-day heat seems less oppressive when you're downing ice water.
There are cold water fountains peppered through the park, but they are few and far between, so when looking for cool sip of water your best bet is to visit any of the walk-up counters and ask for some ice water. When it's really hot they often have trays of ice water waiting for the thirsty throngs, and the best part? It's free!
I know this will vary from person to person, but try to pack as light as possible. For me this means a phone, a wallet, and if you've got a car, a car key (no need to carry in your house key, unless you're Cinderella). Depending on your situation your MagicBands can reduce this even further.  This can make a big difference if you end up walking 10+ miles a day.
Math break: The average person takes around 2,000 steps per mile, that's 20,000 steps if you cover ten miles. I once got in fifteen miles or roughly 30,000 steps in one day so if you can remove just one pound of weight from your pack you can eliminate a lot of unnecessary weight. Remove more and it'll feel like you're walking on air!
My last piece of advice helps if you've got a car. As great as Disney World transportation is, having a car that can act as home base outside your current park is a great way to refresh your batteries before venturing to another. I usually have a large insulated water jug filled with ice water, snacks for the short drive to another park, and a few toiletries like extra sunscreen, deodorant, body spray for when things get funky, and…
These are the holy grail when it comes to useful items. As you may know, these magical wipes can remove that layer of sweat, sunscreen, and grime that builds up while in you're at the park and removing that gunk can make you feel like a new person. I always bring a pack of these and just throw them in the car as a refresher.
Hopefully you can use these tips combat the heat on your next visit to the happiest place on earth.
What's your best tip for dealing with the heat when traveling to Walt Disney World? Share yours in the comments!