This post may contains affiliate links for your convenience. If you make a purchase after clicking a link we may earn a small commission but it won't cost you a penny more! Read our full disclosure policy here.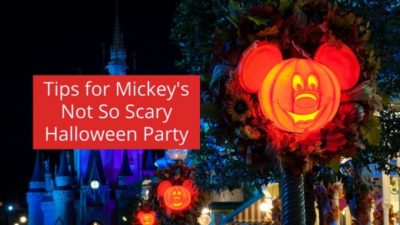 It's back to school time which means it's time for pumpkin spice everything and all things FALL! Even if it's still hot and humid in Indiana, Halloween decorations are out in stores, and seasonal shops are popping up everywhere. This means it's also time for Mickey's Not So Scary Halloween Party at Walt Disney World! This hard ticket event takes place on select nights beginning in August. Disney World offers many special events throughout the year, and the Halloween party might be our favorite! My family has attended this party 3 times now, and I have learned some valuable tips for attending Mickey's Not So Scary Halloween Party to make it fun and stress-free!
Tips For Mickey's Not So Scary Halloween Party, a history
The first party we went to was back in 2014. My mom, brother, niece, and nephew were on the trip with us and unfortunately they came down with a stomach bug. They had to leave early, but I stayed with my 6 and 2 year old boys. The crowds were really low, and I didn't feel overwhelmed flying solo with the kids. We went back in 2017 when the boys were 9 and 5, and our daughter was 1. My mom was with us this time, too! However, the crowds were exponentially higher. It was pretty intense at times. I thought it would still be as laid back as a few years before, but it was very different! So when we went again in 2018, I was better prepared for the crowds and what we wanted to do at the party. This leads me to my first tip:
Plan Plan Plan!
I know this is a very cliché tip, but it is so important! You can get great information by watching Disney media sites for details on the parties. This will include the party guide map that shows where treat trails are, times for all the special shows, and character meet and greet spots. Parties have gotten so crowded in the past few years, that it's almost impossible to experience everything in one night. I think the most valuable advice is to look ahead at the party offerings, and choose what will be most important for your group. There are some rare characters on party nights, but wait times can be up to 3 hours long. That's great if that is what you want to do! You'll need to adjust your expectations for other experiences, though. You may not be able to catch some of the shows if you're waiting to meet characters.
Wear Costumes!
Mickey's Not So Scary Halloween Party is one of the only times adults can wear costumes at Walt Disney World! There are a few restrictions, so make sure you read Disney's rules here. My kids have worn costumes, and it is a lot of fun. Last year, we decided to go with matching t-shirts instead of costumes. It is still hot in central Florida during the Halloween parties, and my kids always ended up taking off their costumes. And who gets stuck carrying it all around? MOM! So we opted for something easy that was still unique to the party. My mom and I wear matching shirts, too, and we have Halloween Minnie ears. Easy and fun!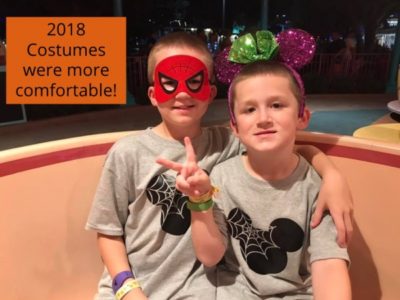 Go to the second parade…maybe!
The Boo To You Parade is a must-do at Mickey's Not So Scary Halloween Party, and it is offered twice a night during the parties. Typically, the second parade will be less crowded. BUT I think the secret is out with this tip. With crowds seeming to increase each year, it is going to be crowded no matter which parade you watch. And staking out a parade spot hours ahead of time is not fun! Here's my advice: plan on watching the second parade by The Main Street Confectionery or The Town Square Theater or on the City Hall side of Main Street. We've been able to get curb side spots right before the parade began. And you'll be right by the park exit once the parade is over.
Eat all the things!
If you have a sweet tooth, Mickey's Not So Scary Halloween Party will blow your mind! There are trick or treat trails set up all around Magic Kingdom, and you can go through them as many times as you'd like. If someone in your group has a food allergy, Cast Members will give you special teal colored tokens you can redeem at a few locations for allergy friendly treats. Two of my kids have peanut allergies, so this is a blessing for us! When we wander up Main Street to get our parade spot, we stop in at the Town Square Theater to pick out our treats. Cast Members usually let you or your child choose what goodies they'd like. And it isn't all candy! Last year they had applesauce pouches, stickers, and book marks. The snacks include vegan and gluten-free options as well. Disney World is wonderful at accommodating dietary needs.
There are also special food items you can purchase. These will include a variety of sweet and savory options! Check those party maps for more details.
Make the morning a pool day!
We like to stay at our resort the day of our party. We will go to the pool, relax, maybe do some laundry. (Because who doesn't want to do laundry on vacation?) And most importantly: NAP! This is another important tip for Mickey's Not So Scary Halloween Party: make sure your kids are rested and ready to stay up late. Last year, my oldest was 10 and didn't think he needed to nap. He was so tired by the second Boo To You Parade, that we had to leave before it was over. That definitely spoils the magic for the rest of the group. I mean, my two year old was still partying, but the 10 year old was DONE.
Sleep in the next day!
If you have time in your trip to do this, take the next morning off! We like to plan our Disney Springs day after the party so we can go at a leisurely pace. You could also make this a pool day. We've done both but learned over the years that a pool day is better the day of the party and Disney Springs is better the day after. That's just what works for our family. The most important things is to recover from a late night! If you do head to the parks the next day, just know that your kiddos (and you!) may not have the stamina for a rope-drop-to-park-close day.
Last tip for attending Mickey's Not So Scary Halloween Party: Have fun!
It's a PARTY! The most important thing is to have fun! For me, planning helps me have more fun at Disney World because I know what to expect. Hopefully these tips for attending Mickey's Not So Scary Halloween Party will help you have a fun night!
What tips do you have for attending Mickey's Not-So-Scary Halloween Party? Let us know your thoughts in the comments, or on Facebook or Twitter!
Did you like this article? Make sure to share it with your friends! Check below for easy ways to share!
Want to visit the Walt Disney World Resort? Contact The Magic for Less Travel for more information and a free, no-obligation quote.