This post may contains affiliate links for your convenience. If you make a purchase after clicking a link we may earn a small commission but it won't cost you a penny more! Read our full disclosure policy here.
Walt Disney World is a wonderful and magical place, and I absolutely love it for so many reasons. Every time I walk onto Main Street for the first time on our trips, everything else stops, and a feeling of excitement just washes over me. The real world just melts away, and I become completely immersed in the magic that only WDW provides.
But…there is one thing that I absolutely hate about Walt Disney World. I know – it seems impossible, right? How could anyone hate anything about WDW?  But, I'll bet you'll agree with me on this one… No, it's not the lines, although I'm not too fond of those either. For me, what I absolutely hate about Walt Disney World is the heat and humidity. Ah-ha!…you're on board now, aren't you? We usually travel in August, and, boy, is traveling during these summertime months hot and humid!
We struggle with it, I'm not going to lie. It's tough. But there are some things that make summer touring more enjoyable. We've been pretty successful so far, so I thought I'd share some of our family's tips and suggestions with you:
1.  Get To The Parks Early. We get into the parks early before all of the heat and humidity hit full force. We try to be at the parks as close to rope drop as possible and usually pick the park that has the extra magic morning hour. We do this for a variety of reasons – not only is it less crowded, but it's also cooler at 8:00 a.m., so we're able to do a lot of the things we want to do, such as walk onto rides without long wait times, and then leave the parks once the heat gets too intolerable. Another perk is being able to do some nice character meet and greets without long lines, which is always a bonus for our daughter.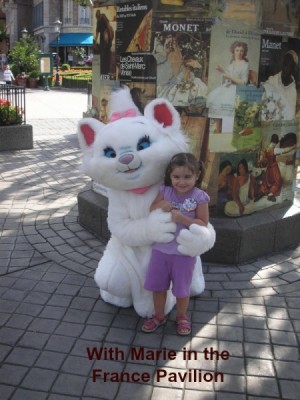 2.  Take A Midday Break. Once noon starts rolling around, we've been in the parks a few hours, so it's time to grab lunch, and go back to our resort for some rest and relaxation. Typically, we leave the parks between noon and 1:00 p.m., hop on the bus, and go back to our resort. Once there, if we haven't had lunch in the parks, we grab lunch, take a nap for an hour or so, go to the pool, shower, and then go back to whichever park is open late that evening (we always get hopper passes to allow for this). We've found that this works really well for our family.
3.  Spray Misters. These are awesome! Although they sell these in the parks (at a much higher price), you can get the no frills kind at your local Walmart for a fraction of the price. You can fill them with water and mist your way through the World – they even have a fan to help cool you down. On our first trip, our then three-year-old daughter absolutely loved this, and it was the only way to keep her happy while waiting in long lines in the heat. In fact, she went overboard with it, and drenched herself while waiting to meet Mickey and Minnie. But it kept her quiet and happy while waiting for almost 2 hours!
Here's a helpful tip: Fill them up the night before and put them in your room's fridge – that way, they'll be nice and cold for use the following morning.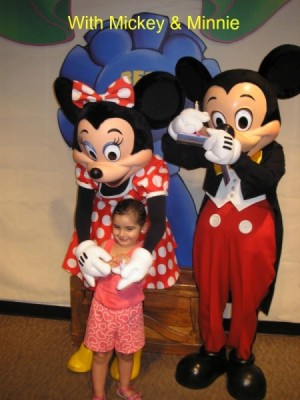 4.  Get Indoors. When it's summertime and you're visiting the parks, we try to take some cooling breaks. For example, on Main Street in the Magic Kingdom, you can walk from the Emporium straight through to Casey's Corner – all inside! Or vice versa. This is great, not only for really hot days, but when it's raining as well, not to mention you can get some of your shopping out of the way. Another thing we do is take in an indoor show or attraction. For example, if we're in Disney's Animal Kingdom, we'll head over to the Festival of the Lion King or Finding Nemo The Musical when it starts to get "Africa hot".
5.  Drink lots of water. It's absolutely imperative to hydrate, hydrate, hydrate! And don't forget to keep your little ones hydrated as well. We drink lots and lots of water when we're in the parks – lots more than usual. We use our resort refillable mugs for most for this. Every night, we refill our mugs on the way to our room. We typically eat breakfast in our room (breakfast items that we've shipped down prior to our arrival), and start the day by drinking lots of water. On our way out of the resort, we stop and refill those mugs again, and carry them into the park. Once we're done with that, then we'll buy a couple of bottles of water to get us through the rest of our morning. When we go into the parks in the afternoon, we use the same strategy. One thing I can tell you is that I never drink as much water as I do on a Disney trip. We tend to stay away from alcohol and caffeinated drinks, as those cause dehydration. But, if you must drink caffeine or alcohol, make sure you take in lots of water as well.
6.  Use Instant Cold Packs. We found these at Walmart for under $1.00 each. We took them with us and carried a couple into the parks each day in case we needed them. Thankfully, we never did, but it was reassuring to have them with us. They're easy enough to use and are handy in case you start to feel the effects of the heat – just squeeze, and the pack turns cold. If you start to feel nauseous or achy, and feel a headache coming on, apply to the back of your neck to bring down your body temperature, and begin to sip water. And ask a cast member for help or get to the First Aid location – there's one in each park.
Here's an additional tip: I've been reading up on Frogg Togg Chilly Pads which are towels that you wet and wear around your neck and are supposed to keep you cool for up to 4 hours. It's definitely something to consider, and I'll definitely be looking into this for our upcoming trip.
7.  Use Instant Cooling Wipes. You can find these towelettes at your local drug store or online. They are very cooling and convenient – just throw them in your purse or backpack for a quick way to refresh and instantly cool down. Sometimes, all you need is a quick wipe on your neck, arms, and legs to feel more refreshed.
8.  Wear Moisture-Wicking Clothes. My husband swears by this clothing which is designed to keep your body cooler while outdoors. This is easily found in department and athletic stores. Also, please keep in mind that any heavy fabrics are a bad choice for the Orlando heat. Skinny jeans, for example, while they may look great, will have you melting. It's best to keep your clothes lightweight and simple, keeping in mind that lighter colors will keep you cooler as they absorb less of the sun's heat.
9.  Eat A Dole-Whip! That's right – this is a great way to cool down. With your first bite, this pineapple soft serve will instantly refresh you. Any other cold treats work just as well – Mickey ice cream bars, frozen margaritas, some cold fruit from one of the kiosks at the parks, or even the Kakigori from the Japan Pavilion in Epcot. These are all refreshing ways to instantly cool down – but don't forget to eat them in the shade! (And make sure to check out some suggestions from Foodie Friday.)
Of course, don't forget your sun protection items – sunblock and a wide brim hat are absolute musts to protect your face from the sun's harshness! Getting sunburn will ruin your fun – not to mention it's painful. Don't forget to be especially mindful of the little ones – make sure they're staying hydrated and shaded from the sun.
I hope you find some of these tips and suggestions helpful for having a successful summer vacation.
What is your best tip for having fun in the sun at Walt Disney World on summer vacation?