This post may contains affiliate links for your convenience. If you make a purchase after clicking a link we may earn a small commission but it won't cost you a penny more! Read our full disclosure policy here.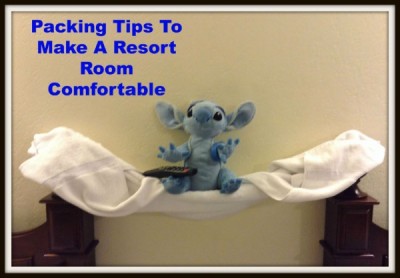 We pack some items to make our Walt Disney World Resort room stay organized and to make it feel as if we have a touch of home while we are on vacation.  Although we don't spend much time inside our room, these items do bring comfort to our stay.
Night Lights You won't know until after you check in your room how dark it gets at night with the lights off and the curtains closed.  Bring a night light or two to give yourself a little light at night.  In a pinch, a glow stick can act as a night light if you forget to pack one.
Power Strip One of the first things we do when we get back to our room after a day in the parks is to recharge the batteries of our devices.  If your family has multiple phones, cameras, tablets, and/or handheld games, be sure to pack a power strip so you can easily recharge several devices at one time.  Make sure you have all of your chargers, too!
Liquid Soap for the Bathroom Sink Walt Disney World Resorts provide lovely H2O bathroom products which we like to use, but with limited bathroom space and no soap dish in many of the rooms, it's just not practical for us to use the bar soap for frequent hand washing.  The soap gets slippery, and makes  a messy spot by the sink.  We pack a liquid soap from home for washing our hands during the trip.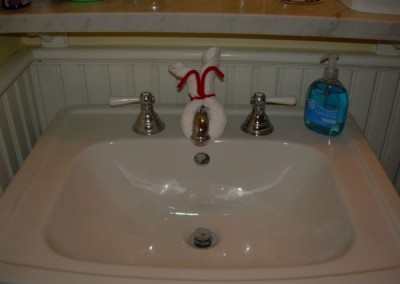 Plastic cup for Toothbrushes When our kids were young, we would save the plastic cups they would get with their beverages in restaurants and set those aside for traveling.  We use those cups for toothbrush storage in resort rooms to keep the sink area organized.
A Plastic Shoe Organizer It seems we bring countless toiletry items to Walt Disney World—deodorants, shaving supplies, medications, brushes and combs, sunscreen, etc.   We hang a plastic shoe organizer in the closet area and fill the pockets with all of those items.  If you want to be more organized, you can assign each family member a row of pockets so personal items may be found quickly.  This organizer keeps our whole bathroom area nice and tidy!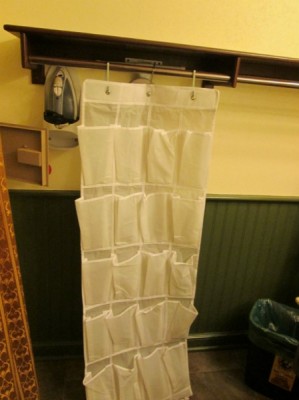 Collapsible Hamper with Handles The hamper folds flat in our suitcase, and then pops up to use in the room for dirty clothes.  When it's time to do laundry, we just grab the hamper by the handles and go!  We also pack our own detergent pods and dryer sheets in ziplock bags.
Paper Plates, Napkins, and Cups If you're eating breakfast in your room, it's good to have these on hand!  This is also convenient if you bring snacks to share back to your room.
Furry Friends! No, I don't mean the family pet.  I mean your children's plush animals and maybe a plush animal or two for an adult only trip.  When our kids were young, they'd bring along their buddies for playing and sleeping.  During the day, we'd sometimes line up the buddies in the window to have them peek outside and add some decoration to our walkway.  This would bring a smile to our faces after a long day in the park.  Now, we still use a plush animal for a window decoration and/or to give the inside of the room a Disney touch.  Tip:  If you bring any plush animals, make sure they are not in the beds when you leave the room.  Mousekeeping may take the sheets without noticing your furry friend.  Put your plush animals on the table for the day where they will stay safe.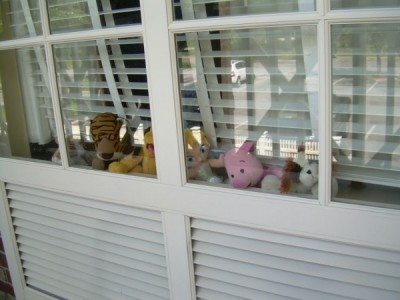 Favorite Blanket or Pillow Sometimes people, kids especially, like to have a special pillow or blanket from home.
Decorated Tip Envelopes for Mousekeeping If you decide to tip your Mousekeeper, it's nice to leave the tip in a decorated envelope.  You can print one from a pattern online or make your own with stickers.
These packing tips and resort room organization would make Mary Poppins proud!
Is there anything special you bring to your resort room to feel at home and to keep it nice and tidy?  Leave a comment below.