This post may contains affiliate links for your convenience. If you make a purchase after clicking a link we may earn a small commission but it won't cost you a penny more! Read our full disclosure policy here.
From Our Magically Speaking Newsletter Archive – subscribe today!
By Melissa Bejer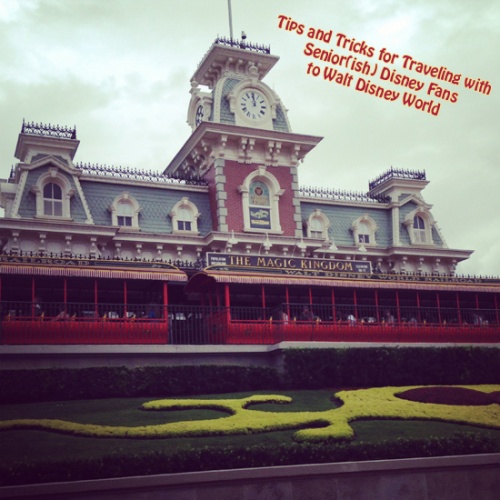 Having traveled with family and friends covering a wide range of ages, I thought it would be helpful to put together some tips and tricks for those Disney fans that aren't exactly old, just older! Technically, anyone over the age of 30 could fall into this category, as that was the age where the spinning rides just did not agree with me anymore. But think of these tips and tricks as a guideline for any Disney fan that wants to take it down a notch from the typical Commando Disney style of opening and closing the parks.
Transportation Tip:
While staying on site as a resort guest, getting around on the buses is usually quick and easy. However, sometimes the bus lines can be quite daunting just after the fireworks have ended or the parks have closed. Since the buses are typically packed at this time of night, and young children are often asleep in parent's arms, seats are usually few and far between. Often we are left with the big decision of squeezing inside the bus and standing the entire way, or standing and waiting for the next bus. I know that neither option really appeals to me if I am tired. So, why not take a few extra minutes exiting the park? Grab a rocking chair on Main Street and take a load off. Soak in the park at night as the crowds disperse and the peacefulness sets in. It's also a good time to browse through the gift shops. Especially if you wanted to pick up a few things but didn't want to carry it or bother with sending it back to the resort. Shopping for souvenirs at the end of the night also means you don't have to use precious park time during the day. I have to admit, I love milking every last second in the parks, so I tend to use this tip quite often myself!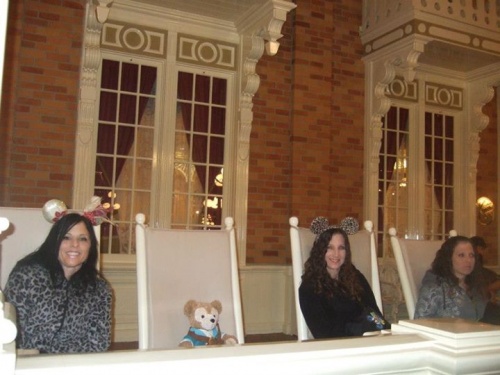 First Day Trick:
The vacation arrival days can get tricky when deciding to splurge on adding an extra park ticket day. Potentially, the arrival day may only contain a few available hours for park ticket use. Is it worth it to get the extra day added to the ticket? And don't forget, just after traveling, you might not have the get up and go to hit the parks running just yet. We find it both fun and relaxing to do resort hopping on our arrival day. Completely at your leisure, you can take the bus over to Disney's Hollywood Studios and hop on the Friendship boat heading to the Swan & Dolphin, Disney's BoardWalk Resort and Disney's Yacht & Beach Club Resorts. A short stroll behind the Dolphin resort is Fantasia Gardens. With two mini golf courses to choose from, you can opt for the family-friendly fairway, or the more challenging course. Depending on the timing, you could potentially grab lunch or dinner at either the Yacht or Beach Club (both resorts have several dining options fitting every type of budget), then head over to the BoardWalk, which is especially fun to walk around when it is all lit up at night. You can find magicians and jugglers, even strolling musicians. Grab a waffle cone at Seashore Sweets and enjoy the view of Crescent Lake. There are also many restaurants you can choose to stop in along the BoardWalk, or feel free to stop in at Jellyrolls to hear the dueling pianos. Just make sure to keep tabs on the transportation back to your resort. While it's tempting to just simply walk over to Epcot thru the International Gateway and grab your bus from the usual Epcot spot, don't forget – you're ticketless! Instead, if the parks are still open and you are wanting a ride back to your hotel, make your way over to Disney's Hollywood Studios and take a bus from there. If you stay at Jellyrolls past park closing times, plan on taking a cab from the front of the BoardWalk resort.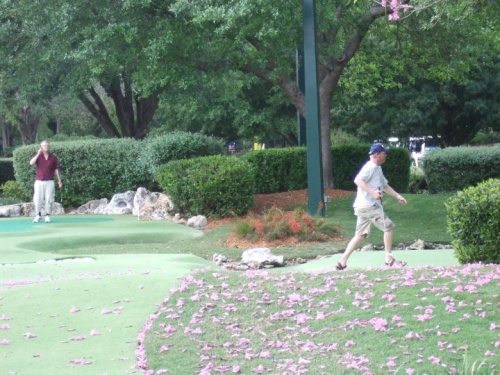 Restaurant Tip:
As an adult, your probably are sick of "park fare" after the first day. You really just want a nice sit down meal. But you are in Disney, and you want some of that Disney magic theming, while at the same time you don't really feel like a character meal. Be Our Guest is the perfect restaurant for you. Granted, it's the hottest seating to get in "the world" (Walt Disney World, that is) but it's worth the extra dedication to try and get that elusive reservation. The theming is top of the line, and you truly feel as if you are a guest in Beast's Castle. The French cuisine rivals any French restaurant, and the ala carte desserts will keep your sweet tooth very happy.
The best part is, Beast is available to meet you, should you desire to meet him. (Ed. note: Keep in mind, Be Our Guest Restaurant is NOT technically a character meal, so Beast meeting guests could change at any time, Presently, he does meet with guests, but only at dinner. Beast does not meet at lunch.) After you are finished with your meal, on the way out of the restaurant is a small area (used for lunch kiosks during the day) that allows you to take a private moment with Beast. As an adult, the character meet and greet can be a bit embarrassing for some folks, so I feel like this option really works. Everyone gets a chance to meet Beast, but it is on your time. And the entire restaurant is not there photobombing the meet opportunity!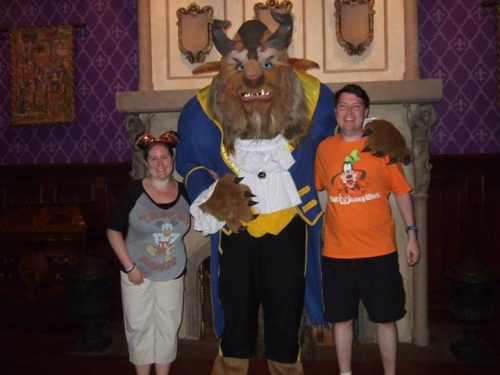 The "Not-Really-a-Nap" Trick:
If you are up and at 'em early in the morning, by 2pm the little voice inside your head is saying, "I could use a nap." But you're on vacation, and you don't want to waste valuable park time back at the resort taking a nap. But then again, you ARE on vacation! Let's face it, you should take a nap if you need it. A 20 minute to a half hour snooze can really reinvigorate you. Sometimes without the nap, even us adults can get the crankies when we are tired, so much so that we make the crying kids in the strollers look like angels. A trip back to the room also gives you time to wash up before heading back out to the parks for dinner and fireworks. And since you are on vacation, maybe you don't need a nap but just a few quite minutes, why not take a few minutes to actually use that balcony in your room? A mid afternoon snack on the balcony can be an effective recharge.
But if you really think a nap is really just wasting time, head over to the Polynesian Resort for some relaxation. Grab a snack from Captain Cooks quick service dining and relax out on one of the hammocks on the beach. If you just happen to nap in the hammock, so what? At least you are at another resort, and that counts as "doing something" in my book. The Polynesian beach is the best way to take a few minutes and just not be in the hustle and bustle of the parks.
Special Event Tip:
Always wanted to hit one of the Walt Disney World special events or parties, but don't want to have to buy a separate ticket? Epcot's International Food and Wine Festival is the event for you! The festival takes place this year from September 19 to November 10, 2014. Access to the most of the festival's activities are included with your regular Epcot admission. There is a cost for any food and wine samplings, but they are for a nominal fee. Tasting your way around the world is a great way to enjoy different cultural cuisines, and the best part is that you can do it at your own pace. There are also a few different activities available that do come at a cost, but they also include up close and personal demonstrations and talks from chefs and mixologists alike.
Another great event included in the festival (and a freebie!) is the Eat to the Beat concert series. Lots of different flavors of music are offered with three shows nightly, every night throughout the festival. It's a 30 minute show of some of your favorite musical acts. Lining up early is highly recommended to secure a close spot, but if sitting up front is not a huge priority, we have walked into the American Pavilion as acts have taken the stage and we have managed to secure a seat. So have a few drinks, a couple of snacks and take in a concert! Sounds like a perfect night to me!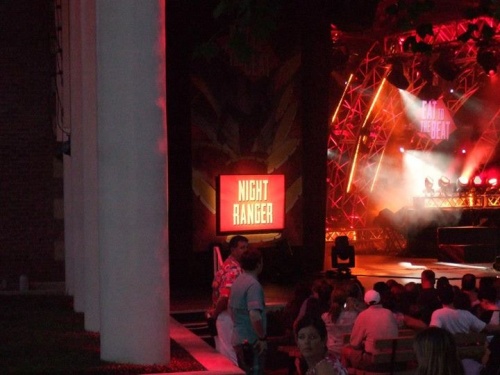 Overall, while these tips should help out those who may be considered Disney Seniors, they really are helpful to everyone who may be planning their next Walt Disney World Vacation. What is your best tip for those who maybe aren't traveling comando-style?
Magically Speaking Featured Article
Library of Congress ISSN:1556-3863