This post may contains affiliate links for your convenience. If you make a purchase after clicking a link we may earn a small commission but it won't cost you a penny more! Read our full disclosure policy here.
By Jane Jones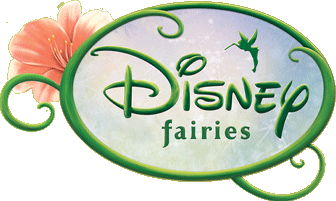 One of the perks of living near Walt Disney World and being an Annual Passholder is the availability of special events that I'm able to attend. Recently, I was fortunate enough to be a part of the private premiere of the new Tinker Bell movie that will be released on DVD on October 28. I expected to simply see the movie, but there were so many more surprises in store…including some exclusive news about changes to the parks!
This summer I received my Mickey Monitor (newsletter for Annual Passholders) and saw the announcement for an advanced private screening of the new Tinker Bell movie on September 27 and 28. The details were that you had to be an Annual Passholder, you had to register online with one ticket per Passholder, and then IF you registered before all the tickets were gone, you had to present your pass and registration at the Walt Disney Theater in Main Street U.S.A's Exposition Hall on your appointed date and time. I marked my calendar, waited at my computer for the registration to open, and then furiously started the input process. Finally, after a few stressful minutes, I was in! The Saturday dates were gone within 20 minutes, and the Sunday dates filled up soon after. These special events are extremely popular because, as we all know, no one does special events like Disney. And besides, who wouldn't like to be one of the first to see a new Disney movie? My mom, my daughter, and I were going to a premiere!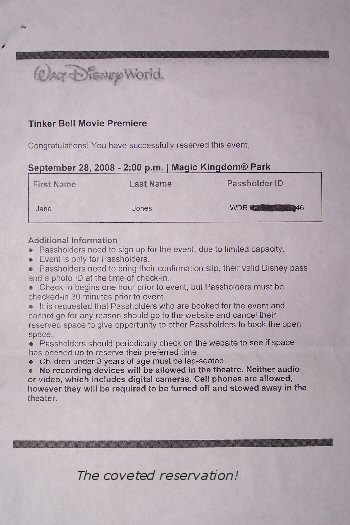 Our Sunday finally arrived and we decided to go into the Magic Kingdom early enough to enjoy lunch at Casey's Corner. Soon it was 1:00, just an hour before showtime, so we decided to go ahead and check in. The registration requested all Annual Passholders arrive no later than 30 minutes before the show, and we wanted to get good seats. We walked into the back of Exposition Hall, where they had signage and foliage introducing the movie and to give visitors the feeling that they were entering a magical, wooded world! We were greeted and our names were checked off the attendee list. And YES, our Annual Passes were checked with our registration "ticket." We were then given a voucher for a box of movie candy. They also offered fruit for the health conscious, but we opted for candy….we're going to the movies! (There was a waiting list that was made at the door. The Cast Members waited until a few minutes before the movie started and filled the seats with Annual Passholders who did not have tickets. It seemed to be additional party members of the people who did have tickets.)
As we entered the theater, the area surrounding the door was even more like a garden, except everything was large. We assumed that we were to be entering Pixie Hollow, the home of Tink and her friends. Next we took our seats…everyone was requested to "move all the way down, making room for everyone," and we passed the time reading trivia questions that were flashed on the screen about Tinker Bell and other related Disney facts. The facts were lots of fun, interesting, and unbeknownst to us, important later in the day.
Soon the rest of the theater filled up with little girls (some in fairy costumes), boys (a few in Peter Pan costumes), seniors, and families. Right at 2:00, we were welcomed once more, reminded that this was a very special event and no one but our group and a few others would have the chance to preview this movie. This added to the excitement. We also were introduced to two security guards who we were told would be watching us to ensure that no one photographed or recorded the show. The guards did monitor throughout, but that was understandable.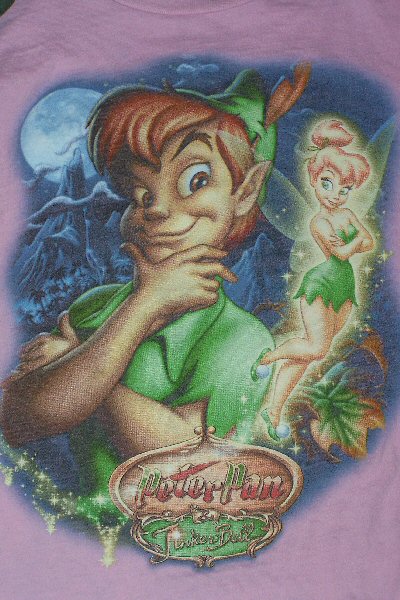 A close-up of my Tink shirt! Many of us were wearing Tink-related items.
The movie lasted about 75 minutes. The time seemed to fly by. The audience was engaged and everyone seemed to be interested. Like with all things Disney, it was fun to hear the little ones gasp and cheer from scene to scene. That's when you know they "got it right." To be honest, I was somewhat skeptical when I went in thinking I probably wouldn't like it, but found I really did! (I don't want to give the story away, but if you've seen the Disney on Ice show with the Tinker Bell story at the end, that is the same story as the movie.)
After the movie, the house lights came on as the crowd cheered. We were again greeted and asked as a group what we thought. This is when the REAL fun began for me! We were told that the producer, screenwriter, and director were there, they watched the movie with us to gauge our reactions, and they wanted to talk to each and every one of us. WOW! Next, they came out on stage, thanked us, told us how valuable having us there was to them, and what a labor of love this movie was. It was touching. You could see just how proud and humble they were when talking about their "baby." Before leaving the stage, they shared some info about future movies, and then we were told not to leave…there were more surprises in store!
We were then shown pictures of the changes that were going to take place in the Magic Kingdom and elsewhere at Walt Disney World to showcase the fairies. Some of the changes are already known, but others are news. Here's what they shared with us:
A new area inside the tent in Toontown is undergoing changes to become Pixie Hollow. (It is to the right of where you can meet the princesses.) You will now have video display screens around you in the fairy area. As you enter the queue, the foliage will get larger a larger so that once you get to the fairies, you feel 5 inches tall, just like they are in "real life". There you will be able to meet Tinker Bell and one or two (no more) other fairies. This meet and greet will open October 26.
There are four movies in total that will be made. The first is set in spring. The next will be summer themed, then fall themed, with the last a winter theme. They will come out in subsequent Octobers over the next three years. We asked if we will eventually meet Peter Pan…no definitive answer was given, but the screenwriter did say that this story's time period took place before the original Pan story….so we'll see!
Tinker Bell Treasures in the Magic Kingdom is currently going under an extensive rehab. They said to expect enhancements, new merchandise, and other surprises. We were also shown new fairy costumes, which were beautiful, representing each of the Disney fairies from the movie. We were told they would be available sometime before Halloween. We did look for them on property, but they are nowhere to be found yet. The shop is slated to reopen in late October.
The Flower and Garden Festival at Epcot will boast a fairy garden with topiaries of the fairies. They were quite excited about this so I am interested to see the result next spring.
The Disney Fairies website is up and running at http://disney.go.com/fairies/. There you can find out more about the movies, books, toys, etc. You can also learn more about your favorite fairy or create your own fairy for Pixie Hollow (over 7 million have been created already).
Next came Chief Magic Official Justin (remember the big contest?). This is the first time I've seen the CMO in action. Justin was fantastic — a natural at being a Master of Ceremonies. (He comes to Walt Disney World about once a month for CMO duties from his home in Pennsylvania.) He told us that the next surprise was that we were ALL going to meet the new fairies. Each fairy was introduced one by one and flitted across the stage. We were going to be able to get our picture taken with ALL the fairies at the same time…another WOW! This wouldn't be done again, so we were in for a special treat. They would be waiting for us in the garden area just outside the theater door.
Justin excused the audience row by row, starting in the front. Of course we were in the back, but that turned out to be great for us. While we waited, he asked us trivia questions. These were the same questions that had flashed across the screen earlier, plus questions about the movie. Needless to say, there was a lot of excitement as prizes were given to those with the correct answers. Everyone in my group won, and my daughter actually won twice! The gifts were all Tinker Bell themed and really wonderful — for example, sticker sets, school supplies with a case, a coloring kit, and starter lanyard sets.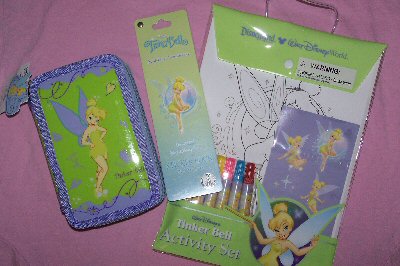 Trivia giveaways.
By the time it was our turn to get our picture taken, my daughter Ellory decided that SHE wanted to be alone with the fairies. That was fine. Grinning ear to ear, we now have a lovely PhotoPass picture of her with all of the Disney fairies!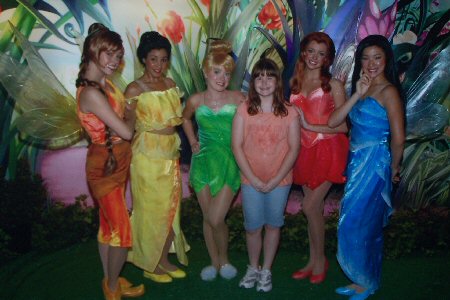 Fawn, Iridessa, Tink, Ellory, Rosetta and Silvermist pose together.
Our last stop was to meet with the director, producer, and screenwriter. They sat at a table and autographed a group photo of themselves for us. Then they asked us what we thought about the movie. They asked for specifics. They shared their vision and views, reasons, and choices. They answered questions, hinted about the future, and were incredibly gracious. It was obvious they cared.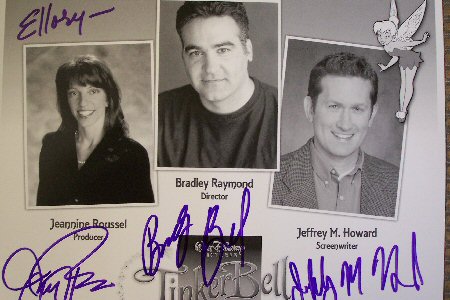 Our autographed photo of the producer, director, and screenwriter.
We asked the directors directly if they would introduce Peter, and they hinted that we WOULD meet Peter Pan down the road. We also told them that it was VERY important to stay true to the character of Tinker Bell as she is in the James Barrie story (we are HUGE fans of the original book) and that "purists" like us would be watching for details. They said that they did actually research that far back to the original Barrie treatment and intended to, but they really valued that input and appreciated our notice of detail in a few things in the movie that were true to the original Peter Pan story. We also said we hoped Tink would not remain as "nice" as she is in this movie because in actuality, she has a mean streak. Again, they said they plan to show development in her character. Lastly, they said because they were dealing with BEFORE the Barrie story they used that to their advantage in writing. They were able to create a "prequel" for Tink. There is a point in the movie when time period is indicated, but I don't want to give that away.
As we walked out of Pixie Hollow, we were given a cup with all the fairies on it and a light-up Tink, which I assume will replace the current Pirate Punch cup. It was a simple giveaway and a nice souvenir of the day.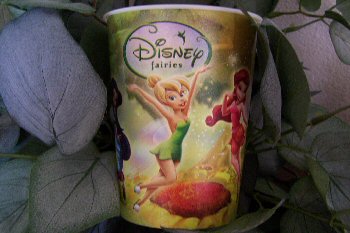 A cute little gift to remember the event by.
All in all, we had a wonderful time! I am blessed to be local and able to take advantage of the extras Disney offers to Annual Passholders. Ellory has now decided to be a Disney fairy (Fawn) for Halloween, and so have I. (But I think my costume should be more like Fairy Mary!)