This post may contains affiliate links for your convenience. If you make a purchase after clicking a link we may earn a small commission but it won't cost you a penny more! Read our full disclosure policy here.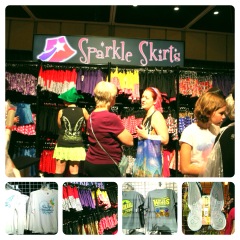 Themed apparel including long and short sleeve T-shirts, performance T-shirts, tanks and fleece hoodies  in all the colors of the rainbow have been a staple at Expos since years. So what made this year's Expo during Tinker Bell's Half Marathon special?
First I would say the ladies T-shirt. True to the theme the shirt literally sparkled with pixie dust and for inspiration the back read, "Flutter to the Finish", how cool is that?
Of course there were plenty of wings to buy and all kind of great accessories made me just want to make my own costume. I am a diehard Merida fan but must admit that I nearly got myself a pair of wings. I particularly liked the themed skirts. I have a Merida inspired sparkle skirt but I was very tempted by the villain skirts, especially the one of Cruella Deville. Just imagine the possibilities!
This year's Tinker Bell Half Marathon T-shirt is a beauty. The back reads: 'Earn Your Wings' and showcases the bling many of us, including truly yours, aspire to.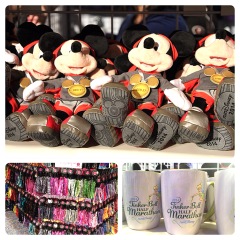 The commemorative mug is another favorite of mine and I can never get enough headbands. The greatest temptation for me was the Mickey Mouse "I did it!" plush. I simply loved it and had to have it.
All the essential running gear was topped with the beyond cool 2014 limited edition of the New Balance runDisney running shoes. The shoes sure were in demand and one had to be patient to buy them but it was all very well organized. I think this is what I liked most about this Expo. No chaos, no long lines and plenty of merchandise available.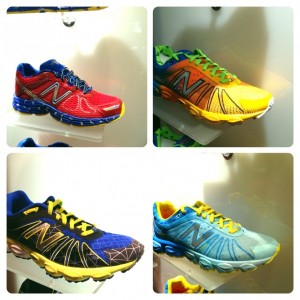 I did not buy shoes but explored the healthy food options for the race and whatever could take care of what unavoidably would be the aftermath of running 13.1 miles. At the Dannon booth all kind of flavored yoghurt was given out very generously. I bought some Clif Shot Energy Gel but the best purchase was the Bio Freeze bottle. Pure bliss during and after the race!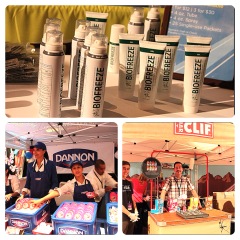 Talking about the race: Designed especially for women runners of all ages, Disney's Tinker Bell Half Marathon & Never Land Family Fun Run 5K marked its 3rd annual running this year. New was the 10K course.  All races took runners through the heart of Anaheim's Disneyland Parks. Spectators and volunteers joined thousands of fairies and princesses. I really loved the fact that so many marching bands, guests and cheerleader groups came out to encourage and cheer us along the route.
While it is not a must, runners dress up as their favorite Disney character and I loved seeing the many innovative costumes. I did participate in the half marathon as a member of the Special Olympics team of Southern California. The team raises money for a great cause. Every dollar changes the lives of people with intellectual disabilities through sports training and competition. If you love to run and especially if you love to participate in runDisney races I strongly recommend you look into being part of a team that raises funds for a charity you care about.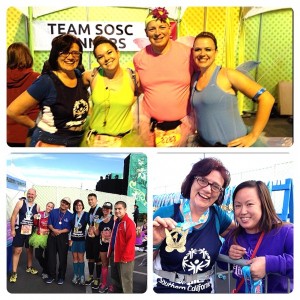 Shopping and running through Disney parks, what a great combination! Are you ready to earn your "wing"?