This post may contains affiliate links for your convenience. If you make a purchase after clicking a link we may earn a small commission but it won't cost you a penny more! Read our full disclosure policy here.
By Jane Jones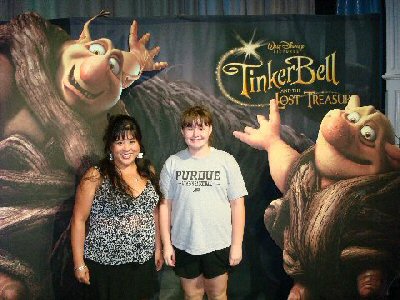 A new fairy will join Tink, Iridessa, Silvermist, Fawn, and Rosetta in Pixie Hollow on October 27. Who will it be? One of Tink's best friends (and here is a hint: it is not Peter Pan…).
Last year I had the good fortune of getting to see the first installment of the Tinker Bell movie series at the Magic Kingdom a month before general release. What a treat! This year, I was again able to attend the Passholder Premiere of the newest Tinker Bell movie, which will be released to DVD on October 27.
As with last year, I found out about the Passholder Premiere in my Mickey Monitor (you can also check the Passholder section of the Disney website) and learned when the event would be held and when I could request free tickets. I marked my calendar and awaited the request day in August to arrive. I got online and gave my Passholder number to confirm the date/time that I selected to see the movie. (Note: You will have to do this for each AP. You can only request one ticket per Passholder, and dates, times, and seating are limited).
Finally, the day arrived! It was a Sunday afternoon and we were going to the last viewing at 3:00 p.m. I was joined by my daughter Ellory, her godmother Leilani (visiting for the weekend from New Jersey and also a Passholder), and my mother. We enjoyed lunch at the park, then made our way to Exposition Hall to get seated. Just like last year, we had to not only present our Annual Passes, but also needed the e-mail confirmation. There is a wait list, which you can sign up for at the door the day of the event, but it didn't look hopeful for those waiting…those registered were all showing up!
Once checked in, we walked through a black cloaked doorway and were magically transported to Pixie Hollow! There were plants and all kinds of decorations to make guests feel as if we had shrunk into the magical world. We were then offered a snack (candy, fruit, or a salty treat), got seated, and were presented with the "rules" for viewing the movie: First, no photography of any kind, no recording of any kind, and there would be a guard monitoring throughout the presentation. Second, there would be some special surprises, so we should stay seated after the movie. Lastly, enjoy the show!
Tinker Bell and the Lost Treasure was wonderful. We enjoyed it even more than we did the first Tinker Bell movie. I won't give anything away, but I will tell you that you learn more about life and relationships in Pixie Hollow and how the fairies affect "our" lives though their talents.
After the movie, we were introduced to members of the team who worked on this and the rest of the Pixie Hollow movies. They love input and wanted to hear what we thought. Then we were treated to a special guest. Last year it had been the creators of the storyline, producer, and director.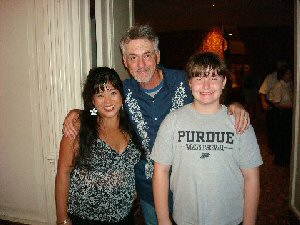 This year it was Rob Paulsen, the voice of some of the movie's characters! He was the most amazing, fun, and gracious person you could image. Standing on stage, he told us about many of the voices he has done (Grimsly the troll and Bobble in the Pixie Hollow movies, Pinky from Pinky and the Brain, Carl from Jimmy Neutron, Jose Carioca from the new Mexico ride at Epcot, and Raphael from Teenage Mutant Ninja Turtles, just to name a few!) He did all the voices for us, entertained with his amazing vocal skills, and told us all about how he got into the business. He also said he never dreamed he could make a living doing what use to get him in trouble in the 7th grade! The best part was the question and answer period. He took all the time the audience wanted to talk about his career. What a fantastic talent and man! Later we were able to talk with him personally, get a signed glossy of him and his voice characters, and snap a photo with him.
But the biggest surprise was getting to meet the newest addition to the Magic Kingdom's Pixie Hollow. We were the first to meet Terence, Tink's best friend and the first male fairy character at Walt Disney World! Both Tinker Bell and Terence were introduced on stage then we were all able to get photos with them.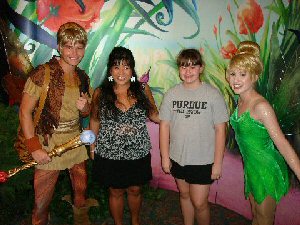 Terence will not be in Pixie Hollow until October 27, so this was a really special treat!
We also got some insider scoop. Originally only four Tinker Bell movies were planned, based on the seasons. Now there are five slated to come out direct to DVD. They are:
Tinker Bell (2008)
Tinker Bell and the Lost Treasure (2009)
Tinker Bell and the Great Fairy Rescue (2010)
Tinker Bell and the Winter's Tale (2011)
Tinker Bell and the Race Through the Seasons (2012)
We were able to see a sneak peek at the Great Fairy Rescue and I can tell you that some fairies other than Tink will have much larger rolls!
This event reminded us just how wonderful it is to live in Orlando and to be a Disney Passholder. More importantly, Disney continues to create magical experiences for kids of all ages. Our whole group loved the movie and we all had a fantastic time at the premiere. I am looking forward to the third Tinker Bell movie next year and for everyone to meet the new visitor in Pixie Hollow…he's so cute!
To learn more about the upcoming movies visit:
http://disney.go.com/fairies/movies/movies.html.
To learn more about Pixie Hollow, play fairy games, and create your own fairy, visit:
http://disney.go.com/fairies/.
Incoming search terms:
https://www themouseforless com/blog_world/tinker-bell-and-the-lost-treasure/