This post may contains affiliate links for your convenience. If you make a purchase after clicking a link we may earn a small commission but it won't cost you a penny more! Read our full disclosure policy here.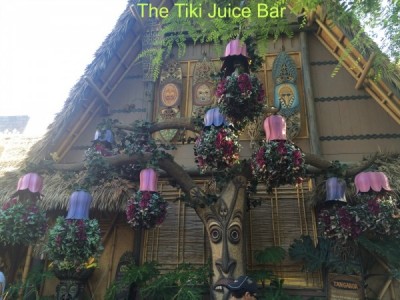 A tiki god shows his stuff during the pre-show of the Enchanted Tiki Birds
Today I'm taking you to one of my favorite places for a snack in Disneyland Park. Chances are you've seen it when passing through Adventureland, perhaps on your way to the Jungle Cruise or the Indiana Jones Adventure. Maybe you passed by a long line and wondered, "What ride is that for?"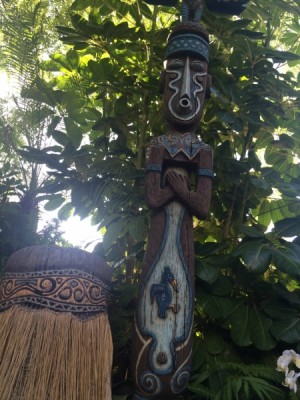 Dude, you're NOT getting my Dole Whip.
Well, my Disney friends, that line's not for a ride. It's for the Tiki Juice Bar! This tropical snack stand actually has two lines. One is the long one, exposed to the sun, you'll see as you walk through Adventureland. (On our last visit, a kind soul with a personal mister slowly walked up and down the line, misting guests as he went.) The other, almost always smaller, is located in the waiting area for the Enchanted Tiki Room. Although there's no room per se in the waiting area, the branches of large trees give some shade and make this line more bearable.
The specialties of the house
The menu is small at this place. You have your choice of pretty much anything pineapple: a fresh spear of the delicious fruit, pineapple juice, or, for many, the main events: the Dole Whip and the Dole Whip Float. As might seem obvious, this snack stand is sponsored by Dole.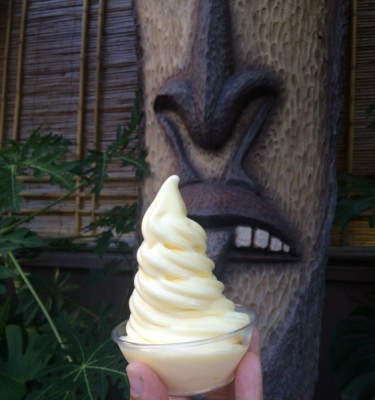 Behold…the DOLE WHIP!
In case you haven't heard me raving about a Dole Whip, it's a frozen pineapple concoction that resembles soft serve ice cream, but it's dairy free. (It's also vegan!) Add pineapple juice to this frosty treat and you have a Dole Whip Float.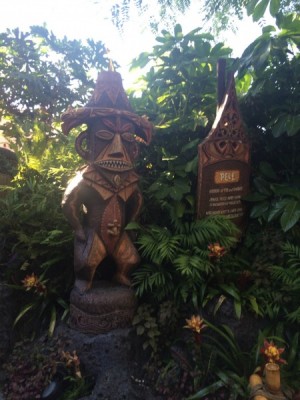 Pele, one of the Polynesian gods you'll get to know.
Seating is limited, but you can't beat the ambiance. You're surrounded by tiki statues, running water, and lush foliage, and before each show, the gods of Polynesia introduce themselves.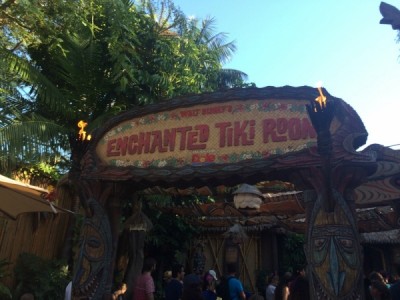 The perfect place to enjoy your snack – while waiting for the Enchanted Tiki Room!
For me, there are few things better than sitting down in the waiting area for the Enchanted Tiki Room with a Dole Whip. As I dip my white plastic spoon into the creamy pineapple goodness and watch the pre-show, I think to myself that there are way, WAY worse ways to beat the heat at Disneyland!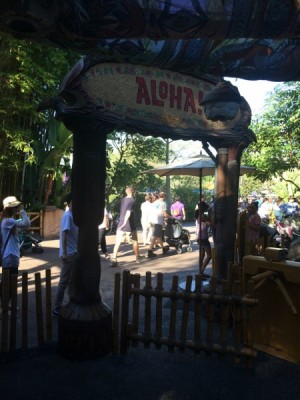 Aloha, Tiki Juice Bar!  Until next time!
Have you stopped at the Tiki Juice Bar? What's your favorite treat?