This post may contains affiliate links for your convenience. If you make a purchase after clicking a link we may earn a small commission but it won't cost you a penny more! Read our full disclosure policy here.
By Stephanie Rouse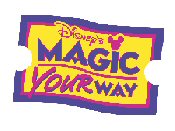 Ok, so you saved and saved. You are finally ready to book that magical trip you have been dreaming of. Dates? Check. Resort? Check. Tickets? Oh, tickets!
When planning a Walt Disney World vacation, there are many aspects that require research. It seems one of the biggest questions around is "How do we know what tickets we need?" And there is never a one-size fits all answer to that question! In this article we are going to take a look at some of the ticket options that will make your magical Disney vacation even better.
At the beginning of 2005, Disney re-vamped its ticket options. Magic Your Way passes are now the staple in Walt Disney World and gone are the days of the possibly over-priced, but mostly one-size fits all Park Hoppers. With the Magic Your Way tickets, guests can customize their ticket to fit with their vacation. Do you want to be able to go from Magic Kingdom to Epcot on one day? Add the park hopper option. How about Disney's water parks? The Water Park Fun & More option makes going to Blizzard Beach easy and affordable (by Disney standards, anyway).
Disney's Magic Your Way tickets are available for 1-10 days and anywhere in between. And what is even better is that they are "The more you play, the less you play." This means that the difference between the price-tag for a 5-day ticket and a 10-day ticket is negligible (about $11). An adult five-day base ticket runs $219.39, tax included. For each additional park day, you're only going to pay $2.13. Yep, $2.13!
Here is just one example of how you can spend just a few dollars more and have more park time in your Disney vacation. Let's say you are flying into Orlando and you will be at the Walt Disney World Resort by the afternoon. It used to be that most people would choose to start their Disney package or get their Disney tickets for the next day, when they have a full day to use them. However, now with Disney's Magic Your Way Ticket pricing, you no longer pay a premium for the ability to go to one of the theme parks for just a few hours. If you only have five full days to spend in the parks, but you will actually be there an additional two half-days (those dreaded "travel days") you can purchase a 7-day ticket for only $4.26 more than the 5-day ticket! So don't rule out popping into the Magic Kingdom for Wishes on your arrival night, or spending an hour or two of your departure morning re-visiting your favorites at Epcot!
Okay, now that you have decided on how many days you need, you can delve into the extras: Park Hopping, Water Park Fun and More, and No Expiration. Disney offers a Park Hopping option that allows you to begin your day at one theme park and end it at a totally different one. Imagine, breakfast at Main Street Bakery in Magic Kingdom with all of Fantasyland to tour and then dinner at one of Epcot's wonderful restaurants before ending your night with a showing of IllumiNations. It doesn't matter if your ticket is for three days or for 10, you pay the same: $42 and change (tax included).
The Water Park Fun and More option can be added with or without the hopper option. With this option, you get a certain number of visits to Disney's smaller venues for $53.25 (that's with tax). As with Park Hopping, the price for this option is the same no matter whether you get 1-day tickets, or 10-day ones. Disney's Blizzard Beach and Disney's Typhoon Lagoon water parks are both included, along with Disney's Pleasure Island, DisneyQuest, and Disney's Wide World of Sports (some special, ticketed events are not included). The number of visits you get is tied to how long your Magic Your Way ticket is. For example on a 4-day ticket, you get 4 visits to the Water Park Fun & More locations. On a 10-day ticket, your number of visits is 6. Just be sure that you have enough time in your trip to justify the expense of adding this option. If you can only fit in one "extra," you are better off just purchasing a separate entrance ticket to the venue of your choice.
You can add both of the above options to your ticket and have what Disney refers to as the Magic Your Way Premium ticket. The cost of this ticket is made up by the exact amounts of the base ticket, park hopper option, and the water park fun & more option.
And, finally, we have the No Expiration option tempting us. Without this option, MYW tickets will expire 14 days after first use. With the No Expiration add-on, you can save the unused days on your ticket. Unlike the other options, the cost of adding No Expiration varies depending on the number of days on your ticket. This option is a good deal in limited cases- you really have to crunch the numbers on this one. The surcharge for non-expiring tickets isn't trivial (ranging from $10-$143). If you can use your ticket over a number of visits, you may come out ahead. And remember, you'll also be saving any ticket price increase between when you purchase and when you actually use all the ticket-days.
Not sure what option is right for you? Any of the Magic Your Way tickets can be upgraded while you are on property at Walt Disney World Resort. Guest Relations can help you turn your base ticket into one with any of the options listed above. Maybe you think you won't want to park hop, but once on property you realize that you would like to? Just go to Guest Relations and they can help you get exactly the ticket you are looking for.
What if you are staying for longer than 10 days? Or what if you are one of us who has caught the "Disney bug" and wants to sneak to WDW multiple times each year? That's where Disney's Annual Passes come in. Disney offers Florida Resident Annual Passes, without blackout dates, and the Florida Resident Seasonal Pass, which has some blackout dates during the busier times of the year. They also offer an Annual Pass. Anyone can purchase this ticket and with it you gain entry to the four Walt Disney World theme parks for a year. The year runs from your date of activation, for one complete year (366 days, total). Add the Disney water parks and all of the other Water Park Fun & More options and you have Disney's Premium Annual Pass.
It is now a bit harder to determine the point at which you will "break even" when deciding to purchase an Annual Pass. Because of the way the days are priced with a Magic Your Way ticket ("the more you play, the less you pay") you really have to do some digging to find the ticket that best fits your needs. Once you figure out the cost of tickets for the first trip you are planning and then add the price of tickets for a second (and third?) trip during a one-year period, you should have a good idea if an Annual Pass will work for you. Also, don't forget some of the perks of having an Annual Pass, such as possible resort room discounts, certain shopping and restaurant discounts, and the ability to purchase the Disney Dining Card. These discounts can all add to the savings of an Annual Pass.
"So, what tickets do we need?" While we can't answer that for everyone, I hope that we have at least shined a light on all of the options out there. If you would like some help planning your Walt Disney World vacation, the agents at The Magic For Less Travel, the sponsor of Magically Speaking and The Mouse For Less Website, are always happy to help. You can visit http://www.themagicforless.com for more information.
The Mouse For Less website has a helpful chart, where you can view all of the Magic Your Way ticket options located at: https://www.themouseforless.com/tripplanning/tickets/mywchart.shtml
Find useful information about Walt Disney World's Annual Passes here: https://www.themouseforless.com/tripplanning/tickets/wdw2AP.shtml
Magically Speaking Featured Article
Library of Congress ISSN:1556-3863