This post may contains affiliate links for your convenience. If you make a purchase after clicking a link we may earn a small commission but it won't cost you a penny more! Read our full disclosure policy here.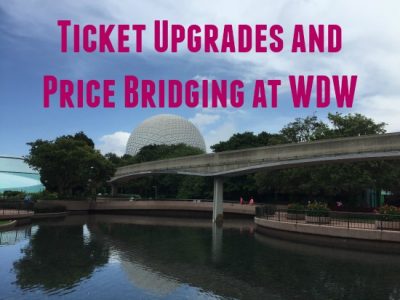 If you find yourself with the opportunity to go to Walt Disney World for more than one major trip in 365 days, you should definitely consider purchasing an Annual Pass.  This post will not cover the benefits of the annual pass or whether or not the savings make sense for your situation.  (See this post for the latest price breakdown and benefits of Annual Passes.)  This article instead looks at ticket upgrades, "price bridging," and the current practice that you might experience if you upgrade previously-purchased tickets to Annual Passes at Walt Disney World.
Price Bridging
Price bridging is the practice of offering you full value of your tickets had you purchased them from a Walt Disney World ticket window today, even if you paid a lower price for them for any number of reasons (purchase prior to a price hike or purchase from a third party reseller are two likely reasons you may have paid less).  The purpose of this is so that you can upgrade your tickets by adding days, park hopper privileges, or water park privileges or to upgrade to annual passes.
Before the last ticket increase went into effect in February 2016, I purchased 5-day Park Hopper tickets for my family from an authorized Walt Disney World reseller, intending to use them on our August 2016 trip.  Then, in April 2016, I purchased a WDW vacation package through The Magic For Less that required a ticket purchase as part of the promotional offer.  I purchased the minimum 2-day park hopper tickets, with intentions to use them on a future trip, still intending to use the 5-day tickets purchased from the reseller for the August trip.
As my trip date got closer, I realized that my family had an opportunity to go to Walt Disney World two or three more times in 365 days, starting with my August 2016 trip.  I did the math, and it made sense to have an Annual Pass for each member of my family, which would save me money in the long run by not having to purchase theme park tickets for any of the other trips in the same 365-day period.
I did research on ticket upgrades and price bridging and discovered that guests have been receiving today's value of their previously-purchased tickets, even if said tickets had been purchased at a lower price.  To do this, one has to enter the park and activate the ticket media.  In doing this, Disney then offers to upgrade the ticket using today's value as a basis.  This is not necessarily the policy, but it is the experience of many guests.  So I decided to give it a shot:  I was going to upgrade my tickets to Annual Passes upon arrival in Orlando.
My situation was a bit unique in that each member of my family had two tickets associated with their profiles.  Seeing that this might cause a problem in Disney's system, I called Walt Disney World to "prioritize" my tickets a few weeks before my arrival.  Even though I planned to upgrade, I wanted to ensure that I activated my 5-day park hopper ticket in the event something changed and I decided not to upgrade.  I did not want to use the 2-day park hopper ticket.  The friendly Disney agent on the phone told me I first had to go through the turnstiles, then visit Guest Relations to prioritize my tickets.  (This turned out to be bad advice, but more on that later.)
Upon my arrival to Walt Disney World, we went to Animal Kingdom for our first theme park day.  As advised on the phone, my family went through the turnstiles, thus activating one set of our tickets.  I went straight to Guest Relations and asked to be upgraded to Annual Passes.  I wanted to combine the value of all of our tickets to Annual Passes.  Unfortunately, I was mistaken in believing I could combine more than one ticket toward a single Annual Pass.  The nice cast member told me I could only upgrade one, and that the ticket that had been activated was my 2-day Park Hopper!  I politely explained that I had been told that I had to activate a ticket in order to prioritize, but the cast member said I actually needed to visit Guest Relations on the other side of the turnstiles (before I entered the park) to prioritize.  She said I could proceed with upgrading the 5-day Park Hopper, but that my 2-day Park Hopper tickets would still expire after 14 days since they had been activated.  Imagine my disappointment:  I thought I could combine the value of two tickets (whammy!), and when that didn't work out, I couldn't upgrade the 5-day Park Hopper unless I also wanted to give up the value of the 2-day tickets (double whammy!).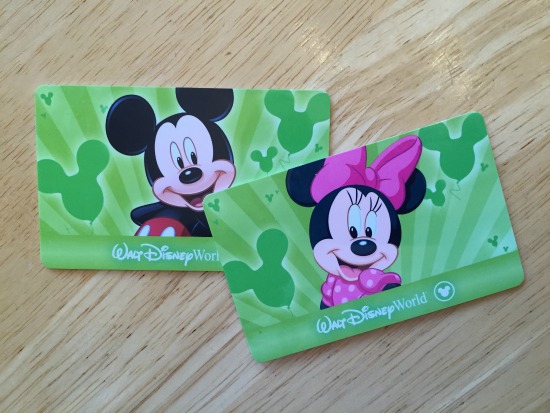 Magic Your Way tickets
The look on my face must have brought a feeling of pity to the cast member, as she went to the back office to see what she could do.  She was gone for 10-15 minutes and came back with what I found to be acceptable news:  she would reverse the activation of our 2-day tickets, activate our 5-day tickets, then upgrade us to Annual Passes.  Our 2-day tickets would remain unused.  We then spent the next 20 minutes scanning each of our Magic Bands multiple times to take care of all of these transactions.  The good news in all of this was that we would receive that day's value of the 5-day Park Hopper tickets rather than the price we paid.  The math worked out like this:
3 five-day Park Hopper Adult tickets purchased for $1,101.00 (including tax)
1 five-day Park Hopper Child ticket purchased for $346.00
Total paid to the ticketing vendor in Feb. 2016:  $1447.00.
Value of 3 five-day Park Hopper Adult tickets in August 2016:  1,306.77
Value of 1 five-day Park Hopper Child ticket in August 2016:  $414.29
Total value in August 2016:  $1,721.06
Price of 4 Platinum Passes in August 2016:  $3,190.76
Difference paid to upgrade:  $1,469.70
I was disappointed that I could not combine the five-day and two-day tickets toward a single Annual Pass, but now we have four unused 2-day tickets on our My Disney Experience account for a future trip beyond our 365 days.  We could also apply the value of it toward a renewal or our Annual Pass.  Either way, it just means more Disney!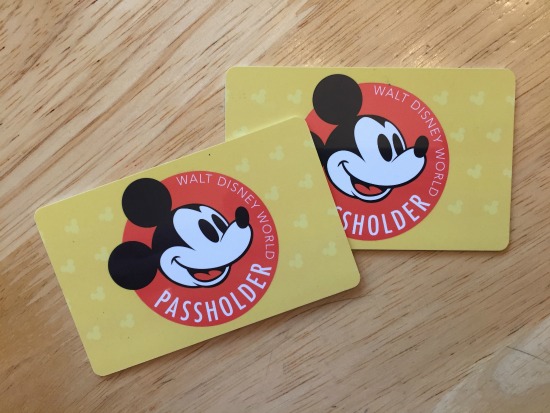 Annual Pass media in 2016
Please note that my experience was just that, my experience.  There is no guarantee Disney will continue this practice.  Disney knows exactly what you paid for your tickets, and there is a chance they will only offer the value for what you paid.  But if you are considering upgrading your tickets to Annual Passes and want to save a few dollars, you might consider visiting Guest Relations to see what they offer you.  Remember that you must activate your tickets first by entering a theme park; this will not work if you visit Guest Relations before you activate your ticket media.  If the first cast member doesn't offer you the full value, you might ask a supervisor.  But don't be too pushy or expect them to give you anything beyond what you originally paid; it is great if they do!
And take my advice if you have multiple tickets on your account:  be sure to visit Guest Relations before you enter the park to prioritize your tickets so that you only activate the ticket media you intend to upgrade.
Incoming search terms:
https://www themouseforless com/blog_world/ticket-upgrades-price-bridging-current-practice-wdw/