This post may contains affiliate links for your convenience. If you make a purchase after clicking a link we may earn a small commission but it won't cost you a penny more! Read our full disclosure policy here.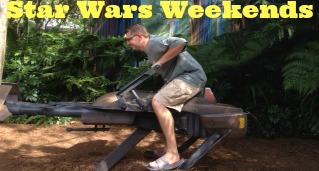 "Adventure. Heh. Excitement. Heh. A Jedi craves not these things."
Those words were running through my mind just as we pulled in front of Disney's Hollywood Studios. It was the start of Star Wars Weekends and adventure and excitement were exactly what I was craving! The day would be filled with characters from my favorite movies walking around the park, chances to meet the actors from the movies, get autographs and so much more! This would be a day long remembered.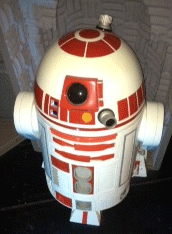 The first thing I saw were the Stormtroopers. They were everywhere. I'm not sure if they were looking for Rebel spies or a couple of droids, but they were questioning guests as they entered the park.
When I got to the entrance, a Cast Member asked for my ticket. I responded with "you don't need to see my identification" as I waved my hand in front of him. He wasn't amused … he needed my ticket. Okay, so maybe I need some training at the Jedi Training Academy. I need to learn how to better use the Force and a little lightsaber training wouldn't hurt. Wait … what? It's only for children between the ages of 4 and 12? How is that fair?
Luckily, my age isn't a factor (and I'm tall enough) to ride Star Tours! And ride We Star Tours we did — a lot. Let's just say that the Cast Members started to recognize me. On my fourth ride, Darth Vader once again stops our ship looking for the spy … AND IT'S ME!! My daughter yells, "my dad's the spy. Awesome!"
After landing the role as part of the "Rebel Alliance and a traitor," we set off to meet characters from the movie as well as actually experience Hollywood Studios outside of Star Wars. We met the Emperor, rode Aerosmith and the Tower of Terror, but the biggest thrill for me was running into Boba Fett (my favorite character). And I mean that we literally ran into him. We weren't in line to meet him, he was just there walking through the park.
Let's just say that if you like Star Wars, you NEED to experience Star Wars Weekends at Hollywood Studios.
I freely admit to being a Star Wars fan (okay, total geek), but, the greatest thing about the day actually happened when we were going back to our resort. My daughter said "When we get home, can I watch Star Wars with you?" Yes, you can little padawan.
May the Force be with you.
Have you ever been to Walt Disney World during Star Wars Weekends? What are your thoughts?