This post may contains affiliate links for your convenience. If you make a purchase after clicking a link we may earn a small commission but it won't cost you a penny more! Read our full disclosure policy here.
My youngest has been cut from a different mold than my older two and myself. The three of us love the thrill rides. Whereas, my hubby and youngest get anxious about the monorail and the Peoplemover. Nah, just kidding! They will ride those all day long, but don't dare think of asking them to go on Space Mountain, or any mountain for that matter. Test Track, forget it! Tower of Terror, no way! It creates for some need to split up at times. But we don't like to do that too much either. So, rather than them waiting for us, we have created some alternatives in each area of the thrill rides in each park.
I'll start with the Magic Kingdom, there are a lot of rides here that he doesn't like to do. I'll start in Tomorrowland. The good thing here are there are a lot of options to do while the older two and I do Space Mountain. Some of his favorites are the Peoplemover, Buzz Lightyear Space Ranger Spin, Carousel of Progress, Tomorrowland Speedway and Monster's Inc. Laugh Floor. I personally love the PhotoPass picture booth located in the Space Mountain exit/ gift shop, but that doesn't take very long. We don't typically do Stitch, but he doesn't like that either, but as listed above there are plenty of options to explore.
In Fantasyland, the only thing he doesn't like riding right now are the Teacups and the Seven Dwarfs Mine Train. Other than that, he loves Dumbo, Winnie the Pooh, Enchanted Tales with Belle, the Carousel, Under the Sea, Philharmagic, and amazingly enough he will enjoy an occasional spin on the Barnstormer. For those that aren't familiar, it is a very low key roller coaster. Fantasyland is really geared towards this age group. We find that we can usually keep together pretty well here except for the occasional Seven Dwarfs Mine Train FastPass. Also, there are a few Princess meet and greets in this area as well.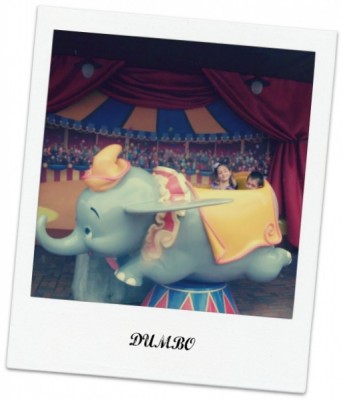 In Liberty Square, it usually takes a song and dance to get him on the Haunted Mansion. As that is a favorite of ours, they will sometimes go on the Riverboat or over in Fantasyland to Peter Pan or It's A Small World.
In Frontierland, we usually go on Splash Mountain and Big Thunder Mountain if we can while they go over to Tom Sawyer Island. If they aren't up to that, Splash Mountain has a great little playground at the exit to hang at while on the ride. There are two other options which they haven't explored. They are the Hall of Presidents and the Country Bear Jamboree.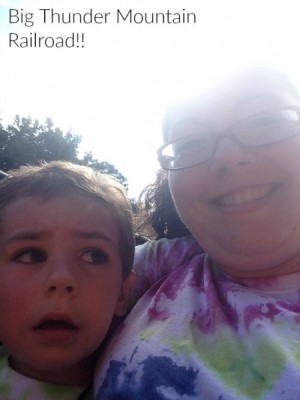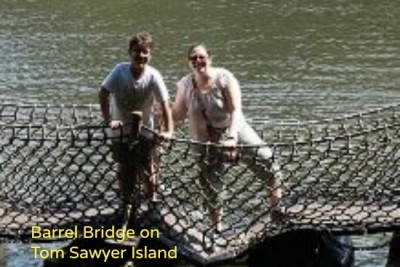 Lastly, we have Adventureland! If I could put into words what the throw down drag out fight that took place in the queue of Jungle Cruise at night, I would. I can't imagine what the people around us thought because I was determined that he was going on the ride. He was scared, and because I knew it wasn't scary, I wasn't giving up. Luckily my mom was there to take him off my hands because I was losing my mom cool. She was able to bargain with him and settle him down. The deal was we would go on Aladdin's Magic Flying Carpets and the Enchanted Tiki Room, but NOT on Pirates of the Caribbean. Well, sometimes you have to compromise.
On to Epcot! In Future World, there a few rides he's not a fan of. They include Mission Space, Test Track and Soarin'. While we ride Mission Space, they usually go in the play area at the exit of the ride. If not there, they explore the Innoventions pavilion or Club Cool. Sometimes, they will do Ellen's Energy Adventure depending on whether we are using FastPass or Standby. On the Soarin' side there are more options. In the same pavilion as Soarin' is the Living with the Land boat ride which takes you through the gardens. It is one of our family's favorites so we usually try to do it together. There are some other options that aren't in that pavilion which include Journey Into Imagination, the Seas Pavilion, which has The Seas with Nemo and Friends, Sea Base, and Turtle Talk with Crush.
Moving on to Disney's Hollywood Studios, we have several opportunities to go in separate directions here. While we all do Star Tours, they usually do Indiana Jones Epic Stunt Spectacular, one of his favorites. If the line is short or we have a FastPass, they will do MuppetVision 3D. The other area in the park that shall go unnamed by my youngest is the Rock 'n' Roller Coaster and Twilight Zone Tower of Terror. While we head there, they have been known to grab an ice cream, watch Beauty and the Beast Live Stage Show, Disney Jr. Live, or just go meet characters.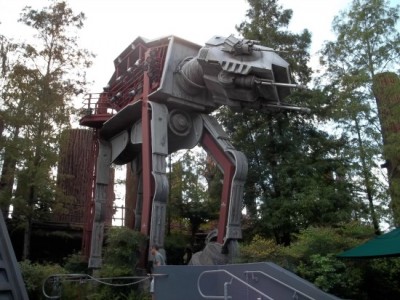 Lastly, in Disney's Animal Kingdom, we usually head for Dinosaur, while they go on the Triceratops Spin or Dinoland Playground. We sometimes try to hit up Primeval Whirl, as well. Then they will head off to the Finding Nemo: The Musical show, while we go ride Expedition Everest and Kali River Rapids. They also meander around and have done Wilderness Explorers while we ride. Something that I could do all day while I waited would be watching the monkeys in their environment outside of Kali River Rapids. They are such amazing creatures to just sit and watch. You could also explore the Maharajah Jungle Trek while in this area of the park.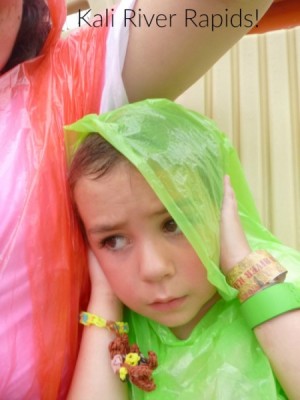 I hope I have provided you with some great options to satisfy everyone's thrill level or lack thereof. A Disney vacation should be enjoyed by all members of the family and shouldn't require parts of the family to sit on a bench while others ride all of the fun rides. Another alternative I did not mention that would be great if the other adult was a like-minded thrill seeker is the Rider Swap pass. This gives a pass to the other members of your party a chance to not have to wait in line to ride the ride if you have to stay behind with a younger guest. There are a few criteria for it to be utilized, but ultimately, another great benefit to take advantage of.
What are your best suggestions for rides for the non-thrill seeker to experience? Share in the comments.
Incoming search terms:
https://www themouseforless com/blog_world/thrill-rides-alternatives-non-thrill-seeker-walt-disney-world/