This post may contains affiliate links for your convenience. If you make a purchase after clicking a link we may earn a small commission but it won't cost you a penny more! Read our full disclosure policy here.
Let's give a big welcome to our newest Mouse For Less blogger, Kristina!
If you're reading this article, it means one of two things. 1) You love Disneyland or 2) you've never been and are planning your first trip. If you love Disneyland, you know this one simple fact: Disney parks means standing in line. A lot. And even if you're planning your first trip, you've probably guessed this already.
What might not be so obvious are the lines you encounter BEFORE you step foot in either park. In the interest of giving you as much information to plan your trip as possible, here are three of them: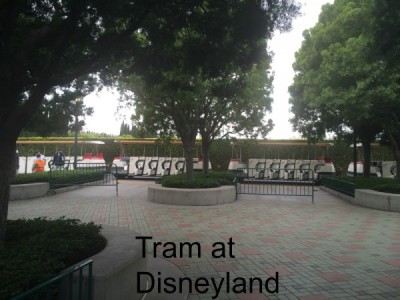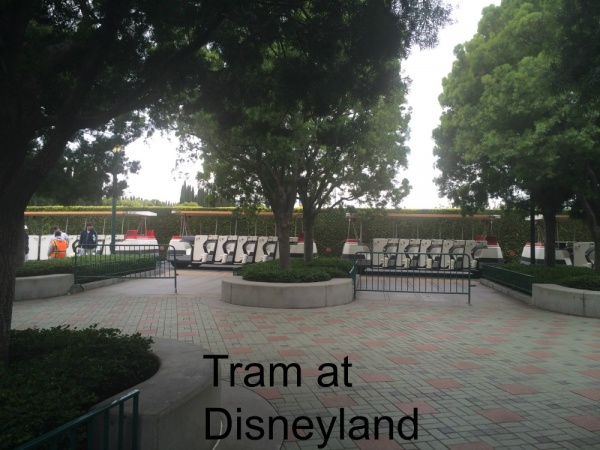 1) Waiting for a Tram from the Parking Structure

If you've arrived by car, you will most likely be directed to park in the large, convenient Mickey and Friends parking structure. After taking the escalator or elevator down to the ground floor, you will see two areas, one to your left and the other to your right, where you can wait for a tram. During busy times of year, and at the beginning of the day, you'll often have to wait in a line.
In general, Disney does a great job of keeping those trams moving, especially in the early morning hours. However, if you'd rather not start your day of standing in lines by, er, standing in a line, there is another option; it is relatively easy to walk to the parks.
The walk is along well maintained sidewalks and is marked clearly with signs. It's just a little over half a mile. If you are an old school New Yorker, like me, you can do this by power walking for ten minutes. More laid back folks might find it takes 15.
This walkway was my best friend when my daughter was still in a stroller and we did Let's-Get-Every-Cent-Out-Of-These-Annual-Passes days with just the two of us. If you are traveling alone with a child in a stroller, it can be very difficult to fold it up and then it AND your child safely on and off the tram. I found it much more convenient to keep my child in the stroller and walk.
Friends of mine have told me that the walkway is well lit and safe at night, and that it's much easier to use it if your child is fast asleep in the stroller and you don't want to risk waking him/her up. However, I have always been so tired by the end of a Disneyland day that I've opted for the tram at night.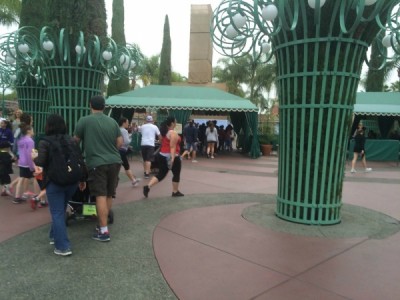 2) Security

Walt Disney World veterans, beware – although Disneyland tested bag-less entry years ago, as of right now, all guests go through the same security line. You might only be carrying your iPhone in your pocket or you might be saddled down with so many bags that you resemble a Bedouin crossing the Sahara.  No matter; you're going to stand in this line.
Unfortunately, there's not much you can do to avoid this. Sometimes, when the line is exceptionally long, bag-less guests will be ushered past security by Cast Members, but this seems to be the exception rather than the rule.
Of course, the length of the line will depend on the season you're visiting and what time it is. I have sailed through that line at 8:00 a.m. on a Saturday, and I have sailed through at 10:00 a.m. on a Tuesday in October. But most of the time, I just grin and bear it.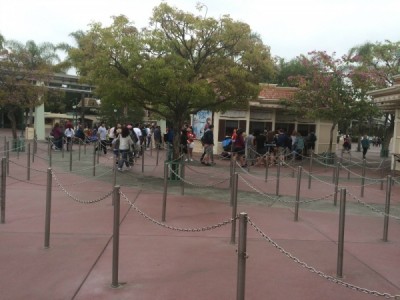 3) Ticket Booths

I cannot stress this point enough–buy your tickets in advance! This is one line that is almost completely avoidable. At last check, all types of ticket media are available online except for the Premier Passport which allows admittance to both Disneyland and Walt Disney World parks for a year. At Disneyland's website, you can purchase eTickets that you can print from home. Or you can even have your ticket electronically stored on your handheld device. You can buy Disneyland tickets at Southern California grocery stores or at Costco. Seriously, I cannot think of many reasons to buy your tickets at the ticket booths unless you really, REALLY enjoy the experience of standing in line.
Bottom line (pun totally intended) – you're going to be spending time standing in line while at Disneyland. Avoid the ones you can, be prepared for those you can't avoid, and above all, enjoy the Happiest Place on Earth!