This post may contains affiliate links for your convenience. If you make a purchase after clicking a link we may earn a small commission but it won't cost you a penny more! Read our full disclosure policy here.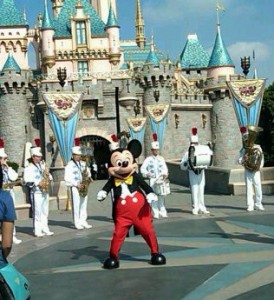 With this month bringing the 58th anniversary of Disneyland and of Disney parks in general it got me thinking about how much has changed over the past 58 years of Disney Parks. So many attractions have come and some have stayed though many have gone. So many milestones have been reached and obstacles overcome. In the spirit of this reflection I have started a new series: each month I will be highlighting important dates, attraction openings/closings, and other interesting facts from Disney Park History. This list is not inclusive of all events, but highlights some important/interesting moments in the history of the Parks.
July 1, 1975 – The "WEDway Peoplemover" opens in Tomorrowland at the Magic Kingdom in Walt Disney World.
July 3, 2001 – "Disney's Electrical Parade" (formerly "The Main Street Electrical Parade" at Disneyland) begins running nightly in California Adventure Park.
July 4, 1955 – a pre-opening party for Disneyland employees is held in the park.
July 4, 1979 – The first baby is born in Disneyland, it's a girl named Teresa.
July 4, 1987 – "Big Thunder Mountain" opens in Tokyo Disneyland, located inside Westernland.
July 5, 1988 – "The Malestrom" ride opens in Epcot as part of the Norway Pavilion.
July 12, 1957 – The "Shooting Gallery" attraction opens at Disneyland, located in Frontierland.
July 15, 2005 – "Turtle Talk with Crush" opens at Disneyland California Adventure Park.
July 17, 1955 – Disneyland officially opens at 2:00 in the afternoon with five "lands" (Main Street USA, Frontierland, Fantasyland, Tomorrowland, and Adventureland) and 18 attractions. Total cost to build was $17 million.
July 17, 1989 – "Splash Mountain" ride opens at Disneyland; one will also open in WDW's Magic Kingdom exactly 3 years later in 1992
July 18, 1955 – Disneyland opens to the general public; hours are 10:00am to 10:00pm. Ticket prices were $1 for adults and 50 cents for children. First two guests to enter were given lifetime passes.
July 22, 1994 – "The Twilight Zone Tower of Terror" opens at Disney's Hollywood Studios (park was actually named Disney-MGM Studios at the time).
July 30, 1993 – "Indiana Jones et le Temple du Péril" opens in Euro Disney (Disneyland Paris).
July 30, 1998 – The Disney Cruise Line launches its first ship, the Disney Magic.
Incoming search terms:
https://www themouseforless com/blog_world/this-month-in-disney-parks-history-july/