This post may contains affiliate links for your convenience. If you make a purchase after clicking a link we may earn a small commission but it won't cost you a penny more! Read our full disclosure policy here.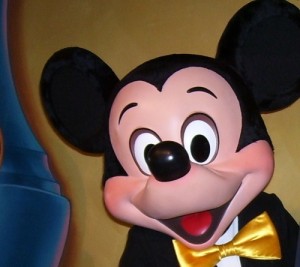 Welcome to the second installment of my Disney Parks history series. August is full of history of the Disney Parks. Many events happening in Disneyland itself as may attractions continued to open following its grand opening in July 1955. Ten more attractions/restaurants open in Disneyland in August of 1955, including: 20,000 Leagues Under the Sea Exhibit in Tomorrowland (Aug. 3), Aunt Jemima's Pancake House in Frontierland (Aug. 9), and The Dumbo Flying Elephants in Fantasyland (Aug. 16).  August was also a month full of landmark numbers of guests, many of those lucky "millionth" visitors got much more than just a day at the park too!
August 2, 1995 – The parks of Walt Disney World are delayed in opening until 11:00am due to weather conditions caused by Hurricane Erin. That same day 36 executives from Disney met in Aspen, Colorado to discuss, over the next 3 days, a major expansion to Disneyland (later to become known as Disney's California Adventure Park).
August 3, 1994 – The 150-millionth guest enters Tokyo Disneyland.
August 5, 1992 – The 400-millionth guest, 10-year-old Brandon Adams, is welcomed to Walt Disney World. He and his family were given lifetime passes to Disney Parks worldwide! (Lucky!)
August 9, 1969 – The Haunted Mansion and its 999 "happy haunts" opens its doors to guests at Disneyland.
August 12, 1965 – The 50-millionth guest, Mary Adams, enters Disneyland Park.
August 15, 1999 – The maiden voyage of the Disney Wonder cruise ship begins. It sailed from Port Canaveral, Florida and took its passengers on a 4 night Bahamian cruise.
August 16, 1958 – The Fire Truck on Main Street U.S.A. in Disneyland begins operating.
August 21, 1995 – The PeopleMover attraction closes in Tomorrowland at Disneyland. (Might be a bit geeky here, but I was bummed about this one.)
August 24, 1989 – The Ewok Village opens at the entrance to Star Tours in Disney-MGM Studios in Walt Disney World (the parks current name is Disney's Hollywood Studios, but all parks will be referred to by the names they had when said even took place).
August 25, 1985 – The 250-millionth visitor, 3-year-old Brooks Arthur Charles Burr, enters the gates at Disneyland. He received a new car, airline miles, a lifetime pass to Disneyland and Walt Disney World, and a trip for two to Tokyo Disneyland, as well as a personal welcome from the Mickey and the Disneyland Band.
August 25, 1989 – The Indiana Jones Epic Stunt Spectacular has its grand opening at Disney-MGM Studios in Walt Disney World.
August 29, 1955 – The Pirate Ship and Restaurant opens in Disneyland.
August 29, 1992 – The Dinosaurs Live parade has its final run at Disney-MGM Studios in Walt Disney World.
August 30, 2001 – The one millionth family is welcomed aboard a Disney Cruise.
August 31, 1960 – The Bathroom of Tomorrow exhibit in Tomorrowland closes at Disneyland.
Incoming search terms: