This post may contains affiliate links for your convenience. If you make a purchase after clicking a link we may earn a small commission but it won't cost you a penny more! Read our full disclosure policy here.
Written by: Carol Vandiver
Photos by: Carol Vandiver and Tina Krasner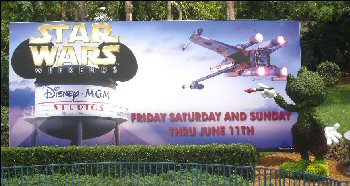 A LONG TIME AGO, IN A THEME PARK FAR, FAR AWAY, Walt Disney World Resort began an annual event which puts its guests in a direct line of contact with Sith, Ewoks, Stormtroopers and Wookies. Ok, so eight years isn't THAT long ago and Orlando, Florida isn't THAT far away, but the rest of the story is true!
Back in 2000, the first Star Wars Weekends were held at Disney-MGM Studios. The event ran for four consecutive weekends in May and each weekend was full of excitement for both the casual and the very serious Star Wars fan.
This month, the saga continues (ok, so it's an "event", not a "saga"), and Disney MGM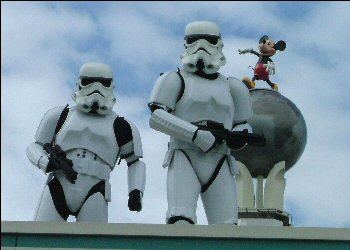 Studios will once again host Star Wars Weekends (#8). The first four Fridays, Saturdays and Sundays during June, the gates of Disney MGM Studios will be guarded like at no other time. Stormtroopers will lurk high above the park entrance, monitoring guests as they enter the park (bringing a whole new meaning to the term "bag check"!) You can expect to hear Star Wars music playing around the park, walk past Bounty Hunters and see Wookies posing for photos! It's a Star Wars fan's "Dream Come True" and if you're a fan, you won't want to miss it!
Perhaps it's due to the 30th Anniversary Celebration of Star Wars, but for whatever reason, the 2007 guest line up is very impressive. There are celebrity guests from the entire Star Wars saga. The list, which is subject to change, is as follows:
June 1 – 3: Kenny Baker (R2-D2) & Bonnie Piesse (Beru Lars)
June 8 – 10: Ray Park (Darth Maul) & Daniel Logan (Bobba Fett — Episode II)
June 15 – 17: Jeremy Bulloch (Bobba Fett) & Peter Mayhew (Chewbacca)
June 22 – 24: Anthony Daniels (C-3PO) & Warwick Davis (Wicket the Ewok)
Jay Laga'aia will be the event host for each weekend this year. Laga'aia is known as Captain Typho in both Attack of the Clones and Revenge of the Sith.
Although you'll find it branching out to other areas in the park, the central point of Star Wars Weekends is the area around Star Tours. The stage and the huge event logo backdrop are set up next to the entrance of the popular ride. Taking place on this stage throughout the weekend will be events such as the Jedi Training Academy and the Hyperspace Hoopla.
How do you prepare yourself for spending the day with an Emperor, an Ewok or a Droid? Very carefully!  Here are a few helpful hints:
Purchase a park ticket. Although there is no extra charge to attend a Star Wars Weekend, you WILL need an admission ticket to Disney-MGM Studios.
Arrive EARLY – This is a MUST if you plan to get celebrity autographs. Celebrity autograph/photo sessions require a FastPass ticket. As you enter the park, you will be given an event guide and directed to the FastPass line. If you want celebrity autographs, GO DIRECTLY THERE and be prepared to wait in line. As you work your way around to the FastPass distribution area (at the Indiana Jones Epic Stunt Spectacular), look over your event guide and "rank" the celebrities in the order in which you'd like to see them. Your first choice could be "sold out" by the time you get to the FastPass machines so it will be helpful if you have a "Plan B" already in place. As always, you will need your park ticket in hand, to receive your FastPass. Each person in your party

must

be in line to receive a FastPass. You

cannot

get a FastPass for others in your party, even if you have possession of their park ticket. Once you receive your FastPass ticket, you can get BACK in line to get another ticket. Once the FastPass tickets are distributed, a limited number of "standby" tickets will be issued. These standby tickets do NOT guarantee an autograph but at least give you a chance to meet and greet one of your favorite celebrities.
Dress comfortably. Some fans love to dress "in character".  This is perfectly fine and can be a lot of fun. It will also help draw the attention of wandering characters that love to stop and interact with fans. Whether you want dress as a Jedi Knight or as yourself, remember that Florida in June is HOT, HOT, HOT! Waiting in lines and posing for photos is tiring work. You will want to be as comfortable and as cool as possible.
Arrive prepared. You'll need your camera of course, so that you can take advantage of the many photo opportunities you'll find!  Be sure to bring plenty of "memory" and/or film with you, and don't forget those extra batteries. Some of the greatest photo moments sneak up on you and you don't want to be caught unprepared!
Participate. You'll find heroes like Luke Skywalker, Princess Leia and Chewbacca along with villains like Darth Vader, Boba-Fett, and Darth Maul just waiting to pose and play with you! Play back with them!  You may be stared-down by Darth Vader or intimidated by a Storm Trooper. Be brave! Stand strong!
Include the family – Star Wars Weekends aren't just fun for the grown-up fans. There's plenty going on to keep your kids entertained and having a good time, too! (And we all know, when the kids are happy, WE are happy!)  Kids can participate in the Jedi Training Academy, the Padawan Mind Challenge, have their faces painted, have their photos taken with stars and characters. They can even take part in a special parade (sign up for this ahead of time, at the Information Booth, located near Sounds Dangerous)!
Be a "clock watcher" – Check your event guide when you arrive and decided on your "must do" events. Pay attention to the time during the day. You don't want to be caught in the wrong place at the RIGHT TIME! Getting from place to place or finding a great spot for parade viewing can take a bit more time due to the crowds. You don't want to miss out on something because you can't get there in time.
Plan to dine? – If you plan to dine in one of the parks sit-down restaurants, be sure to make reservations ahead of time. A nice meal in a cool restaurant can work wonders when you're feeling tired and hot. Don't be turned away because there's no available seating.
Shop, shop, shop! – You'll find exclusive event merchandise geared towards everyone at "Jabba's Hut". Jabba's Hut is a temporary merchandise location that is set up each year, just for Star Wars Weekends. It is located on Mickey Avenue.
The 2007 Star Wars Weekends Events are:
Stars of the Saga – Star Wars celebrities will take part in talk show conversations and answer questions asked by the audience. This could be YOU, so have your questions ready.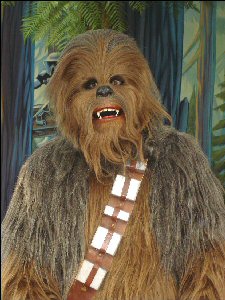 Jedi Training Academy – Does someone in your family dream of training with a Jedi Master? Well here's their chance! Younger guests will be selected to test their skills against Darth Vader and Darth Maul. Arrive early. Being near the front and having your child outwardly showing their excitement will help increase their chance of being selected for training. (Sporting a Star Wars t-shirt won't hurt their chances either!) (Star Tours stage)
Behind the Force – Get a behind-the-scenes peek at the making of the Star Wars films. This 20 minute, big-screen film shows George Lucas and his amazingly creative team as they make their way through the Star Wars saga. (ABC TV Theatre)
Padawan Mind Challenge – Guests 11 years old and younger should register at the Information Booth (across from Sounds Dangerous) at 9am. They will compete in a trivia challenge and could win Star Wars prizes. (Star Tours stage)
Legends of the Force – Star Wars characters and celebrities are featured in a daily motorcade, which travels from the entrance of the park to the event stage, located at the Star Tours attraction.
Star Tours – No Star Wars themed event would be complete without a trip to Endor in your very own Star-Speedster!
One-of-a-Kind Collectibles – Star Wars fans will find a galaxy full of one-of-a-kind, event-exclusive Star Wars memorabilia to choose from! Whether you collect pins, Disney character figures (wearing famous Star Wars costumes) or posters, there is limited edition event merchandise available for everyone.
Hyperspace Hoopla – Gather at the event stage each evening and join the Star Wars characters as the day winds down in a Hyperspace Hoopla of fun! (Star Tours stage)
As you can see, there's something for everyone during Star Wars Weekends at Disney-MGM Studios. In addition to all of the Star Wars themed activities and events, be sure to remember that most of the park's regular rides and attractions are open. If you need a break or have someone in your party that isn't a big Star Wars fan (GASP!!), Disney-MGM Studios has plenty of other fun things to do. Have a great time and "MAY THE FORCE BE WITH YOU"!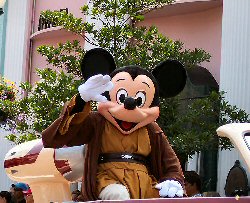 Disney-MGM Studios park hours for 2007 Star Wars Weekends are:
June 1, 2007, 9:00AM – 10:00PM
June 2, 2007, 9:00AM – 9:00PM
June 3, 2007, 9:00AM – 10:00PM
June 8, 2007 – June 10, 2007, 9:00AM – 10:00PM
June 15, 2007 – June 17, 2007, 9:00AM – 10:00PM
June 22, 2007 – June 24, 2007, 9:00AM – 10:00PM
For the latest information and updates:
WDW Star Wars Event page:
http://disneyworld.disney.go.com/wdw/parks/specialEvents?id=StarWarsWeekendsSpecialEventPage
StarWars.com Star Wars Weekends page:
http://www.starwars.com/community/event/disney/
TheMouseForLess.com's Star Wars Weekends page:
https://www.themouseforless.com/tripplanning/wdwparks/annual/starwars.shtml