This post may contains affiliate links for your convenience. If you make a purchase after clicking a link we may earn a small commission but it won't cost you a penny more! Read our full disclosure policy here.
You've come prepared for your Disney trip, especially after reading our first photography article, "8 Things Do Do Before Your Trip." You feel confident that you can shoot some great photos of your family and friends. Camera in hand, you head for the parks. Now what? Use these 10 tips to bring home great photos from the parks!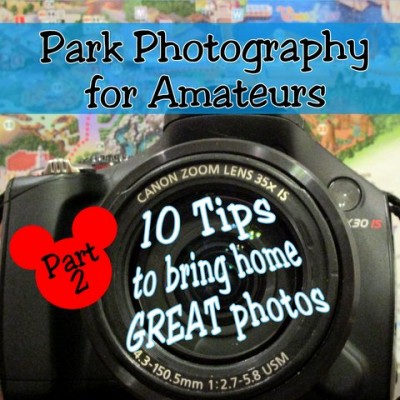 1. Safety first. If you're traveling with children, take a new photo of them each morning. It's a great chance to get a picture of your resort while you're waiting for a bus, or at the park entrance before rope drop. Also reassuring: if you should get separated, Cast Members would know exactly what your child looks like and how she is dressed.
2. Stop checking My Disney Experience. Use the screenshot function on your phone to take a picture of your FastPass+ reservations page. Then make that photo your lock screen for the day. You'll avoid burning through your battery and crossing your fingers hoping the park WiFi connects. Then you can take more pictures!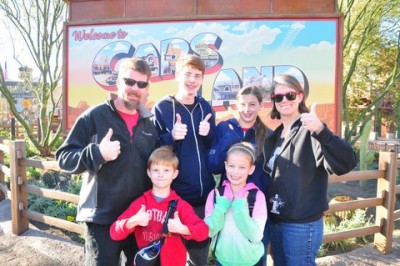 Note the harsh glare from the left
3. Watch out for shadows. It's tempting to Take All The Photos! right away when you walk into a park. But the morning light is rarely the best light for an outdoor family portrait, unless you really know what you are doing. You're more likely to get squinting, shadows, sunglasses, and a harsh glare. In certain weather, you'll still have your jackets on, and no one will see your matching Mickey shirts! Better to use the valuable morning time to experience some attractions, then have your photo shoot closer to late afternoon when you want a break and the lighting is more favorable.
4. Protect the tech. A simple Ziploc bag is all you need to keep your camera and phone watertight and safe on water rides. Don't underestimate the power and sneakiness of water, even if it's just Pirates of the Caribbean. And the raft rides have lockers for a reason!
5. Choose your subjects wisely. Right now there are approximately 1,028,563,557,349 pictures of Cinderella's castle on the 'Net. You're unlikely to capture it better or differently. While the standard "postcard" shots are lovely, the pictures you will want to revisit include your family and friends. Take pictures of your family in the same spot each time for a memorable tradition. Your favorite photos from each trip will probably be the unplanned, surprising, little moments.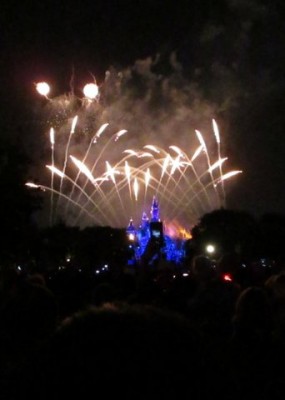 Yet another amateur fireworks shot
6. Mind your manners. It should go without saying: No flash photography on rides. Skip the shaky POV ride video. Don't use your video light during the fireworks; the person in front of you will be blinded (ask me how I know). And don't hold up your iPad to film a dark show or the fireworks as well. Most of that footage — which you annoyed others to get — will never be watched again (see #5 above) by you or anyone else.
7. Get in the picture. Hand your camera off to a PhotoPass Cast Member and get your entire group in the photo. Swap cameras with another family to get pictures with everyone smiling. Give your camera to one of the children for an hour and see the World from their perspective. You'll also get good karma from offering to take photos for other guests.
8. Just take the card. Yes, we all feel the guilt when the PhotoPass photographer takes a photo with their camera that you have no intention of buying. Take the card they offer anyways. They might have captured the best picture of a special moment. Or, if your photos get lost, you'll have a backup. If you bought Memory Maker, be sure to get your MagicBand or card scanned every time.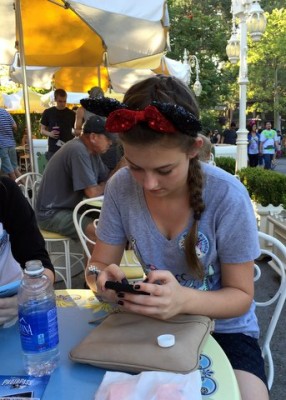 That's what I do. It's what I live for.
9. Step away from social media. It's tempting to want to check in, Instagram, tweet, and over-share every detail of your trip. But stopping after every attraction to update your fan base will quickly make your travel companions Grumpy. Live in the moment for a few hours at a time! If you do need to dial back in to the real world, do it during a rest break or while waiting for a show. Constant use and photo-taking will drain your battery life, so be sure you have a backup or portable charger if you can't resist.
10. Relax. Feel your photos don't look much like the ones on the Disney website or on fan blogs? They probably won't. First, they are taken by professionals. Second, they get cropped, processed and Photoshopped into that perfect image. Your photos are personal and should reflect the fun you are having, and the experiences that are important to you.
Think you snapped some great photos? Our next article will cover what to do with them when you get home from your trip.
What's your favorite memory that you captured with a camera on your Disney vacation?
Incoming search terms:
https://www themouseforless com/blog_world/theme-park-photography-amateurs-10-tips-bring-home-great-photos/