This post may contains affiliate links for your convenience. If you make a purchase after clicking a link we may earn a small commission but it won't cost you a penny more! Read our full disclosure policy here.
By:  Ann Dunnington
Gluten-free, vegetarian, low-carb, nut allergy, vegan, low-sodium, diabetic, lactose intolerant, Feingold Diet, kosher…I could go on and on.
Those of us who "suffer" from food allergies or special food preferences know the above terms all too well. Many of us have menu planning down to a science while we're at home, but what do we do when we leave the comfort of our own kitchens and go on vacation? If you go to the Walt Disney World Resort, you can feel just as comfortable as you do at home!
Did you know that in March 2011, the Walt Disney World Resort was recognized with the Corporate Leadership Award from the Food Allergy & Anaphylaxis Network? Each year, the resort gets over 400,000 special dietary requests (and we're two of them)!
So you have some sort of dietary restriction. What do you do? Prior to the 180 day reservation mark, my husband and I scour the internet to find menus for all of the yummy restaurants we hear so much about. A quick search makes for hours of entertainment for us foodies; looking at food pictures posted by others, and reading menus and dining reviews. The hard part is actually NARROWING DOWN what restaurants to try! This is especially difficult if you're doing this on an empty stomach. You have been warned, my friends.
I am always very excited to make our reservations at the 180-day mark (aren't we all?!). I mean, who DOESN'T like to do Disney planning?! When making the reservation there is an option to list the food restrictions. After we mark our preference and have the reservations confirmed (and do a little happy dance…), we email SpecialDiets@DisneyWorld.com to ask for any information regarding what types of allergen-free snack foods are available. Within 72 hours they email back with a whole bunch of information (and I do another little happy dance)! They even send a special form to fill out with our dining reservations and restrictions that they pass on to the chefs for us (and they really do pass the information on, I have proof. We'll get to that).
Last trip our absolute favorite meal was at Sanaa, at Disney's Animal Kingdom Kidani Villas. My husband and I are both vegetarians and because of this, we had heard that Sanaa was the place to go! Wonderfully quiet, with animals roaming outside the floor to ceiling picture windows, and amazingly FRESH food; it just couldn't get any better than that. We split the Indian Style Bread Service with three different types of breads and dips, and the Sanaa Vegetarian Sampler. This was plenty of food for us and we were even too full for dessert. When the waiter asked if we had 'saved room for dessert', we both said no (and giggled like little school girls because the food was so good), he brought us a tiny complementary dessert anyway! After all, it WAS our anniversary! Just another act of Cast Member magic, always going above and beyond!  (Side note:  see the straw in the photo? All of the straws at Disney's Animal Kingdom and Disney's Animal Kingdom Lodge are paper because it's safer for the animals! It takes a little getting used to, but I think it's pretty cool that they're conscious of keeping the animals safe.)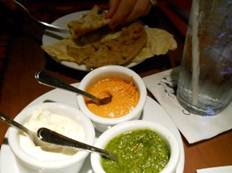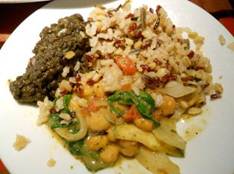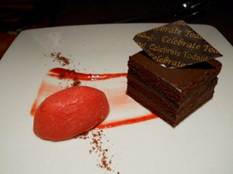 So what about counter service restaurants? Never fear, you'll be able to find something you can have there too! One of our favorites was Wolfgang Puck Express at Downtown Disney. My husband LOVES veggie pizzas and I love salads so we were both pretty happy campers dining here! Here is his very LARGE vegetable pizza (we could have split this!), and my roasted beet and goat cheese salad – YUM!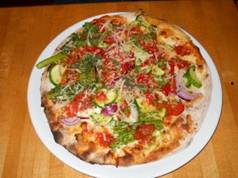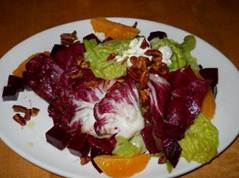 Speaking of Downtown Disney, a cute little bakery inside the Pollo Campero building (formerly McDonalds) is worth checking out! It's called "Babycakes NYC", and they don't use any refined sugar, gluten, wheat, soy, casein or egg products in their baked goods. They're vegan, kosher and offer wonderfully hand-made treats that fit the specifications of many special diets. I'm sure you can imagine that I jumped (leaped and squealed, actually) for joy when I heard they were coming to Disney!
Our next trip is coming up in September.  I'm counting down the days, believe me. We'll be going to Walt Disney World as vegetarians like last year…but we'll also be on doctor's orders to not eat nuts, gluten, soy or vegetable oil. Am I worried about our new diet?  Yes.  It'll be a change that will take some getting used to. Am I worried about our new diet at Walt Disney World? No. Why? Because I know that the chefs at the restaurants will go above and beyond to make sure our meal is safe for us to eat. We have made our dining reservations, emailed our dietary requests to SpecialDiets@DisneyWorld.com, printed little cards that say what we can and cannot eat 'just in case' (I'm a type-A overplanner, haha), and have made a list of snacks to get from the grocery on the way to our hotel. In fact, just yesterday I got a call from the chef at The Wave, at Disney's Contemporary Resort, to discuss our food allergies for our upcoming trip! Where else would a chef call you ahead of time to assure you that they will do everything possible to create a magical experience for you at their restaurant?  Honestly, I can't answer that question with any other vacation destination. Disney goes above and beyond for its guests in every respect and dining is no exception. The chefs generally state that they like the 'challenge' of using their creativity when it comes to making special meals for guests. With enough notice (and normally 48 hours is enough), these men and women can make amazing things for you in their kitchens!  With a little bit of prep work you can relax and enjoy your vacation!
You can visit Disney's website for additional allergy information.
Incoming search terms:
https://www themouseforless com/blog_world/the-world-with-food-restrictions/