This post may contains affiliate links for your convenience. If you make a purchase after clicking a link we may earn a small commission but it won't cost you a penny more! Read our full disclosure policy here.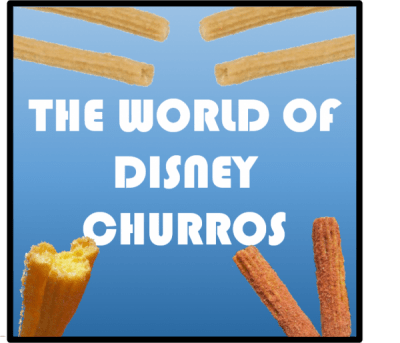 Disney churros rank right up with Dole Whips and the mouse shaped pretzel as one of the favorite snacks offered at Disney Parks around the world. To me, churros are tops. Hand held, dippable, they are the perfect travel companion and have become a cultural phenomenon and Disney Icon as well.
Disney Churros Came All the way from New Jersey
In the early 80s Disneyland catered to teens at the Videopolis which at the time was a dance club that featured 70 video monitors. Cast member, Jim Lowman, a Fantasyland food and beverage employee was looking for a walk around snack to snack to sell to teens from the venue's "Yumz" snack bar.
During a trip to the Long Beach Grand Prix Lowman spotted a churro stand. Recognizing a potential hit the story goes that Lowman dug through the churro stand's trash until he found the churro box with the company contact information. The company, J&J Snack Foods of Pennsauken NJ produced prepared frozen foods. Lowman contacted the company, invited them to become a Disney vendor, and it was off to the races.
Disneyland, the king of Disney Churros
No longer satisfied with the traditional cinnamon churro and maybe a chocolate dipping sauce? Disney has "plussed" the churro options of late and we would expect this trend to continue once the parks are back in full swing.
The first churro option was the little cup of chocolate sauce. Some enterprising kiosks offered caramel sauce as well.  The caramel sauce is a tremendous improvement over the rather thin chocolate sauce.
By 2017, the churro world had exploded in Disneyland. Varieties like cracker-dusted churro with a marshmallow-chocolate sauce, sour watermelon churros in bright red sugar, the Galactic Churro with purple and black cinnamon sugar and tiny silver and pink stars, another red churro this time with crème anglaise and even blue churros. For the holidays there is the peppermint hot chocolate churro.
Wald Disney World Churro Options
Walt Disney World has been catching up for a while and Disney Springs seems be a churro Fantasyland. In the parks WDW mostly sticks to chocolate and caramel and vary the sugar colors. Lately some of the Disneyland options have made appearances at special events and seem to be working way into the rotation.
Recently Sunshine Churros opened two kiosks in Disney Springs. These are not Jim Lowman's Churros! Besides traditional cinnamon you can get watermelon, apple cinnamon, fruity pebbles, salted caramel, and rose gold. Dipping sauces include Nutella and real milk chocolate. Filled varieties include Strawberry cheesecake and Oreo. Did anyone really need another reason to eat at Disney Springs?
The champion churro has to be Morimoto's Asia. They offer Churro Fondue with Nutella and Vanilla Cream. The fondues are made fresh and the two sauces are bowl licking good. Beware though, this is Disney's most expensive Churro dish at $60.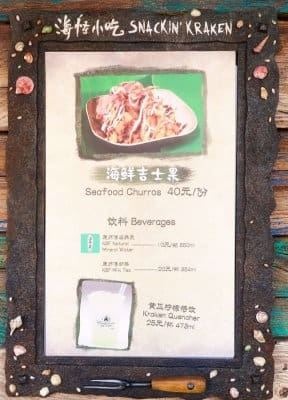 Churros in the International Parks
With churros being an iconic snack in Disneyland it stands to reason that the international parks would copy them in some way. Now we haven't been to any international parks (yet) so this information is based on exhaustive research. There seem to be three types of international parks when it comes to Churros:
Parks that have a sample Churro: In Disneyland Paris, at the Fuente Del Oro Restaurante you can get simple mini cinnamon churros. In Hong Kong you can get cinnamon churros in vanilla ice cream in Toy Story Land's Jessie's Snack Roundup.
A park that struggles with churros: In 2016 when Shanghai Disney opened there were churro food carts in the park. Today we can't find any current mention of these kiosks. However, we did find that the Snakin Kracken did offer Fish Churros (a flaked fried fish dish over, hopefully, an un cinnamoned churro. The food carts may still be there. If so, look for them in Gardens of the Imagination and Fantasyland.
A park that excels in Churros: Tokyo Disney began as a near perfect copy of Disneyland. Along with the buildings and attractions they copied the southern California love for Churros as well. But in some ways they surpass Disneyland. Some of the flavors offered are Cinnamon, Maple, strawberry, honey lemon, sesame, chocolate flavored with mixed berry sugar, and carrot flavored with orange sugar. There are churros designed for attractions: Lightsaber (a gray-blue melon soda flavored Churro in it's own lightsaber grip), Nemo and Friends (orange flavored with orange and white stripes), and Soaring Fantastic Flight (a bright blue pineapple flavored churro). Then there are the seasonal churros; Pumpkin Maple flavored for Halloween and Chocolate for Christmas. Finally there are the savory churros; Potato Churros filled with a demiglace and Cheese and Pepper Potato Churros.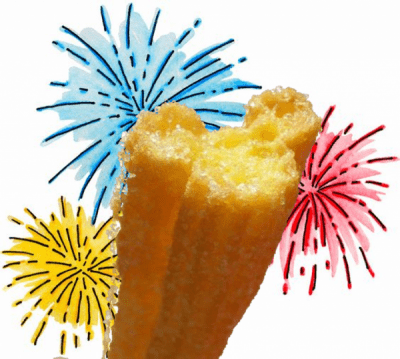 Having Disney Churros at Home
Your first option should always be to make your own churros. Earlier this year Mary T told us all about how to make Disney Churros at home. They looked fantastic and quite tasty.
If you don't want to make your own you can always order them in bulk from J&J Snack Foods – the original source of Disney Churros.. Their website, Churros.com, shows their variety and has links to where you can buy some. But be hungry; each case has over 80 linear feet of churros (divided into 5″ or 10″ pieces).
What is a churro without a dipping sauce?
Here are some of our favorite churro dipping sauces that can be made easily at home:
Chocolate Dipping Sauce (with a spicy option)
Ingredients:
1/2 cup semi-sweet chocolate chips
1/2 cup Heavy Cream
Pinch Salt
Instructions:
Place chocolate chips into small bowl. Heat 1/2 cup whipping cream in small saucepan over medium-low heat until bubbles form around edge and cream is steaming. Do not boil. Pour hot cream over chocolate chips; let stand 30 seconds. Gently stir until chocolate is melted and mixture is smooth. Serve with churros.
For a spicy kick stir in a ¼ to a ½ teaspoon cayenne pepper.
Caramel Dipping Sauce
Ingredients:
1 cup sugar
1/4 cup water
1/2 cup heavy cream
1 Tbsp bourbon (optional)
1 pinch salt (optional)
Instructions:
Simmer sugar and water on medium heat, swirling pan NOT stirring for about 15 minutes or until a deep amber color is reached. Watch closely as not to let it burn.
Turn off burner and remove from heat and slowly add cream while stirring.
Add pinch of salt and bourbon and place back on still-warm burner for another minute while stirring.
Transfer to a heat-safe dish or bottle and let cool. Store covered in the refrigerator and bring to room temp or heat in a warm water bath before serving. You can also just simply microwave the jar for 30 seconds before each use without affecting the texture or flavor.
Mango Lime Sauce
Ingredients
2 Mangoes
1 Lime
2 Tablespoons Sugar
½ Teaspoon Cumin (optional)
Instructions
Peel, chop and pit the mangoes
Zest and juice the Lime
Put the first three ingredients in a food processor or blender and puree.
Remove and add in the cumin to taste.
Getting Fancy; Playing with the coating Sugar
For Cinco De Mayo you might want to coat your churros in the Mexican Colors (Green, White and Red) or, for Christmas, Red and Green.  You can do this with colored and uncolored sugar.
To make colored sugar place your sugar in a plastic bag and then drop in food coloring. Gently knead the bag to spread the color. Want a deeper color? Add more food coloring.
You can enhance the flavor and color of your sugar by grinding freeze dried fruit and mixing it with your sugar.
When your churros are cooked:
Arrange your colored sugars in short cups.
Melt two tablespoons of butter
Brush a churro with the melted butter
Sprinkle the sugar over sections or dip the churro into the cups.  Repeat with other
Which is your favorite churro to pick up? Let us know in the comments below or on Facebook or Twitter!
Did you like this article? Make sure to share it with your friends! Check below for easy ways to share!  
Want to visit a Disney Destination? Contact The Magic for Less Travel for more information and a free, no-obligation quote.

Incoming search terms:
https://www themouseforless com/blog_world/the-world-of-disney-churros/
disney workd churro worh caramel
where do they sell churros at Walt Disney World?
Disney World churro flavors
Do they offer churros at Disney Paris
https://www themouseforless com/blog_world/the-world-of-disney-churros/#:~:text=If you dont want ″ or 10″ pieces)
whats the most expensive churro on Earth