This post may contains affiliate links for your convenience. If you make a purchase after clicking a link we may earn a small commission but it won't cost you a penny more! Read our full disclosure policy here.
Cinderella's castle is so much more than the iconic focal point of the Magic Kingdom at the Walt Disney World Resort.  While it may not house a ride, there is still much to see and do inside this amazing structure.
First, a little history.  Cinderella Castle was inspired by a variety of real and fictional castles.  Cinderella Castle was completed in July 1971, after about 18 months of construction, and reaches to a height of 189 feet (58 m) tall, measured from the concrete bottom of the moat, which itself is 6 feet (1.8 m) deep at the drawbridge. Cinderella Castle is more than 100 feet (30 m) taller than Sleeping Beauty's Castle in Disneyland.
Cinderella Castle appears to be made of white and grey stone with royal blue roofs on their turrets; the tops of several towers and two of the tallest spires are painted golden in color.   Despite appearances, no bricks were used in its construction; the inner structure is constructed of six hundred tons of steel-braced frame construction, and a 10-inch-thick (250 mm) reinforced concrete wall encircles the structure to the full height of the outermost "stone" walls.  Just a little bit of Imagineering magic at work.
It used to be that you could walk through the castle (just as a throughway, not all around the inside), but now it is blocked off a lot of the time due to shows being performed right in front of it.  But on the of chance that you have the opportunity to walk though, stop and see some of Disney's finest Imagineering details.  There are mosaics that are designed to tell the story of Cinderella on the walls; made with more than 300,000 pieces of cut Italian glass, they are spectacular to see.
If there is a little girl in your traveling party, then you don't want to miss out on Bibbidi Bobbidi Boutique.  Here, your little princess can receive a one-of-a-kind "princess transformation," that features make-up, one of three hairstyles, a manicure, a sash, and/or a gown, crown, wand and shoes.   The King's Gallery, the former gift shop, used to be in this space.
If you are up for some fine dining (and thought about it six months in advance) then you will get to travel upstairs to Cinderella's Royal Table Restaurant.  With character dining extraordinaire, your family will have a one of a kind dining experience.
And finally, though the number of people who will ever get to experience this is very small, the excitement level about it is quite high.  The Castle Suite is the most sought-after room at any Disney destination.  Unfortunately, the only guests who are invited to stay here are contest winners and perhaps a very few select VIP's.  This space was originally designated to be Walt Disney's apartment, but with him untimely death, it was never completed.  Now, most of us can only dream of being fortunate enough to be chosen as a guest to sleep there.
During the Christmas season, the castle has spectacular lights on it that change colors all throughout the night, firework displays are often seen majestically over the top of it, and just recently, Disney added the nighttime spectacular show, The Magic, The Memories and You show that is an amazing video display that is shown on the body of the castle itself.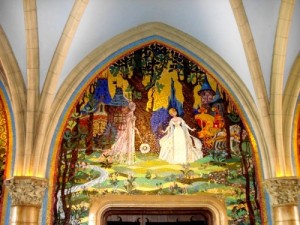 So there may be no ride inside this park centerpiece like Spaceship Earth or the Tree of Life, but what Cinderella's Castle has to offer is everything that a trip to Disney is about:  imagination, magic and dreams.
Incoming search terms:
could you to in upstairs of Cinderellas Castle