This post may contains affiliate links for your convenience. If you make a purchase after clicking a link we may earn a small commission but it won't cost you a penny more! Read our full disclosure policy here.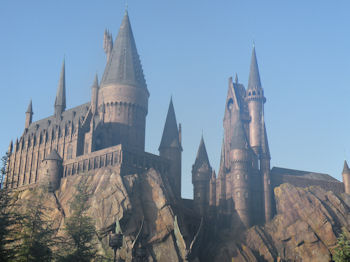 By Carol Garcia
With the opening of The Wizarding World of Harry Potter, Universal Studios is banking on the fact that there are many like me who will come to their parks and hotels just for that reason.
Just to avoid confusion, let me start of by saying that, yes, I do know that The Wizarding World of Harry Potter is not in a Disney theme park. But after countless trips to Walt Disney World in the last several years, I thought it might just be time to venture up I-4 to Universal and check it out. Since we don't live in the Orlando area, my family and I chose to tag this Universal visit on the beginning of a Disney trip, rather than fly in for just the Wizarding World. I wondered whether our short weekend would be enough to take it all in. With all of the hype about how this is a park within a park, we were looking forward to spending some serious time with Harry.
When we checked in to our hotel (Lowe's Royal Pacific at Universal Studios), we were informed that onsite guests could gain admission to the Wizarding World an hour early each morning. Since our day of arrival was not a park day, we were ready to get up early the next day and take advantage of that perk.
The following morning at 7:30 a.m., we arrived at Islands of Adventure, which is the park the Wizarding World of Harry Potter has made its home. We were prepared to stand outside the gates until we were allowed in at 8:00 a.m. To our surprise, we were allowed through the gates right away. The only portion of Islands of Adventure that was open this early was the Harry Potter section, located at the back of the park behind the Lost Continent area. Universal team members did a great job of herding us back to the proper location, and ensuring that those of us there were actually onsite guests.

When we arrived in the area, we were amazed. The detailed theming was quite impressive. This "island" in Islands of Adventure is by far one of the best themed areas in the park. We were instantly transported to Hogsmeade. The Hogwarts Express was parked patiently by, as if it had just dropped off students for the new term.(Although we are told that we are in Hogsmeade, fans of the H.P. series will realize that many of the shops and locations in Universal's Hogsmeade are actually found in Diagon Alley. But no matter, we get the picture).
One of the first things that struck me as we entered the Wizarding World was how incredibly small this area was. It is certainly not a theme park within a theme park. It's barely a land. There are only three attractions in this area! But as long as we were there … we tried 'em all: Dragon Challenge(formerly Dueling Dragons), The Flight of the Hippogriff (formerly Flight of the Unicorn), and Harry Potter and the Forbidden Journey.
Dragon Challenge is a dueling roller coaster. The ride allows you to choose your dragon, the Chinese Fireball or the Hungarian Horntail. This ride has five inversions, and the two trains pass within 18 inches of each other three different times. While this is definitely not for the faint of heart, the queue itself is rather fun. It is themed during the storyline leading into the Triwizard Tournament, specifically the first challenge where each champion faces a dragon. In the queue, you see Hagrid's hut, as well as the Weasley's crashed car, and the Goblet of Fire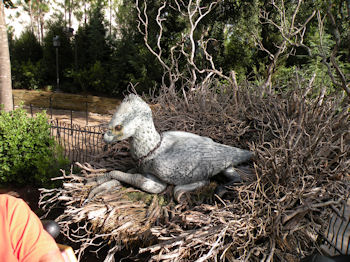 itself.
Flight of the Hippogriff is a far tamer ride—think Goofy's Barnstormer at the Magic Kingdom for all of you Disney fans. In the queue, you walk past an amazing replica of Hagrid's hut on your way to attend the Care of Magical Creatures class. You must stop and bow to the Hippogriff before embarking on the flight. It is perfectly fine for the younger children (and those of us who don't like bigger coasters), and we never found a really long wait.
Now for the headliner attraction: Harry Potter and the Forbidden Journey. (Spoiler Alert: jump to HERE if you don't want details of the ride.) The queue for this ride winds through Hogwarts castle, and is really and attraction itself. We entered the castle, and stowed our loose items in nearby lockers. (There aren't any bags, fanny packs, or backpacks of any sort allowed on the ride.) After that bit of housekeeping was complete, we entered the greenhouse and hear the screaming mandrakes, passed the Mirror of Erised, and entered the Gryffindor common room. Harry, Hermione, and Ron were all there and Ron's broken wand created a little "problem" in the room. We continued, seeing the portraits actually moving (and looked like real oil paintings) and their subjects converse with one another.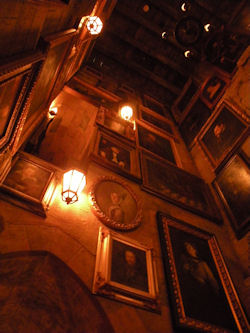 The highlight was entering Professor Dumbledore's office, where we were personally greeted by the wizard himself. The images were quite stunningly real. The characters are holographic, and really made us feel as if the actual characters were in front of us. There didn't appear to be screens that they were projected on.
Now for the ride itself. This isn't a roller coaster, but we were still strapped into seats with shoulder harnesses. (The ride itself has pivoting seats attached to a robotic arm and guests will drop, twist, and turn through the scenes.) Throughout the ride, we "flew" past Aragog (a giant spider), the Whomping Willow, and the Quidditch Pitch. Then we entered the Chamber of Secrets, and were able to escape just in time—Professor Dumbledore sent everyone back to the Room of Requirement.
A couple of things to note. Although there isn't a weight limit posted, many guests (who can ride roller coasters in the park) have found that they aren't allowed to ride the Forbidden Journey because of their size. There are test seats at the front of the queue, so you can find out ahead of time if you fit. Please don't think that just because you haven't had this issue on other rides, you will be safe, as the seat dimensions of the Forbidden Journey are different. Also, because of the mechanism that runs the ride, there tend to be a lot of breakdowns, which cause the line to be even longer. Thankfully the queue is quite entertaining (although after a while, the portraits saying the same thing over and over can get a little monotonous).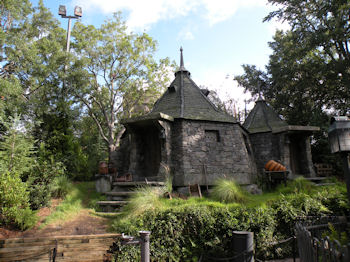 In addition to the three attractions, we visited several shops. One of the more popular was Olivanders Wand Shop. After entering, , one guest was randomly selected to be a part of the brief show and have a wand select that wizard. The actor playing Olivander was wonderful, and the experience was fun. After the show, guests exited into a cramped shop to purchase their own wands. Here's a tip: there is also a cart selling wands just outside of the exit to Forbidden Journey, and you can actually browse the wands without the crowd. Since only about 20 guests are allowed to enter the show at once (good thing, as the shop is very small), the queue for this experience was quite long (about an hour), and it's just a five minute presentation once you get in. In addition to Olivanders, there were other shops to explore, sans queue. There was Honeydukes, selling chocolate frogs, Bertie Bott's Every-Flavour Beans, and some amazing-looking chocolate cauldrons. Dervish and Bangs sold magical items. Zonko's Joke Shop sold a variety of items dreamed up by the Weasley twins. Filch's Emporium of Confiscated Goods had souvenir items like shirts, trinkets and props. It is the shop when the Forbidden Journey empties into, so you can also purchase ride photos there.
There is only one place to eat in this area: The Three Broomsticks. Traditional English food items are on the menu. There is also a traditional English breakfast that is offered.
One thing I wasn't leaving without trying was butterbeer. It can be purchased at the Three Broomsticks, or from a cart just outside that location. Butterbeer is available in two forms: regular or frozen. In the interest of research, we tried both. The verdict was split as to the favorite form, but everyone was happy with the taste. It's rather hard to describe, but it's something like cream soda with a yummy butterscotch cream foam on top. Another must-try was pumpkin juice. It tastes just like you would think…rather like a liquid pumpkin pie.
All-in-all we had a great experience at the Wizarding World of Harry Potter. The biggest disappointment was the size. It's almost as if Universal didn't expect people to come. It's certainly not a park within a park. The shops are small and have narrow aisles, so when a crowd is in there, it can get quite uncomfortable. And it was always crowded, no matter what time of day or night we wandered over.
Would we go back? Well, yes, but not for a while. The big draw for us to go to Universal was Harry Potter, and while we enjoyed our experience, it is just not big enough to build a vacation around. I would definitely go if we were already planning on going to Universal, as it was by far our favorite thing at the two Universal parks (but that's another topic for another day). Hopefully, when all of the hype dies down, the crowds will be a little more manageable. The theming was amazing, and was probably some of the best around (yes, even including Disney). We truly felt as if we had stepped into the books and entered Harry's world. Unfortunately, the size and scale left us wanting more.