This post may contains affiliate links for your convenience. If you make a purchase after clicking a link we may earn a small commission but it won't cost you a penny more! Read our full disclosure policy here.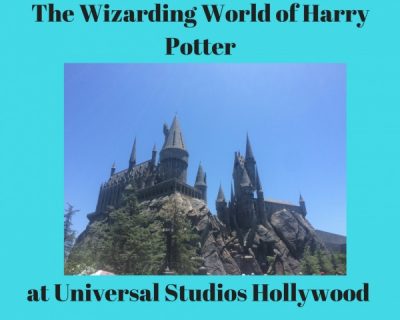 Hogwarts Castle beckons you to The Wizarding World
Usually, when out-of-town guests come calling, I drag them, willing or not, to the Happiest Place on Earth, Disneyland. But when my two Harry Potter obsessed nieces came with their parents to Los Angeles, I knew they'd want to visit Universal Studios Hollywood, specifically to experience The Wizarding World of Harry Potter.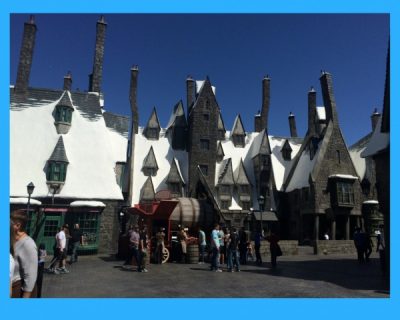 A Butterbeer cart in the middle of Hogsmeade
Some folks can breeze through this section of the park in an hour or so. But serious Potter heads can spend most of their day here. In fact, we hit this area as soon as the park opened, stayed for four full hours, and returned at nightfall to watch the projections on Hogwarts Castle.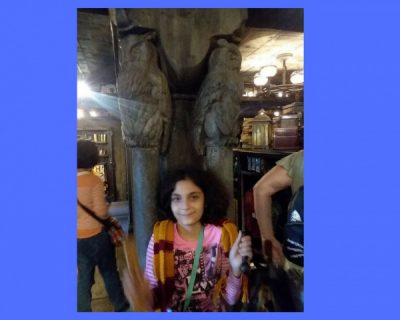 A third year Gryffindor visits Filch's Emporium
The Wizarding World here is a loving recreation of Hogsmeade, the town which surrounds Hogwarts Castle. If you're hungry, consider stopping in to The Three Broomsticks, a counter service restaurant which serves classic British fare as well as Harry Potter themed beverages. I'll be doing a complete review of our lunch here in a future blog.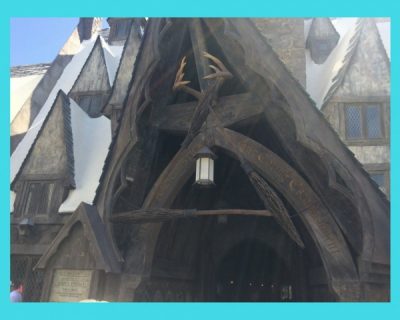 The Three Broomsticks
Attached to the Three Broomsticks is a small bar called The Hog's Head. Alcoholic and non-alcoholic beverages are for sale here, and the audio-animatronic hog's head comes to life sporadically.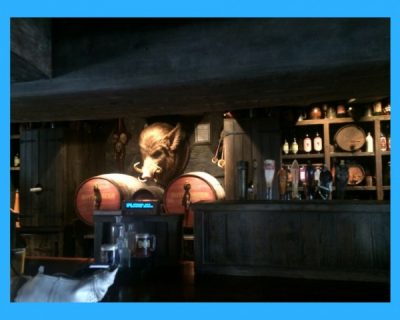 The Hog's Head
There is a popular meet and greet here where you can have your photo taken with the conductor of the Hogwarts Express, in front of the massive train. A small shop nearby sells merchandise themed to the train.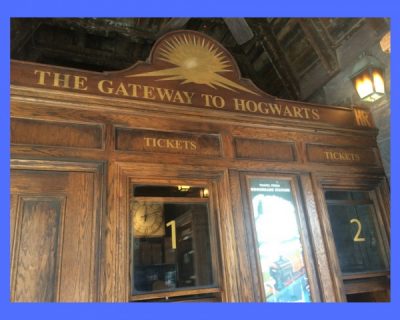 The Hogshead Station Gift Shop
In order to avoid long lines, the first thing you'll want to do when you arrive is head directly to Harry Potter and The Forbidden Journey, which is a combination dark ride and simulator. We arrived as soon as the park opened and the wait time was already posted as 55 minutes. However, the line winds through the grounds and rooms of Hogwarts Castle, and was so fascinating and beautiful that we could hardly believe it when we were actually seated on the ride.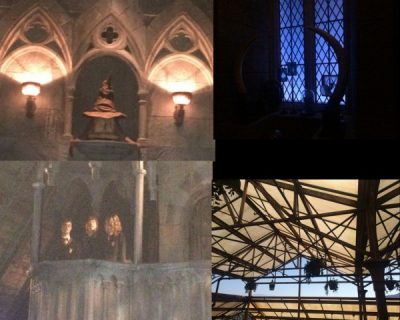 So much to see when you're waiting on line!
It should come as no surprise that the ride exits guests into a gift shop. This one is called Filch's Emporium of Confiscated Goods, and features items that the caretaker has taken from students.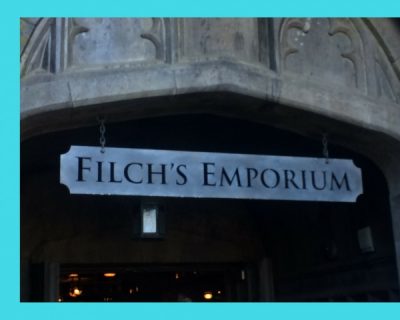 Filch's Emporium of Confiscated Goods
The second ride in this area is called Flight of the Hippogriff. It's a roller coaster, and although it's described as being family friendly, it was too intense for my sister-in-law.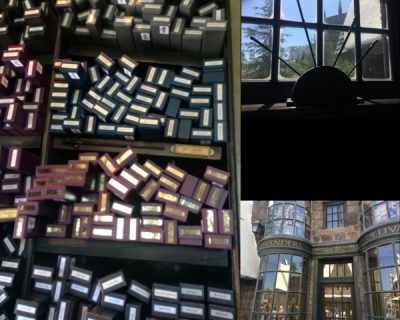 So many wands at Ollivander's!
The most popular shop in the area is Ollivander's, which Harry Potter fans recognize as the shop where wands select wizards and witches. There are two entrances here. If you simply would like to buy a wand, enter through Wiseacre's Wizarding Equipment. But if you'd like to chance to be selected by a wand, wait in a line near the front of the shop. Even if a wand doesn't select you, it's a very charming show, and it's always fun to watch a young child try out different wands until they find one that is just right.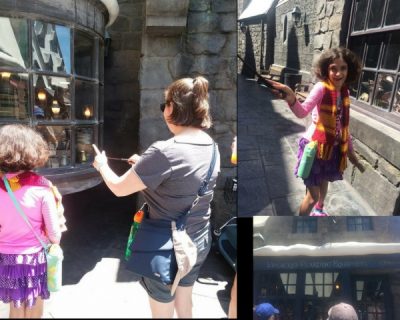 Casting spells at the storefront windows
If you'd like to purchase a wand, know that some of the wands (but not all) are interactive. You can use them to cast spells in different locations throughout the Wizarding World. (I asked, and was told that these wands will also interact in the Wizard Worlds in Orlando and Japan.) Witches and wizards are stationed at each interactive shop window, ready to help if for some reason a spell doesn't work the first time. Remember: Swish and FLICK!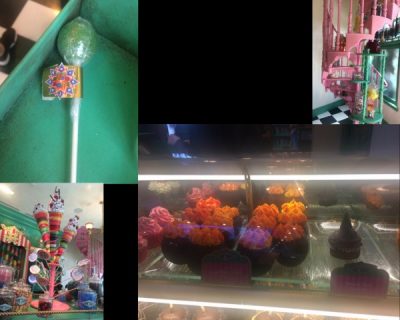 Honeyduke's
Anyone with a sweet tooth simply MUST visit Honeyduke's, the area's candy shop. You won't find any Hershey Bars or Kit Kats here, but chocolate frogs (including a collectible wizard card), Fizzing Whizbees and Bertie Bott's Every Flavor Beans. There is also a bakery case full of cupcakes, fudge, and "no melt ice cream" (a light mousse). If you're thirsty, you can buy some Pumpkin Juice or Gillywater. (That's right, they figured out a way to make you shell out $4 for a bottle of water. It doesn't really make you sprout gills. Trust me.)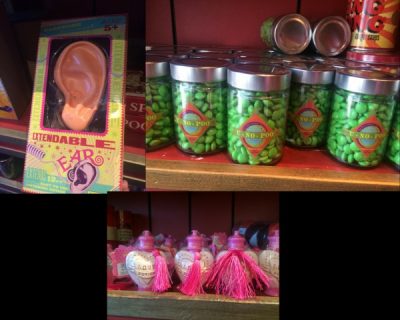 Zonko's
Honeyduke's connects to the small but fun Zonko's Joke Shop, where you can buy a love potion, an extendable ear, or my favorite, U-No-Poo. (They looked suspiciously like green M & M's.)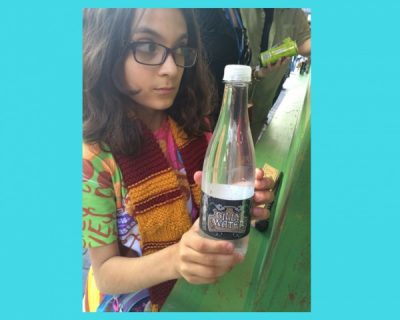 Gilly Water
A large cart sells Butterbeer, and a smaller one sells different flavors of ice cream, including a Butterbeer flavored one! You can also pick up Gillywater and Pumpkin Juice.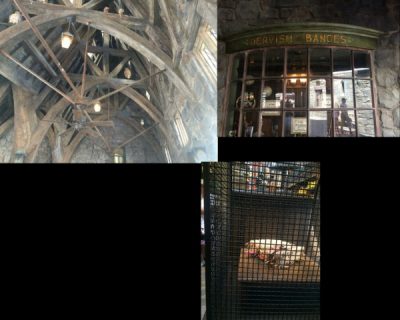 The Owlery and Dervish and Banges
The Owlery connect to the Owl Post, where you can buy stuffed owls as well as writing equipment and stationary. Dervish and Banges features brooms, books (including the Monster Book of Monsters, one of which is on display in a cage) and T-shirts.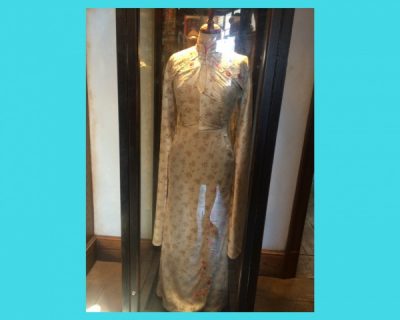 A formal robe on display
If you want a robe, for school or Quidditch, check out Gladrags. On display is Cho Chang's dress from the Yule Ball, and you can buy a replica of Hermione's, in both adult and child sizes.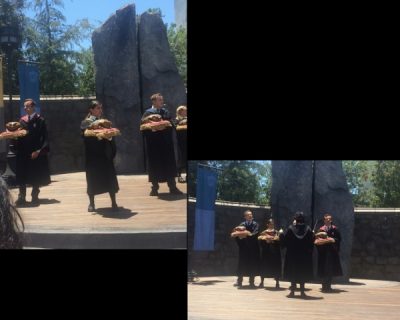 The Hogwarts Frog Choir
A small stage in The Wizarding World of Harry Potter features outdoor performances throughout the day. We caught a performance by the Hogwarts Frog Choir, when I discovered that my nieces know every single word of "Can You Dance Like a Hippogriff." Later in the day we saw a performance from the students of the Triwizard Tournament.
This is going to sound very strange, but bear with me: When you're in The Wizarding World of Harry Potter, make sure you visit the bathroom. Seriously. That's all I'm going to say. (Fans of Harry Potter will probably realize why I'm giving this advice!)
In short, visiting the Wizarding World of Harry Potter at Universal Studios Hollywood is a dream come true for any die hard Harry Potter fan.  Like these three.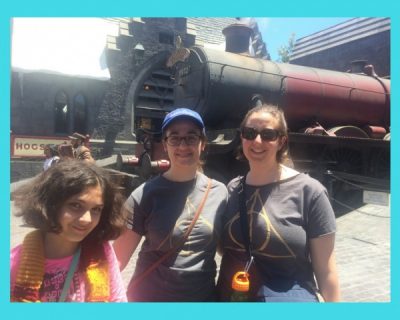 Have you visited The Wizarding World of Harry Potter at Universal Studios Hollywood? Share in the comments or on Facebook or Twitter so we can check it out.
Did you like this article? Make sure to share it with your friends! Check below for easy ways to share!