This post may contains affiliate links for your convenience. If you make a purchase after clicking a link we may earn a small commission but it won't cost you a penny more! Read our full disclosure policy here.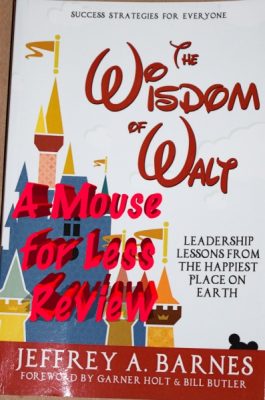 Probably like many other fans, I first heard about "The Wisdom of Walt" when author Jeffrey Barnes was a guest on the Be Our Guest Podcast talking about the book and his life. His story was incredible, and, as a college educator myself, his philosophy and focus was intriguing to me.  As such, I enthusiastically jumped into "The Wisdom of Walt."
In this book, Barnes organizes each chapter loosely the same way. The chapters is titled with a quote from Walt Disney, begins and ends with a story about Disneyland, and then has a Souvenir Stop and a section called "Getting Your Hand Stamped."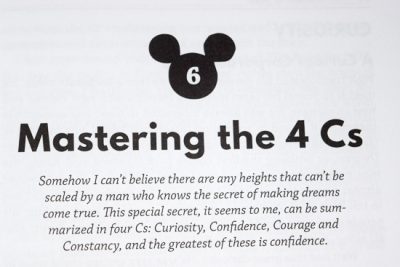 The "Souvenir Stops" are the interactive educational portion of the book. Barnes has put together some activities related to that chapter for the reader to complete for themselves, and thus actualize the advice and skills in their own lives.
The "Getting Your Hand Stamped" section is meant to crystallize the message of the chapter with a memorable story so, like getting your hand stamped at a Disney park, you can easily go back.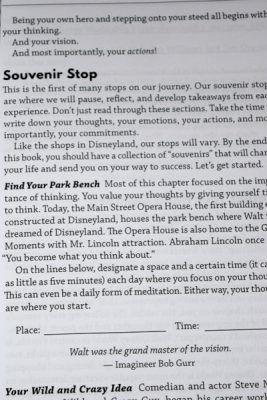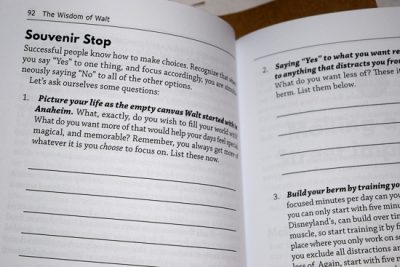 For the actual content, the chapters address such topics as "Pursuing Your Passion," "Facing Fear and Failure," "Using Forced Perspective," "Waiting in Line," and many more. Throughout the book, Barnes very successfully relates his love of Disneyland and Walt Disney's life to tangible life lessons. As such, I think this book is great for Disney fans who can't get enough, but also educators who work with many different ages of students and are looking for a different way to get to them.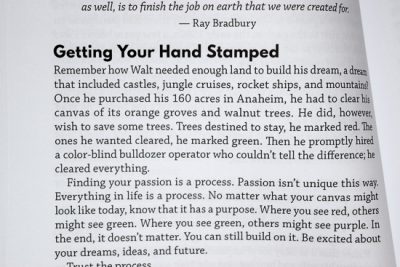 This book will likely make you want to take Dr. Barnes' class, but in writing it, he is able to give everyone a taste of what they are missing. I would say if you are interested in Disney history, team development, educational strategies, or just like reading, you should give "The Wisdom of Walt" a shot. Happy reading!
Have you read The Wisdom of Walt? What lessons did you learn? Share your thoughts in the comments.
Sponsored Ad:  Would you like to help support The Mouse For Less website in continuing their mission of being THE Disney vacation planning resource?  You can do so by purchasing The Wisdom of Walt from our Affiliate Link through Amazon. Thanks so much for your support!