This post may contains affiliate links for your convenience. If you make a purchase after clicking a link we may earn a small commission but it won't cost you a penny more! Read our full disclosure policy here.
As is obvious by the number of Disney podcasts, Facebook groups, and websites, Disney fans love (or love to hate) planning. As a Walt Disney World veteran planning a first ever visit to Disneyland, I naturally thought about what I would recommend to someone doing the opposite, and went straight for the Unofficial Guide To Disneyland 2017 edition (note: check back in the future for a complete post just about my process getting ready for a Disneyland trip as a WDW vet).
While the Unofficial Guide crew has expanded to such locations as Washington, D.C., the Mall of America, and Las Vegas, a lot of their reputation and credibility comes from their approach to Disney. This book takes that approach and brings it out west, giving a complex, critical, reverent and irreverent look at the theme park that original made the term "theme park" mean something, Disneyland.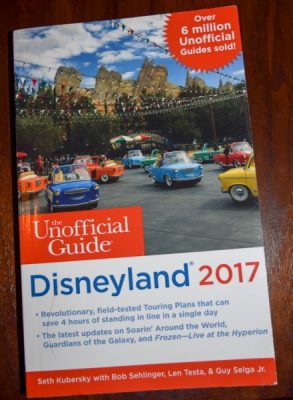 The Unofficial Guide to Disneyland, 2017, is authored by theme park veteran Seth Kubersky, with Bob Sehlinger, Len Testa, and Guy Selga, Jr. It was released in September 2016, has a pre-index length of 351 pages, and an MSRP of $17.99.
One of the first things Disney World fans will notice with this book is the size, or lack thereof. The detail of this guide is the same as other Unofficial Guides, but the scope is narrower.

The book itself is laid out in roughly seven sections. After explaining the general approach in the Introduction, the guide covers "Planning Before You Leave Home," "Essentials," "Disneyland with Kids," "Dining and Shopping in and around Disneyland," "Disneyland Park," "Disney California Adventure," and "Universal Studios Hollywood."
As with other Unofficial Guides, this one has some great maps, orienting you to the area as a whole, the immediate area around the resort, and the parks themselves. For spatial people, being able to read about something then turn and actual see where it is and what it is near is a great resource.
Also, one of the things I always appreciate in the Unofficial Guide is the inclusion of comments from their surveys. For me, this provides perspectives different than the authors allowing readers to not just "trust" the expert, but put themselves into another family's shoes. The deference and humility of the authors to put in comments that directly contradict their advice, just because readers might find it useful.

If you have never read or seen one of these before, my favorite part is the breakdown of each restaurant and attraction. The format for each is a little different – for restaurants they rate the quality, value, portion size, location, and up or down votes from the reader surveys and then describe the selection and give an overall description.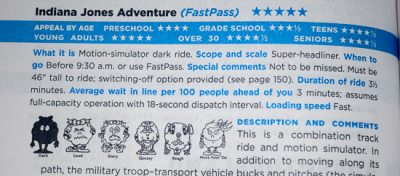 For attractions, they give their rating (out of 5 stars) followed by the reader ratings broken down by preschool, grade school, teens, young adults, over 30, and seniors and also let you know if it is "good" for the whole family and if it has dark, loud, scary, queasy, rough, lose things, or "muss your do" moments. This is followed by a brief rundown, including "what it is," "scope and scale," "when to go," "special comments," "duration of ride," "average wait in line per 100 people ahead of you," and "loading speed" and a fuller description and comment section. Interspersed through these are touring tips, "Disney Dish with Jim Hill" extra stories, and more. This level of detail and explanation can get you informed, prepared, and excited all at the same time.

Another great value for this guide is the explanation of the surrounding area, particularly with hotels and dining options. While some people travel to Southern California just for Disneyland, the proximity to the rest of the world and scope of the park leads many people to do something else with their trip. As such, the dining and other tips for the surrounding area can be a great jump start to even the non-Disney part of your trip, not to mention if you are going to Universal Studios Hollywood.
Finally, one of the things that has made the Unofficial Guide team famous is their Touring Plans. The book comes with several starter options, depending on how many days you have and if you have children in your party. However, they actively encourage you to sign up for a touringplans.com subscription and download the Lines app to get the fullest and most customizable experience for you and your party.
Overall, the Unofficial Guide to Disneyland 2017, is (unsurprisingly) a great and well organized asset for those planning a trip to Disneyland. Even with all the technological innovations that help us plan, sometimes sitting down with a well-written book can not only be satisfying, but also time saving.
What do you think of The Unofficial Guide to Disneyland 2017? Has it helped you plan a Disneyland vacation before?