This post may contains affiliate links for your convenience. If you make a purchase after clicking a link we may earn a small commission but it won't cost you a penny more! Read our full disclosure policy here.
By Lou Mongello
I love the Haunted Mansion! To me, there is nothing else quite like it in any park in Walt Disney World. The nostalgia, the effects… it's great.
Now, on to the questions (posed to me by someone during a recent trip to WDW, but asked of me more than once). Was the mausoleum at the exit always there? And are the names on the graves of real people or just made-up?
The mausoleum at the end of the attraction was always there, but may be overlooked by people who are still shaking, laughing, or running as they exit the Haunted Mansion. As far as the tombstones, they have always been there… and always will be, I believe.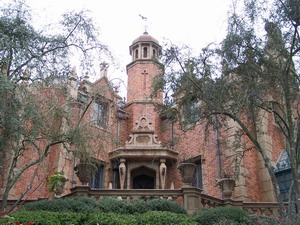 The tombstones at the entrance to the Dutch Gothic home of the Graceys are there not just for show, but are a silent, standing tribute to many of Walt Disney World's (and especially the Haunted Mansion's) contributors. As is often done in attractions throughout the parks, Imagineers honor those men and women who have helped create some of the true magic of WDW. Sometimes they are hidden, while other times, as here, they are more obvious.
After you pass through the menacing wrought-iron gates surrounding the Haunted Mansion, you will encounter the home's cemetery, (conveniently located right outside the entrance). Here you will find a number of witty headstones with epitaphs (written by Disney Legend Xavier Atencio), not to the "dearly departed", but in tribute to the many Imagineers who helped develop the Haunted Mansion.
Here is a list of the tombstone inscriptions and the Imagineers who inspired them:
Requiescat
Francis Xavier,
no time off for
good behavior
R.I.P.
Legendary Imagineer Francis Xavier "X" Atencio helped develop the Haunted Mansion storyline, wrote the theme song's lyrics, and helped come up with the tombstone inscriptions.
---
Dear departed
Brother Dave,
he chased a bear
into a cave
This stone was named after Dave Burkhart, who was the model builder for the Haunted Mansion.
---
At peaceful rest
lies Brother Claude,
planted here
beneath this sod
Claude Coats was the Imagineer who came up with the layout of the OmniMover ride track for the Haunted Mansion, as well as numerous concept sketches
---
In memory of
our patriarch,
dear departed
Grandpa Marc
Marc Davis, a legendary designer and artist for Disney, as responsible for almost all of the concept art for the Haunted Mansion, including many of the humorous characters and scenes.
---
Master Gracey
laid to rest,
no mourning please
at his request
Farewell
Yale Gracey was responsible for many of the special effects seen in the Haunted Mansion , including the stretching portraits and the séance room, as well as for a number of attractions throughout Walt Disney World.
---
Rest in peace
Cousin Huet,
we all know
you didn't do it
Cliff Huet was an architect and lead interior designer.
---
Here lies
good old Fred,
a great big rock
fell on his head
R.I.P.
This inscription is a tribute to Disney Legend Fred Joerger, an art director that created numerous plaster effects for the Haunted Mansion. He is also honored with his name on a window above Main Street, USA.
---
Here lies a man
named Martin,
the lights went out
on this old Spartan
Bud Martin was the director of the Imagineering special effects department.
---
R.I.P.
In memoriam
Uncle Myall,
here you'll lie
for quite a while
Chuck Myall was a designer at WED Enterprises who aided in the overall planning of the Magic Kingdom.
---
Wathel R. Bender,
he rode to glory
on a fender
Peaceful rest
An innovator in the area of Audio-Animatronics, Wathel Rogers also helped program many of the figures in the Haunted Mansion
---
R.I.P.
Mister Sewell,
the victim of
a dirty duel
Peaceful rest
Bob Sewell was one of the head modelers at WED Enterprises
---
Good friend Gordon,
now you've crossed
the River Jordan
Gordon Williams designed much of the sound effects for the Mansion and assisted with the Audio-Animatronics programming
---
Dear sweet Leota,
beloved by all
In regions beyond now,
but having a ball
The most recent addition to the "family plot", how could we forget "little" Leota Toombs? She was an artist at WED whose face was used as the model for the head in the crystal ball for the seance scene, and so the character was named "Madame Leota" in her honor. Keep your "eyes" on the headstone for a little surprise – it opens its eyes every so often to see who's coming over, then closes them again in silent vigilance.
---
As you exit the Haunted Mansion, you will also find a crypt on the left-hand side. The names found on the two crypts (with their tongue-in-cheek pronunciations in parentheses) are:
Asher T. Ashes (ashes to ashes)
Wee G. Bord (ouija board)
I. Trudy Dew (I truly do)
Dustin T. Dust (dust to dust)
Manny Festation (manifestation)
Metta Fisiks (metaphysics)
Pearl E. Gates (pearly gates)
Rusty Gates (rusty gates)
Hail N. Harty (hail and hearty)
C.U. Later (see you later)
Hal Lucinashun (hallucination)
Rustin Peese (rest in peace)
I.M. Ready (I am ready)
Hap A. Rition (apparition)
I. Emma Spook (I am a spook)
Paul Tergyst (poltergeist)
M.T. Tomb (empty tomb)
Love U. Trudy (love you truly)
Clare Voince (clairvoyance)
Bea Witch (be a witch)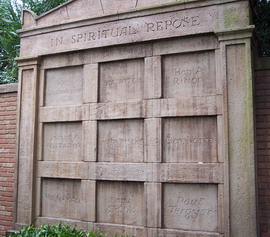 Lastly, there is poor Bluebeard's final resting place. Maybe he was a good pirate, but he was not the luckiest guy when it comes to picking the ladies, it seems…
1440
BLUEBEARD
here lieth his loving wives
Penelope – died 1434
Abigail – 1435
Anastasia – 1436
Prudence – 1437
Pheobe – 1438
Eugenia – 1439
Lucretia –
Seven winsome wives
Some fat, some thin
Six of them were faithful
But the seventh did him in
Hope you enjoy the Haunted Mansion as much as I do.. and remember…
Hurry baaaaacccck…. hurry baaaaccckkk…. be sure to bring your "Death Certificate", if you decide to join us!
Magically Speaking Featured Article
Library of Congress ISSN:1556-3863
Incoming search terms:
https://www themouseforless com/blog_world/the-tombstones-and-creepy-old-crypts-of-the-haunted-mansion/
https://www themouseforless com/blog_world/the-tombstones-and-creepy-old-crypts-of-the-haunted-mansion/#:~:text=This stone was named after builder for the Haunted Mansion &text=Marc Davis, a legendary designer the humorous characters and scenes