This post may contains affiliate links for your convenience. If you make a purchase after clicking a link we may earn a small commission but it won't cost you a penny more! Read our full disclosure policy here.
Ever since my dad took me on my first roller coaster ride on the Matterhorn at Disneyland when I was just 7 years old I've been a huge roller coaster fan.  There is something about being taken up into the sky and swept back down to the earth at lighting speeds that brings out the kid in me to this very day.  The taller, the faster, the loopier, the more twisted the better!
By roller coaster enthusiast standards, though, the thrills of most of the Walt Disney World Resort's roller coasters can be argued as relatively mild.  But add a rich narrative along with an immersive theme and the roller coasters at Disney World conquer and surpass the behemoth coasters of the major chain theme parks outside of Disney.
At the Magic Kingdom, two classics have stood the test of time.  Space Mountain is an exciting indoor coaster that launches you into outer space.  Its iconic structure has been thrilling the masses for over 35 years and it's also one of the first coasters I remember riding as a child – it's a great coaster for everyone in the family.  Most of the ride is in complete darkness enhancing the element of surprise drops, turns and speed.  A recent refurbishment has freshened up the ride while keeping the "1970's retro" feel.  It still remains as one of the Magic Kingdom's most popular attractions and it is one of the first coaster attractions that my own children experienced when they were younger.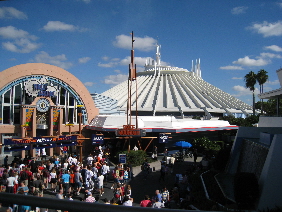 Big Thunder Mountain Railroad, a runaway Western mine train, is a bit wilder, but still a great family ride, nonetheless.  It's especially magical after dark and is a good entrance point for some of the younger guests who want to experience the wildest ride in the wilderness.  You'll rush through an abandoned flooded mine, race around hairpin turns, speed through darkened tunnels and even encounter an earthquake that threatens to derail your ride along your journey.
Disney's Hollywood Studios is home to one of Disney's (if not Florida's) best roller coasters, the Rock'n'Roller Coater.  You'll join the classic rock band, Aerosmith, as they race across town to a concert in a "stretch limo".  Riders are literally blasted from 0-60 mph in less than 3 seconds and encounter three upside down inversions and winding track through some of Hollywood's most well known landmarks – mostly in complete darkness.  The coaster train even has classic Aerosmith songs you can jam to during your high speed ride!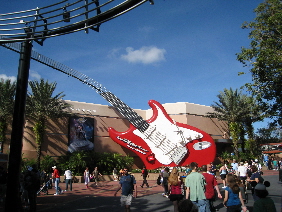 Disney's Animal Kingdom is home to two new modern coaster marvels.  Primeval Whirl, located in the Dino-Rama themed area, takes you back through the time when meteors caused the extinction of the dinosaurs.  You'll traverse through 180 degree curves and a few mild drops in spinning coaster cars (think teacups on a coaster track!) on this mild but wild ride.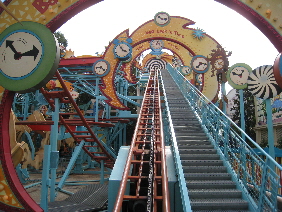 Expedition Everest, which opened in 2006, is Disney's newest and perhaps Disney's most elaborately themed roller coaster experience.  Guests board steam trains and begin an expedition that will lead them to encounter the Yeti who will send their train plummeting backwards through the Himalayan mountain.  There are many surprises in store during the experience including steep drops, tight helixes and plenty of high speed maneuvers in complete darkness before finally encountering the Yeti face to face!
I personally enjoy the adrenaline rush that all of the Disney coasters provide, but it's the story they tell that keeps me coming back for more every time!