This post may contains affiliate links for your convenience. If you make a purchase after clicking a link we may earn a small commission but it won't cost you a penny more! Read our full disclosure policy here.
Believe it or not a whole other thrill world actually does exist outside of the Disney Theme Parks.  While my first love will forever and always be Disney, I have to admit for pure thrill seeking and high adventure Sea World, Universal and Busch Gardens all offer some amazing and if not downright frightening roller coaster experiences!Let the adrenaline rush begin!
Sea World Adventure Park in Orland gives us Manta, new in 2009.  A highly themed coaster experience, you actually fly on this roller coaster with your back parallel to the coater track.  You dive, fly, flip and soar over the park with a grand finale splashdown into a lagoon (don't worry, it's simulated!).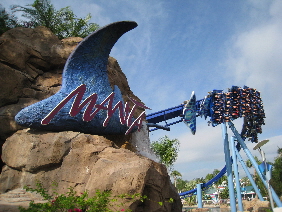 Kraken is Sea World's other signature roller coaster.  Kraken's gimmick is that there is no floor between you and the coaster track heightening the sense of speed and terror.  Kraken flips you upside down 7 times after a breathtaking first drop and includes a tunnel with a surprise corkscrew ending.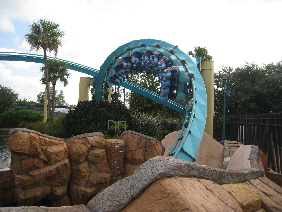 Over at Universal, three steel behemoths await.  At Universal Studios Park, we find Rip Ride Rockit, also new in 2009.  One of the most unique coasters I've been on, this one enables you to select songs a from a variety of music genres to accompany your journey along the twisted track.  The most unique feature of this coaster is a loop that you actually end up on top of rather than inverted by – a supremely unique and fun experience!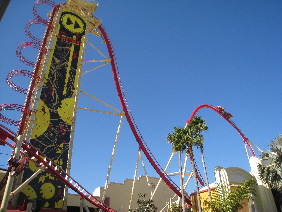 At Islands of Adventure don't make Bruce Banner angry or your find yourself speeding along the track of The Incredible Hulk which also flips you upside down 7 times after blasting you into the sky!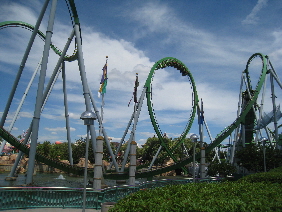 And in the brand new Wizarding World of Harry Potter you'll experience the battle of all battles on Dragon Challenge, an inverted looping roller coaster with two different sides.  It's really two coasters and at several points along the track you'll experience a "near collision" with the other train you're dueling with.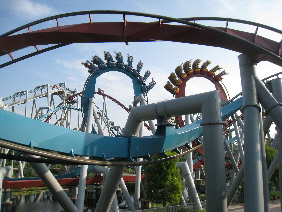 Finally, down I-4 a bit in Tampa Bay Busch Gardens offers us three great selections:  Montu (another inverted looping monster), Kumba (a twisted steel looping giant), and Sheikra, a very unique dive coaster with two 90 degree dives (one topping out at 200 feet) and a huge Immelman loop!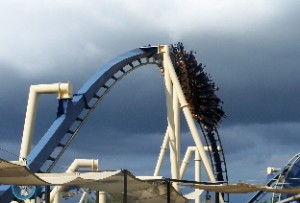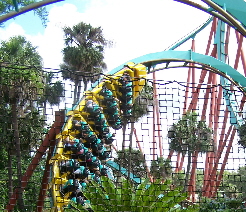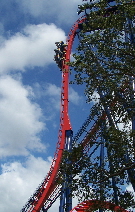 No one beats Disney for overall fun, but if you are looking for more extreme thrills and chills be sure to check out Florida's other theme parks for some additional excitement!