This post may contains affiliate links for your convenience. If you make a purchase after clicking a link we may earn a small commission but it won't cost you a penny more! Read our full disclosure policy here.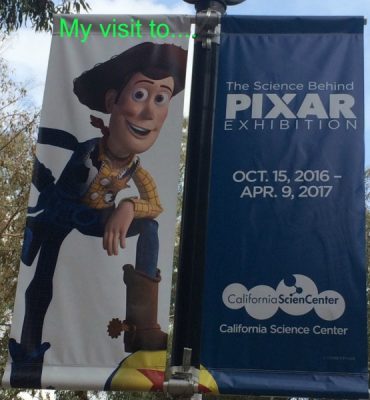 Welcome to the California Science Center!
So,  you've come to Southern California to experience Disneyland.  You've had a wonderful time, but still have a couple of days left on your vacation.  And you want to put even more Disney into your experience.  If you time your visit right, you could visit Walt's Train Barn.  And if you visit before April 16th, you could see a really great exhibit at an L.A. museum.
The California Science Center, location in downtown Los Angeles' Exhibition Park,. is a great museum. Its regular collection is open to the public, and although it costs $12 to park your car, there is no entrance fee. (There are collection bins at the entrance where you may make a donation but there is absolutely no pressure to do so.)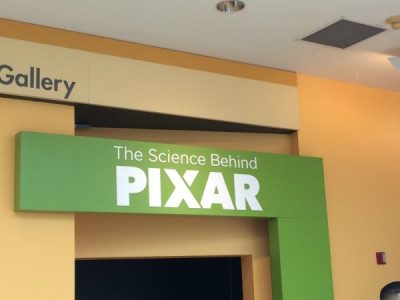 The entrance to the exhibit
There are, however, rotating exhibits that do charge an entrance fee and also requires a timed ticket (kind of like a FastPass+). From now until April 16th, the museum is featuring The Science Behind Pixar, an interactive exhibit that explores how the movie makers at Pixar use mathematics and science to create their imaginative films.
For adults, the admission is $14.95, and for children (4 – 12) $9.95 Ages 13 – 17, college students (with an I.D.) and seniors 60 and older are charged $11.95. There are discounts for groups of 15 or more.
This admission gets you into The Science Behind Pixar exhibit (starting on the time you reserve, from 10:00am to 3:30pm) and also to see the space shuttle Endeavour. (Seeing the shuttle is not to be missed; we didn't have time to do it on our most recent trip but I highly recommend it!) You are also free to explore the rest of the museum at your leisure.
We chose 11:00 a.m. as our entrance time, and in hindsight, I wish we had gone for the 10:00 a.m. slot. By noon we were starved but knew that once we left the exhibit, we could not re-enter, so we spent another hour here and let our stomachs rumble until 1:00pm.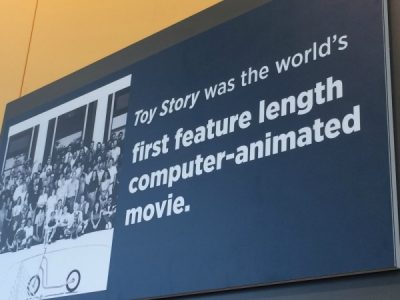 Information about the film that started Pixar's dominance
When you first enter The Science Behind Pixar exhibit, you will watch a 5 minute film that gives an overview of what you'll experience. Several Pixar employees (including John Lasseter, a guy I once had a beer with – not kidding) describe how they use geometry, trigonometry, multiplication, physics and computer science to create their masterpieces.
Next, you enter a large space full of interactive exhibits explaining different parts of the animation process. Along the way, there are plenty of huge models of Pixar characters ready and waiting for photo opportunities.
For me, the greatest part of The Science Behind Pixar experience was watching my eleven year old try her hands at different parts of the animation process. In a rigging display, she experimented with different ways to make Woody's arm move.
In the Surfaces display, she channeled her inner Ramone and applied different surfaces to a car. She had to choose from many different options: color, rust, reflectiveness, and even decals.
A nearby display showed the hundreds of background monsters from Monsters Inc. as well as background cars from Cars. It's mind boggling to think so much effort went into creating these characters, who would be seen on the screen for mere seconds!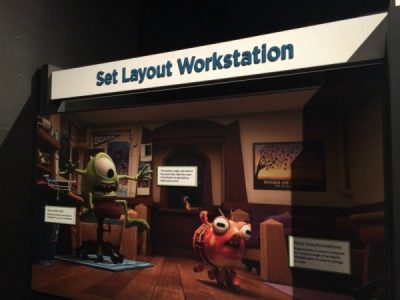 Interactive Set Layout Workstation
At a set layout station, you're given the opportunity to design Mike's dorm room, and populate it with furniture and props. This was not as easy as it looked. Getting the size of the furniture to look right with the size of the props was tricky. (Hence the math.)
The exhibit that surprised me the most was one in which you need to add grass to a scene. Easy, right? I mean, it's grass. It's green and it grows. What's so hard? Well, you had to decide how long or short the grass should be, whether the length of the grass would be uniform or different from blade to blade, whether it should grow neatly or in clumps, what color the grass should be, the shape of the blade…it was astounding. I have decided that I definitely do not have the patience to work at Pixar.
You're also given the opportunity to try your hand at lighting. Since everything is created inside a computer, it's not as simple as shining a light on something and seeing how it works.
Visitors can learn about crowd simulation by changing the patterns in a school of fish from Finding Nemo. Rather than try to program each fish individually, animators at Pixar use a computer program to dictate how the entire school will move.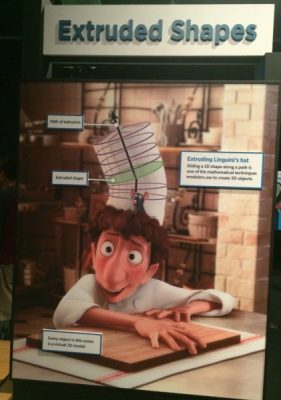 Try your hand at extruding shapes!
The extruded shapes display showed how to take a two dimensional shape, like a circle, and turn it into a three dimensional shape, like Linguini's toque in Ratatouille. It's basically a lesson in geometry.
The Science Behind Pixar exhibit ends by funneling you into – of course – a gift shop! Items for sale here are Pixar and animation themed, including some items designed especially for the exhibit.
All in all, if you've ever watched the special features on a Pixar Blu-Ray and thought to yourself, "That's not enough – I want more information!" this exhibit is perfect for you.
Have you experienced The Science Behind Pixar exhibit yet? What were your thoughts? Share in the comments!
Incoming search terms:
california science center pixar exhibit