This post may contains affiliate links for your convenience. If you make a purchase after clicking a link we may earn a small commission but it won't cost you a penny more! Read our full disclosure policy here.
By Sarah DeMare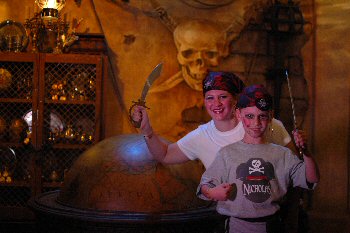 I have two boys. So every time we are at Walt Disney World's Magic Kingdom, I see all the cute little princesses walking around, wishing I had one so we could have the Bibbidi Bobbidi Boutique experience. (Little guys over three years old can get the "Cool Dudes" package at the Boutique, complete with funky hair styles, but a full-on makeover it is not.)
Then it was announced that Disney was opening The Pirates League, where you could be made over into a pirate, by pirates. Well, that's way cooler than a princess makeover, for sure. So my six-year-old son and I decided that we would both become pirates before Mickey's Not-So-Scary Halloween Party.
We arrived about 15 minutes before our appointment time, and were instructed to choose our pirate look. There are six looks to choose from: the cursed pirate, the smoky-eyed Jack, the black-eyed Jack, the multi-eyed Jack, the Captain Hook, and for girls, the empress (though girls can also choose any of the other faces — I saw more than a few female cursed pirates that night). I decided to stick with the empress, while my son opted for the black-eyed Jack.
Next, in order to be a pirate, ye be needing a pirate name. And your name is left to the luck of the dice — literally. Two dice are thrown into a treasure chest. Give it a spin and the numbers that are rolled paired with your birthday month give you your new name. So Nathaniel Sunbane and Kelly Daggerskull, we be.
We then had to wait about five minutes for an available pirate to start our makeover. I didn't get to see much of my son's makeover because our chairs were not next to each other, but from what I could see in the mirror, he had a ball.
Your makeover starts with a tattoo, because every pirate needs a tattoo, right? Next, it's on to makeup. With the empress package, that means nails. You get to choose between black and red nail polish, and you get to keep the bottle. Next you are given several choices for blush, eyeshadow, and eyeliner. Then you choose between red and pink lipstick, which you also get to keep. The finishing touch on your face is a jewel, which you choose from six jewels, and get to take the rest home with you.
Next it's on to hair. My hair was already in a ponytail, so they simply put on the bandana (choice of pink/black or red/black) and eye patch. The finishing touch was an earring. Now all that is left is the pirate oath — you raise your right hand and repeat after them. Then there is a lot of cheering every time a new pirate joins the crew. When you are finished you get to take home your makeup in a pink or black pirate pouch. My son had fake teeth in his.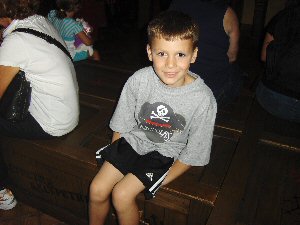 Before: Mild-mannered boy.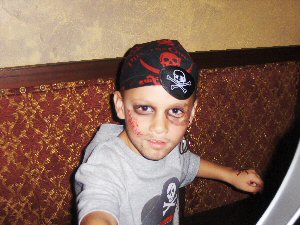 After: A pirate!
While we were waiting for our portrait, we were given a sword and belt, with strict instructions not to poke anyone's eye out! I can't repeat what we were told next, because it is a secret among pirates. But we were ushered into a room where they took our picture, and we found some treasure left for us by Jack Sparrow himself. After checking to make sure no bystanders were watching, we made our escape.
Your pictures are printed right away, and as you wait you get to sign the pirate book, with your pirate name of course. You also get a copy of the oath with your name printed on it.
Overall, the makeover took just under an hour, and was worth every minute. My son had an absolute blast, and I enjoyed it as well. It's nice to see an activity that boys really enjoy, though I will say all of the female pirates seemed to be enjoying themselves as well. So if you have a few scallywags yourself, or a daughter who has more pirate than princess in her, I highly recommend taking the time to join Captain Jack's band of pirates.
If you go:
The Pirates League is located in the Magic Kingdom near the Pirates of the Caribbean ride, so theme park admission is required.
Through January 3, 2010, Walt Disney World Resort Guests, Annual Passholders, Florida Residents and Disney Vacation Club Members receive 50% off all Pirate Packages!
Make your reservations by calling 407-WDW-CREW.
The Pirates League is open every day from 9:00 a.m. until 7:00 p.m.
The first mate and empress packages are $49.95 plus tax and includes one photo; the captains package is $124.95 plus tax and includes a costume and three photos.