This post may contains affiliate links for your convenience. If you make a purchase after clicking a link we may earn a small commission but it won't cost you a penny more! Read our full disclosure policy here.
Disney has always been a master at storytelling.
So it makes perfect sense that they would create an app to help us regular folks tell the stories of our lives!
Disney Interactive's new Story app is a great tool to help you present those photos that you have been taking and storing on your iPhone and iPads. The app is free and it really does have a seamless flow as you learn how to use it. No matter what  your experience with technology is (or isn't), you can be assured that you can create something nice with this utility!
The app groups your photos by the date that they were taken, in a storybook manner: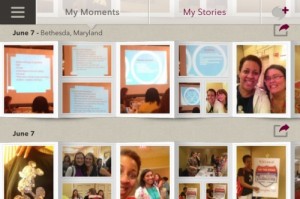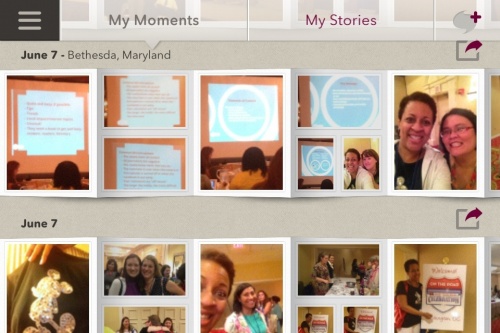 Then, you can choose to click on "My Stories" and make a group of shots or video into a story. Once you start the process, the app shows you how to name the story as well how to add the photos/videos. Once you have added them, then you can save your story and play it back as a slide show. In addition, you can add things like text, and you are able to change to look and feel of the story, too. Once it is set the way you like it, you can save it and share it on Facebook or by email so that your family and friends can enjoy your creation!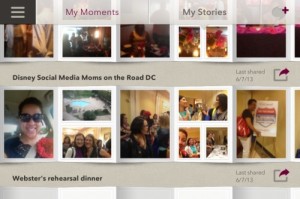 For the most part, the app is fairly straightforward and easy to use. The finished product has the polish of higher-end software, so that is a definite plus. As with any product, there are a couple of drawbacks: 1) your story can only hold 20 photos at a time, and 2) currently, you can only post to Facebook directly. It takes a couple of extra steps to post on Twitter or Tumblr or any other social media outlets. Also, the app account doesn't sync with your devices. Therefore, you aren't able to see and work with projects that you have completed on one device on another.
Disney Interactive's Story app really does help you to share special and important life events.  I am grateful to be able to do something meaningful with the photos that I have taken on my phone and tablet.  It is a solid tool for even the technically challenged, and it yields a polished result. It's available for free (woo!) in the Apple App Store. Disney has once again enabled us to continue the tradition of great storytelling!