This post may contains affiliate links for your convenience. If you make a purchase after clicking a link we may earn a small commission but it won't cost you a penny more! Read our full disclosure policy here.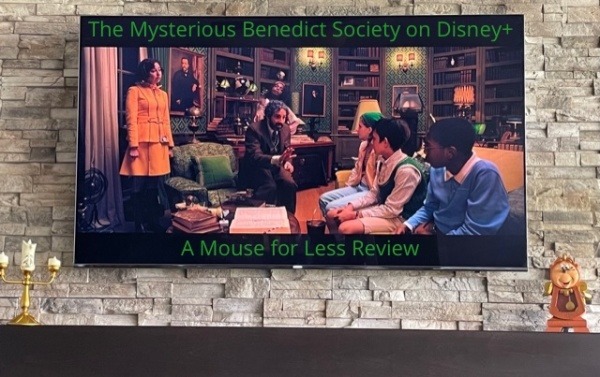 In the summer of 2007, I read a new children's chapter book titled, "The Mysterious Benedict Society." Even as an adult it drew me in and kept me guessing with its twists and turns. I've reread it at least four times, as it became a read-aloud favorite when I taught 5th grade.
For years there were internet rumors on a movie, so when I saw that Disney+ was making it into a series I was excited and worried. There's always that worry that one of your favorite books won't be any good in a movie/series format. This is not the case with The Mysterious Benedict Society. The show drew me in and kept me intrigued, even though I know how the story will unfold.
Disney has done an excellent job of casting. Tony Hale plays Mr. Benedict, the new father-figure to our main characters. He is believable as the eccentric man set on helping the world overcome what is known as "The Emergency." His three sidekicks, played by Ryan Hurst, Kristen Schall and MaameYaa Boafo are perfect in their roles as well. Kristen Schall is especially good, lending her comedic talents to the odd "Number 2."
The four main characters are children, however don't let that deter adults from watching. This story proves that sometimes children can be smarter than adults, seeing things that adults overlook and thinking outside the box. Mystic Inscho, Seth Carr, Emmy DeOliveira and Marta Keesler play Reynie, Sticky, Kate and Constance, our four heroes.
While a few of our characters sometimes don't seem as likeable as you'd want them to be, there's good reason for that. Keep watching! These young actors are playing these characters as they were written in the books, often line for line. The writers have done a great job of transferring a book into a script, and have only changed two things that I've noticed so far. Neither of those two things are significant enough to make a difference in the storyline.
As a lover of a book, it can be tough to watch a world that's in your head be put onto the screen. Disney has done an excellent job with this series, creating a blend between reality and a cartoonish world, just as it's written in the book. The musical score and some of the features such as the cartoonish cars made me think of Netflix's "A Series of Unfortunate Events," also based on a popular children's book series. This blend of reality and a cartoonish world gives them power to bend our beliefs of what is real and what is not, which is exactly what the book was meant to do as well.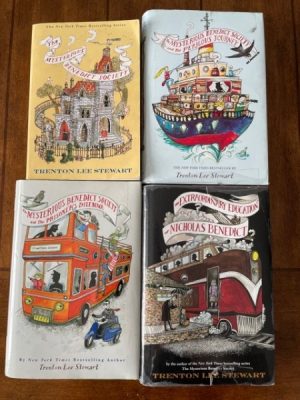 The first few episodes (a new episode will be released every Friday through August 6th) begin our story this week and leave us on a cliffhanger (I won't spoil it for you!). At this point it appears they will wrap up the book in the 8 episodes set to premiere this summer. But if that leaves you wanting more, don't worry! This is the first book in a trilogy! And there's also a prequel that unlike most is actually really good! Here's hoping Disney continues to bring us more of the Mysterious Benedict Society in summers to come. I know I'll be watching.
ave you seen Mysterious Benedict Society? What did you think? Let us know in the comments or on Facebook or Twitter!
Did you like this article? Make sure to share it with your friends! Check below for easy ways to share!  
Want to visit a Disney Destination? Contact The Magic for Less Travel for more information and a free, no-obligation quote.